New & Noteworthy: Pie for Breakfast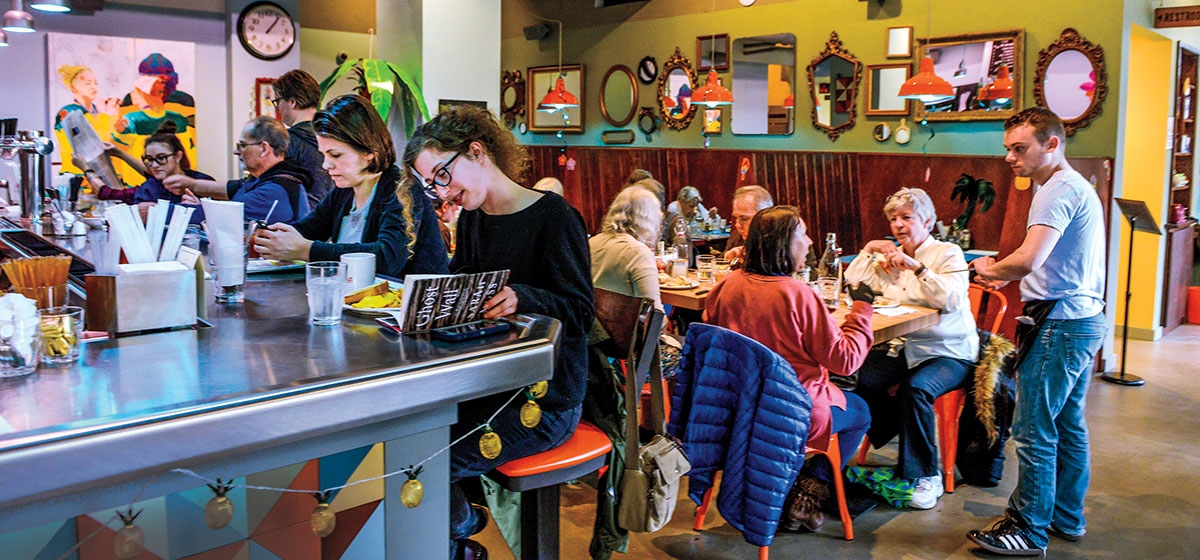 June 3, 2019
Trevett and Sarah Hooper have done it again, executing on their entrepreneurial vision by adding a third successful venue on North Craig Street in Oakland. Fans of Legume (their adjacent bistro) and Butterjoint (their bar/casual food concept) have anticipated the opening of this nourishing new diner. The Hooper hallmarks—a simple spot serving carefully sourced food with attention to detail—set this diner apart. Be prepared to enjoy menu offerings that go beyond pie and breakfast.
---
---
The unobtrusive space with tables, booths and counter service feels like a diner, but you realize there is something more afoot. A hand-made wooden quilt pattern adorns the bar counter. Humble but thoughtfully executed décor is complemented by state-of-the-art kitchen equipment. The counter doubles as a bar with a drink menu featuring drafts and an extensive bottled beer selection, giving this diner an edge. Spritz drinks, various iterations of mule drinks and the brunch classics—Bloody Marys and mimosas—are all available. Prosecco on tap is a distinctive, bubbly feature of this unique diner bar. Service is friendly with a touch of sophistication as the waitstaff is eager to demonstrate their knowledge of ingredient sourcing and cooking techniques.
The meat, eggs and produce come from local family farms. The kielbasa is made and smoked at Legume. Burns Heritage Farm, a natural, pasture-based farm in North Central Pennsylvania, supplies the pork and Thoma Meats in Saxonburg provides the bacon. Syrup is produced from the trees and butter comes from the cows at Paul Family Farms, a fourth-generation business specializing in pure maple syrup and butter. Apples (served fresh and in apple sauce) are sourced from Kistaco Farm in Apollo. This commitment to using the highest quality ingredients enhances the flavor and nutritional quality of the food. You can feel good about indulging in a late-day breakfast here.
The well-designed menu has familiar yet unusual breakfast fare. Eggs can be paired with kielbasa, minute steak, lamb steak or pork chops. Omelets with changing ingredients such as avocado, bacon and cheddar or kimchi and cheese along with a daily inspired tofu scramble are also offered. Biscuits come with a choice of sausage or mushroom gravy. Meatloaf is available. Fluffy mouthwatering buttermilk pancakes are served with local syrup and butter and freshly made jam is produced in house. The side dishes distinguish the menu as well. Perfectly sharp yet sweetly pickled beets have an appropriately spicy vinegar tang. The cucumber salad is zesty and clean with a mild sweetness that can be addictive. Other atypical diner fare such as the black-eyed peas, braised greens and mujadara (a lentil and rice pilaf) add an enjoyable and healthy dimension to the breakfast food. Standard brewed coffee with refills is available, but the espresso drinks are special and worth the upgrade. Try the cortado, a Spanish/Portuguese drink with equal parts espresso and warm steamed milk. This smooth, strong, low-acid beverage is warm and stimulating.
Another wonderful feature of Pie for Breakfast is the in-house baking, which draws from Appalachian traditions. Salt-rising bread is a dense, white bread originally made by early mountain settlers, which is leavened by naturally occurring bacteria rather than yeast. This bread is served toasted and tastes particularly good with a side of house-made jam. The unique vinegar pie is also derived from an Appalachian recipe created in simpler times when ingredients were limited. With its creamy custard base and sugary sweet finish, this house-made specialty is a hit. The pie crusts are made from lard rather than processed fats and the fruit pie changes with the seasons. During winter months the fruit pies are replaced with wonderful variations of chocolate pies with slightly caramelized crusts. Pies are available for special-order takeout with 48-hours' notice. If you find yourself bursting from a hefty breakfast, consider taking a piece of pie home!
When Pie for Breakfast first opened, it operated into the evening. Evening hours were well-received in early reviews and made good sense, especially with the extensive alcohol offerings. The menu's meat options (meatloaf, pork chop, lamb and minute steak) provided hearty dinner staples offered alongside breakfast items and tasty sides. The operating hours have been reduced for now to preserve the strength and sanity of the principals of this family-run operation. With three thriving operations, it's understandable that the owners need some down time. That said, patrons miss the evening hours and later hours would likely be well-received if instituted again. In the meantime, come here to feel good about eating all-day breakfast, pie and yes, Pie for Breakfast.
Pie for Breakfast: 200 Craig Street, Oakland. 412.489.6382. Open for breakfast and lunch only; 8 a.m.–3 p.m.