Never-Ending Gap
In Pittsburgh, black-white income differences are stark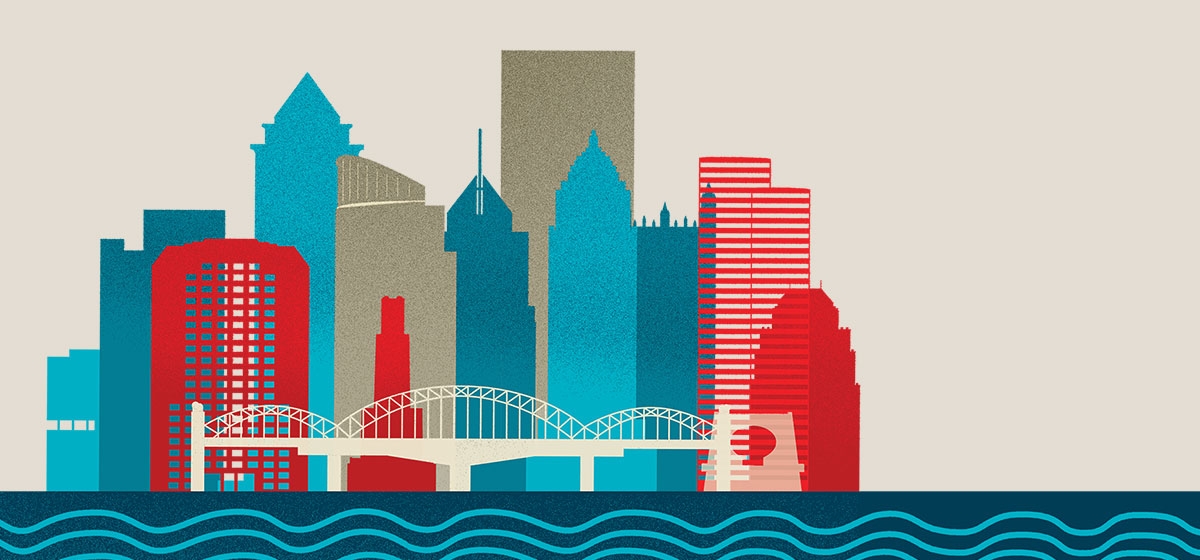 February 20, 2019
The wide gap between incomes earned by white and black workers is a national phenomenon that won't go away. And it's particularly severe in southwestern Pennsylvania.

African Americans living in the seven-county Pittsburgh Metropolitan Statistical Area earn 48 percent less than white residents on average, 2017 U.S. Census Bureau median income data suggest.
Income influences many facets of people's lives, ranging from their ability to make ends meet to the quality of their housing. It also influences how they view of the quality of life a region has to offer, and in southwestern Pennsylvania those views are vastly different among races. Only 29 percent of African Americans in Allegheny County rate the quality of life as "very good" or "excellent" compared to 74 percent of residents of other races, a survey by Pittsburgh Today and the University of Pittsburgh University Center for Social and Urban Research finds.
Differences in education, whether people work in higher or lower-wage sectors, the decline of union membership, and discrimination all play roles in the persistent black-white pay gap, experts say. And there are no quick fixes to the complex, systemic problem.
Stubbornly wide
The income gap separating whites and blacks in the Pittsburgh MSA is wider than the national average.
White residents in the region earned a median income of $59,044 in 2017. African Americans earned $30,440, according to U.S. Census Bureau American Community Survey data. That's an average of 52 cents for every dollar white residents in the region earned, or 48 percent less. Across the U.S., African Americans earned 62 cents for every dollar white residents earned, or 38 percent less.
The gap hasn't moved much in southwestern Pennsylvania over the past 10 years or more. In 2007, blacks in the Pittsburgh region earned 51 cents for every dollar whites earned, or 49 percent less. Since 2000, black women, particularly young black women with 0-to-10 years of work experience, have been the most vulnerable, according to a report by the nonprofit Economic Policy Institute, a nonpartisan Washington, D.C. think tank.
Black women working full-time in the Pittsburgh MSA saw their earnings fall 1.2 percent from 2007 to 2017, according to the Census, using 2017 inflation-adjusted dollars. But white men, white women and black men saw their earnings rise over the same period.
Today, the gap between races in the U.S. is wider than it was in 1979. It hasn't followed an even trajectory and significant differences once seen among regions have faded. The gap grew in the 1980s, when union membership began to rapidly decline and unemployment was high. And it narrowed during the late 1990s, when labor markets tightened and Congress raised the minimum wage, which disproportionately affects black workers.
"Starting in 1979, the black-white wage gap was actually the smallest in the Midwest," said Valerie Wilson, director of the Program on Race, Ethnicity and the Economy at the Economic Policy Institute. "The region was heavily industrial and a lot of people working in those industries were in unions. Fast-forward to 2015, the advantage in the Midwest had gone away and regardless of what region in the country you lived in, the gap was about the same."
No single cause
Certain factors tend to influence the income people earn more than others. Their education, for example, often defines the range of job options they have. The job sector they work in sets the range of pay they can expect.
African Americans, the largest minority population in southwestern Pennsylvania, are most concentrated in some of the lowest-paying job sectors in the region, such as administrative and support and waste management, and the accommodation and food services industry, according to the U.S. Census Bureau Longitudinal Employer-Households Dynamics data.
And there is a sizable black-white education gap in the Pittsburgh MSA. While whites and blacks each have high rates of having earned a high school diploma, only 19 percent of African Americans have a bachlelor's or more advanced degree compared to 34 percent of whites.
But higher education doesn't guarantee wage equality among races. Census data suggest, for example, that black women with a bachelor's degree earn about 40-cents-on-dollar less than a white man with a bachelor's degree.
"Education doesn't deliver as much for black people as it does for white people," said Larry Davis, dean emeritus at the University of Pittsburgh School of Social Work and director of the Center on Race and Social Problems. "White men without an education are more likely to be employed than black people with an education. This is not just a function of training. People have to hire them and pay them. People in the black community see a friend spend money and go to school and still not have a job. And they think, 'He's a fool. Why would I do that?' "
Education, job sector and other available data don't fully explain the nation's widening gap, Wilson said. "All the things we can observe don't explain it, so our conclusion is that most of the expansion of the gap has been due to discrimination."
Discrimination and the degree it affects hiring is difficult to measure, but has long been a quiet factor.
"We still see stereotypes in [human resources]," said Vera Krekanova, chief research officer at the Allegheny Conference. "Intentionally or unintentionally, there are a lot of glass ceilings for minority workers. We see the effect of that on the out-migration [population] data. Compared to our peer regions, we are losing minority population at a higher rate. A lot of people who are leaving are in that middle-class space. I think that could be attributed to lack of economic opportunities or advancement, and wages are part of it."
Anti-discrimination laws have been enacted, but are only a hedge against discriminatory hiring when enforced and allegations can be proven. But proving employment discrimination is difficult, Wilson said. Limited access to information on hiring decisions, pay and advancement within companies also makes it challenging to understand discrimination and the pay gap and how to solve it. "We don't really know what goes into their hiring decisions. It becomes incumbent on employers to be proactive about attracting more diverse candidates, hiring a more diverse workforce and showing what their pay looks like across the company."
The income gap between races defies a quick, simple solution. And narrowing it requires the will of the broader community, Davis said. "Pittsburgh has a chance. I think people are more aware of the problem and we have some good local leaders. But we have to increase the number of people who are really willing to go to work and engage in the process with us and keep this issue front and center."