Nemacolin Woodlands
A target close to home
Photo courtesy of Nemacolin Woodlands Resort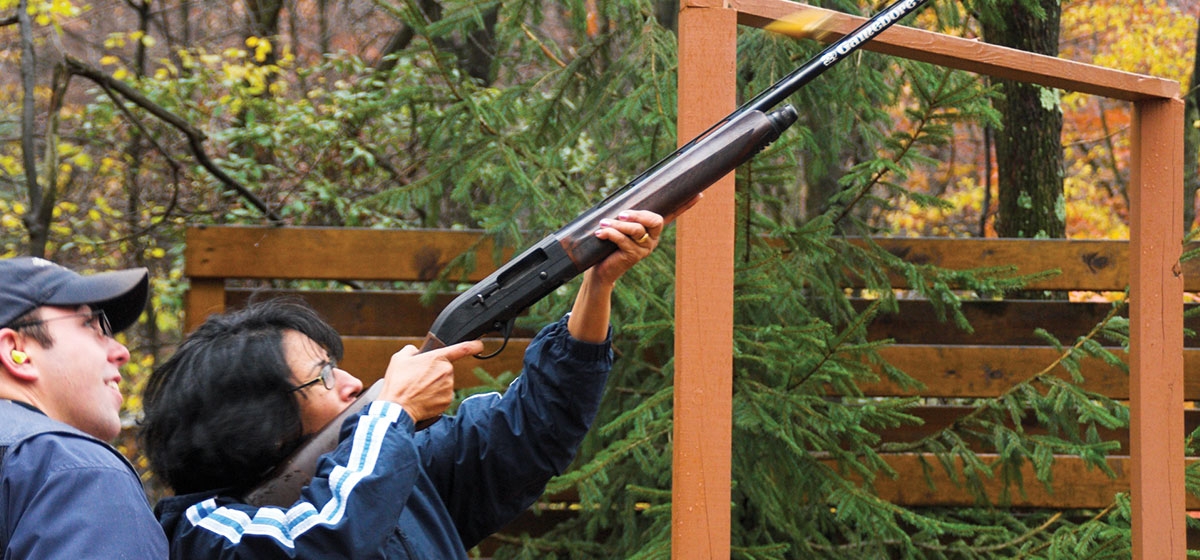 February 23, 2009
The bear market might have you reconsidering a spring-break trip to Vail or Aruba, and you might forgo that trip just to avoid the painful wait at the airport. In less time than you have to wait for a plane, you could drive to the perfect getaway—Nemacolin Woodlands Resort and Spa in Fayette County.

The AAA Five-Diamond resort has far more to offer than the famous Pete Dye- designed Mystic Rock Golf Course and first-rate accommodations. There is something for everyone at this 3,000-acre gem in the Laurel Mountains, including lots of unique activities.
One is The Shooting Academy, a 140-acre course that provides challenging fun. Director Robert Crow runs the world-class sporting clay operation that includes 32 stations spread out over stunning wooded terrain. The National Sporting Clays Association voted The Shooting Academy the "Number One All-Around Sporting Clays Shooting Facility" in America. For the novice, sporting clays are round, orange, clay targets that are machine-propelled and fired at with shotguns. Unlike trap and skeet shooting, these clays move at various speeds, directions and angles to simulate different types of wild game
Upon arrival at the academy lodge, participants are outfitted with eye and ear protection, as well as an appropriate-sized shotgun, ranging from 12 to 28 gauge. The lower the number, the bigger the gun—and the kickback. There is no age limit, but children must weigh at least 100 pounds. Safety is paramount at Nemacolin, so all guests travel the course in golf carts with one of 15 certified instructors. The instructors review basic gun safety, load the guns, propel the clays and give superb instruction.
Interestingly, over 50 percent of the guests at the academy are first-timers, but everyone is guaranteed success. Before long, even a novice will start to feel like Annie Oakley or Wild Bill Hickok! This is the perfect sport for competitive families, since multigenerational and co-ed shooters are scored equally.
While The Shooting Academy is a great family activity, there is so much more to do. There is the Off-Road Driving Academy, where licensed drivers learn to drive Hummers in extreme conditions. A ropes course has two levels of elevated ropes and a 250-foot zip-line. For younger guests (or those just wanting to use a little less adrenaline) there is the Wildlife Academy, with everything from a petting zoo to exotic wild animals to safari experiences. There are swimming pools, an Orvis-endorsed fly-fishing school, an adventure center, and a paintball course. The new WildSide entertainment center has bowling, a climbing wall, pool tables, a train display, an exotic bird habitat and more. Horse lovers can go for a pony-, trail- or surrey ride.
Parents needing a little down time may take their children to the various programs for children aged six weeks through teens, and then relax at the Zen-like spa, taking advantage of dozens of traditional and signature treatments; work out at the fitness area; or visit the salon for some pampering. There are art tours, a cigar bar and wine tastings. (Nemacolin boasts the largest private wine cellar in Pennsylvania.)
There is a full range of guest accommodations, from Falling Rock (personal butlers) and the elegant Chateau LaFayette (modeled after the Paris Ritz), to the Lodge, townhouses and private homes. Everywhere at Nemacolin, service is impeccable. It's no wonder that sports stars and celebrities flock here for R & R.
Dining options also run the gamut from the renowned Lautrec to more casual fare. But at every restaurant even the simplest foods are special—at the Wildside, potato chips are freshly made to order!
Joe Hardy and his daughter, Maggie Hardy Magerko, have created a fabulous playground for kids and adults just a short drive from Pittsburgh, and it is the perfect getaway for thrills, pampering and entertainment.
Nemacolin Woodlands Resort & Spa, www.nemacolin.com