A Different View of the Neighborhood
Seeing Fred Rogers for the scientist that he was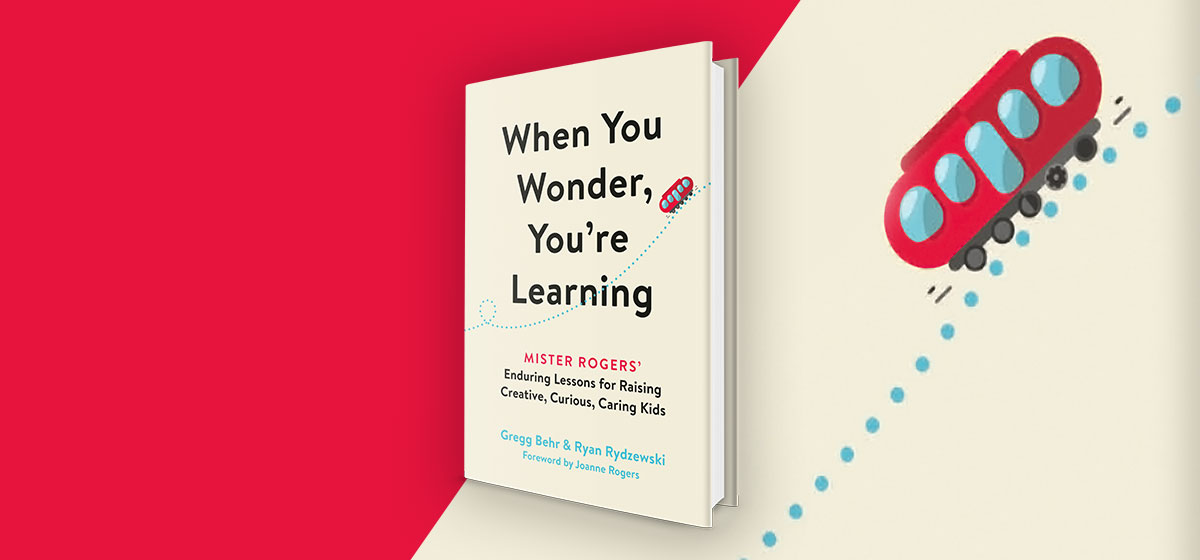 June 14, 2021
In 1968, when Fred Rogers pushed through his famous front door for the first time, he brought with him more than kindness, compassion and a cardigan sweater. He brought more than Daniel Tiger, more than X the Owl, more than all the puppets who lived in the Neighborhood of Make-Believe. What Rogers brought was less visible than the pictures he drew or the neighbors he welcomed. It was quieter than the songs he sang or the scripts he read; it was quieter, even, than his quiet on-screen moments.

Nevertheless, it was there. And it's still there now, more urgent and needed than ever.
Though today we rightly revere Rogers, his legacy as a scientist has gone largely overlooked. As we detail in our new book, "When You Wonder, You're Learning: Mister Rogers' Enduring Lessons for Raising Creative, Curious, Caring Kids," Rogers weaved science so seamlessly into his program that it's all but invisible. In "Mister Rogers' Neighborhood," what looked like an inexpensive costume was also a proven conduit for curiosity. A strange-sounding song lyric sent a message of self-acceptance. Working with the top psychologists, child development experts and pediatricians of his day, Rogers engineered every aspect of the Neighborhood to enrich children's lives and nurture their growth as human beings.
Now, 20 years after the program's final episode, experts say the science behind the Neighborhood is essential to children's success. The "tools for learning" that Rogers taught — curiosity, creativity and communication, among them — have been shown to boost everything from academic achievement to overall well-being. They cost next to nothing to develop, and they hinge on the very things that make life worthwhile: self-acceptance; close, loving relationships; and a deep regard for one's neighbor.
There's evidence that these tools for learning will grow more important as the digital age develops. In one example, Google discovered — through a years-long analysis involving some 10,000 data points — that the company's best bosses weren't necessarily the people who could write computer code in their sleep. Technical expertise mattered, but Google's highest performers were the people you could go to with problems — those who could listen, ask questions and help think through creative solutions. They could lift up and lead diverse teams, and above all, they cared about their colleagues, seeing them and treating them as fellow human beings.
In that sense, you might call the Neighborhood a blueprint. The tools for learning that Rogers taught can help us raise a generation of good neighbors, helping us build stronger, more inclusive communities and a more just and loving world. "If we give [children] the tools, they'll want to learn the facts," Rogers once said. "More importantly, they'll use the facts to build and not destroy."
We can see examples all around us. In our book, we visit the Pittsburgh institutions and everyday educators who are, each in their own way, following in Rogers' footsteps. At the Manchester Craftsmen's Guild, they're making art that brings to the world some much-needed beauty. At Steeltown's film academy, they're making documentaries that lift up our neighbors. And in the Women and Girls Foundation's GirlGov program, they're pushing for policies that make life better for communities throughout Pittsburgh.
We hope Mister Rogers would be proud. His television program may be off the air, but here in his real-life neighborhood, his lessons live on. In Pittsburgh and beyond, the science he used helps kids — and their families, too — excel at the very thing Rogers taught best: being human.