Stocks & Pedestal, Spring 2011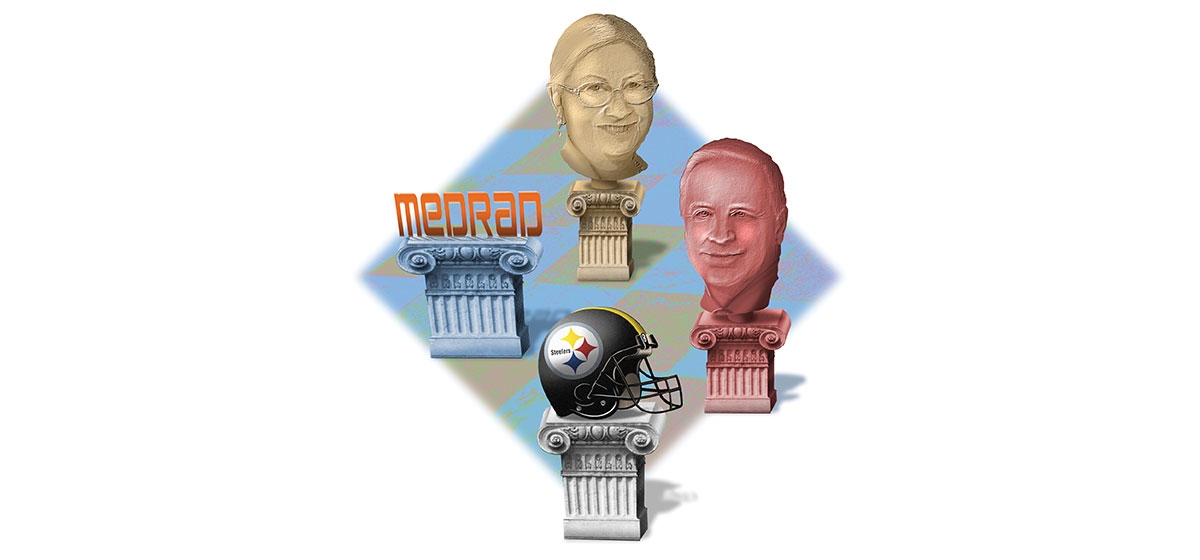 February 17, 2011
Medrad: Top manufacturing, again
If there is one economic sector that lives in the minds of Americans when they consider Pittsburgh, it's manufacturing. And excellence in manufacturing is not just in the pages of the region's history. For the second time in eight years, Medrad has won the prestigious Malcolm Baldrige National Quality Award, given for performance excellence and quality achievement.

The leader in high-tech medical devices became one of just five companies to win the Baldrige Award twice, and embodies "the ingenuity and creativity that characterizes the American spirit and drives America forward," according to the award. Manufacturing remains a key element of our regional economy, and Medrad's employees and leadership deserve congratulations for bringing the accolade back to Pittsburgh.
Joyce Rothermel: Helping neighbors
In the pantheon of possible careers, not many executives would raise their hands at the prospect of coordinating the distribution of food to the needy. We're fortunate that Joyce Rothermel is an exception. She co-founded the Greater Pittsburgh Community Food Bank 30 years ago and has run the operation since 1987. When she took the reins 23 years ago, the Food Bank gave out some six million pounds of food annually. In the past year, the Duquesne-based operation has distributed four times that amount in 11 counties. It helps 110,000 people each month via its network of 380 agencies. In June, Rothermel retires from the Food Bank, as it celebrates its 30th anniversary. Fighting hunger in our community has been her career, and all Pittsburghers are better off thanks to her efforts.
Pittsburgh Steelers: True ('burgh) grit
At the beginning of the season, the Steelers' prospects looked bleak. With quarterback Ben Roethlisberger suspended for the first four games, the team put on a defensive show early that has rarely been matched. They did what football coaches at every level preach each season: they faced adversity, and they defeated it. They won football's toughest division and, again, gave us a reason to settle in front of the television during winter's coldest months and cheer for Pittsburgh. Special mention goes to Troy Polamalu, the Steelers' defensive miracle. But it also goes to Roethlisberger. We criticized the quarterback in May for the actions that sidelined him. Suspended, bloodied and hounded by predatory linebackers, outraged fans and national media alike, he has apparently befriended the straight and narrow. And on the field, his gritty and gutsy performance was a football classic that made up for lost time.
Governor Tom Corbett: Pittsburgh goes to Harrisburg
It's a tough time to become governor of Pennsylvania. With pension problems across the state, high unemployment and a slow emergence from recession, Gov. Tom Corbett faces difficult facts and decisions at the start. In many corners of the state, he won't start his term on anyone's pedestal. We're placing him there, though, because he's a Pittsburgh guy and because we hope he'll continue his efforts to change Harrisburg. With the nation's largest full-time state legislature and the second most expensive one, there's plenty of opportunity for a reform-minded governor. And we like the major elements of the plan Gov. Corbett has announced: transparency in Harrisburg spending; reducing the size and cost of government; and eliminating various discretionary funds for legislators.