McElwaine, Assad, Frizzell, Bagley, Sferra, Armony
Professionals new to Pittsburgh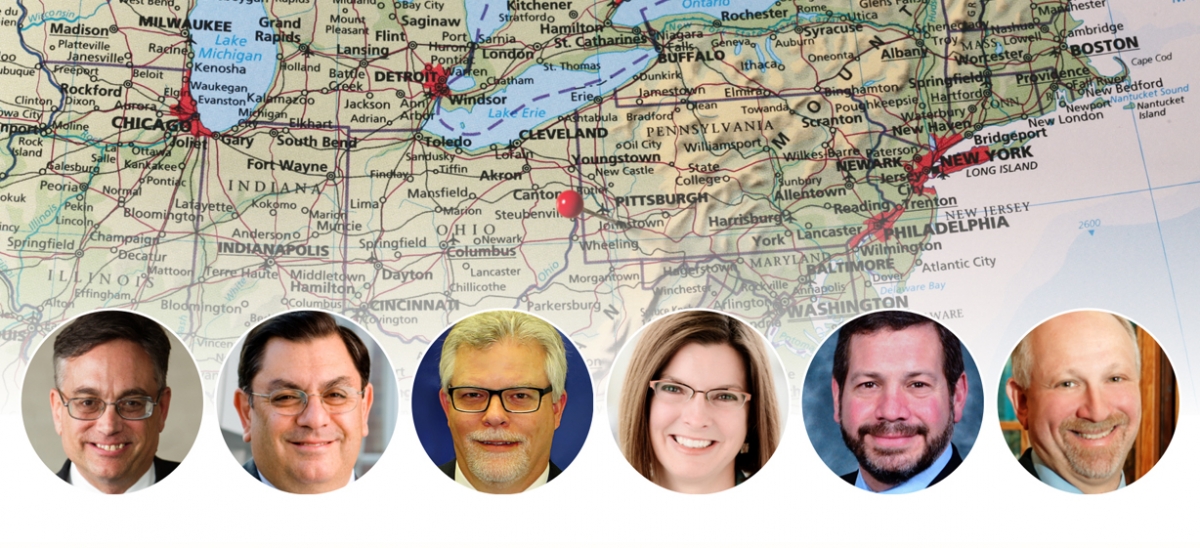 May 20, 2015
On June 1, Andrew McElwaine becomes the senior program director for sustainability and environment at The Heinz Endowments, where he will be responsible for environment grantmaking and building the foundation's sustainability- related work. McElwaine returns to Pittsburgh from Washington, D.C., where he was president and CEO of American Farmland Trust. McElwaine previously served for six years as the Endowments' first environment program director, leaving in 1999 to become president and CEO of the Pennsylvania Environmental Council. He has also been president and CEO of the Conservancy of Southwest Florida. A native of New York, who grew up in Washington, D.C., and Connecticut, he has an undergraduate degree from Duke University and master's degrees from George Mason University and Carnegie Mellon University. McElwaine will be living in Allegheny East in Pittsburgh's North Side.

On July 1, Arjan A. Assad becomes dean of the University of Pittsburgh's Katz Graduate School of Business and College of Business Administration, succeeding John Delaney who will assume a faculty position after nine years as dean. A native of London, England, who was raised in Tehran, Iran, Assad comes to Pittsburgh from Buffalo, N.Y., where he has served for seven years as dean of the School of Management at the University at Buffalo, the State University of New York. Previously, he was the inaugural Dean's Professor for Extraordinary Service and held a number of positions at the Robert H. Smith School of Business at the University of Maryland. Assad has authored or edited more than 50 refereed articles and book chapters and holds four degrees from the Massachusetts Institute of Technology— a doctorate in management science from its Sloan School of Management, master's degrees in chemical engineering and operations research, and a bachelor's degree in mathematics.
On July 1, Douglas K. Frizzle becomes vice president for student life at Duquesne University, succeeding the Rev. Sean Hogan, who will step down as executive vice president but will remain as president of the newly formed Duquesne University Scholarship Association. Frizzell comes to Pittsburgh from Cincinnati, where he has served as vice president for student affairs at Mount St. Joseph University. Previously, he was vice president for student affairs at Newberry College in Newberry, S.C., and was dean of students and associate dean for student life at the University of Findlay in Ohio. A native of Moundsville, W.Va., Frizzell has a bachelor's degree in business administration from West Liberty University, a master's in college student personnel and a Ph.D. in higher education administration from Bowling Green State University in Ohio. Frizzell and his wife, Susan, have three children and haven't yet chosen where they will live in Pittsburgh.
Rebecca Bagley is vice chancellor for economic partnerships at the University of Pittsburgh, a new position in which she is responsible for coordinating and expanding the university's efforts in economic development. She comes to Pittsburgh from Cleveland, where she was president and CEO of NorTech, a technology- focused economic development organization that strengthens Northeast Ohio's economic vitality by accelerating the pace of regional innovation. Prior to joining NorTech in 2009, Bagley was deputy secretary for the Technology Investment Office of the Pennsylvania Department of Community and Economic Development. Previously, she worked for several investment banks, including JPMorgan Chase. She is a contributing writer for Forbes.com. A native of Harrisburg, Bagley has a bachelor's degree from the University of Colorado-Boulder. She is living in Schenley Farms with her husband, John, and their two daughters.
Dr. James J. Sferra is the director of the division of foot and ankle surgery for the Allegheny Health Network. A native of Campbell, Ohio, Sferra comes to Pittsburgh from the Cleveland Clinic Foundation where he served as director of the Center of Foot and Ankle Surgery within the Orthopaedic and Rheumatologic Institute, and was a staff physician at the Cleveland Clinic for more than 20 years. A nationally recognized orthopedic surgeon, Sferra specializes in reconstructive surgery, fractures and sports injuries of the foot and ankle. He is a graduate of John Carroll University (where he played football) and the Medical College of Ohio in Toledo; he performed his residency in orthopedics at The Cleveland Clinic and completed a fellowship in foot and ankle surgery at The Medical College of Wisconsin in Milwaukee. He is currently living in Cranberry as his family considers relocation options.
Ariel C. Armory is the University of Pittsburgh's senior director of the University Center for International Studies. A native of Buenos Aires, Argentina, Armony comes to Pittsburgh from Miami, Fla., where he has directed the University of Miami's Center for Latin American Studies since 2010. Previously, Armony served as a professor and director of the Latin American Studies Program at Colby College. He was a Fulbright Scholar at Nankai University in China, and residential fellow at the Woodrow Wilson International Center for Scholars in Washington, D.C. In addition to overseeing Pitt's international programs, Armony will hold faculty appointments in Pitt's Graduate School of Public and International Affairs and the department of political science within the Kenneth P. Dietrich School of Arts and Sciences. For Armony, this marks a return to Pittsburgh, where he earned a Ph.D. from Pitt's political science department in 1998 as well as a certificate in Latin American studies from the Pitt center that he will now direct. He is the author of two books and has edited four. Armony is living in Shadyside.