Lyke, Harvey, Niepa, Snowden, Oplinger, Dambrot, Rutenbar
Professionals New to Pittsburgh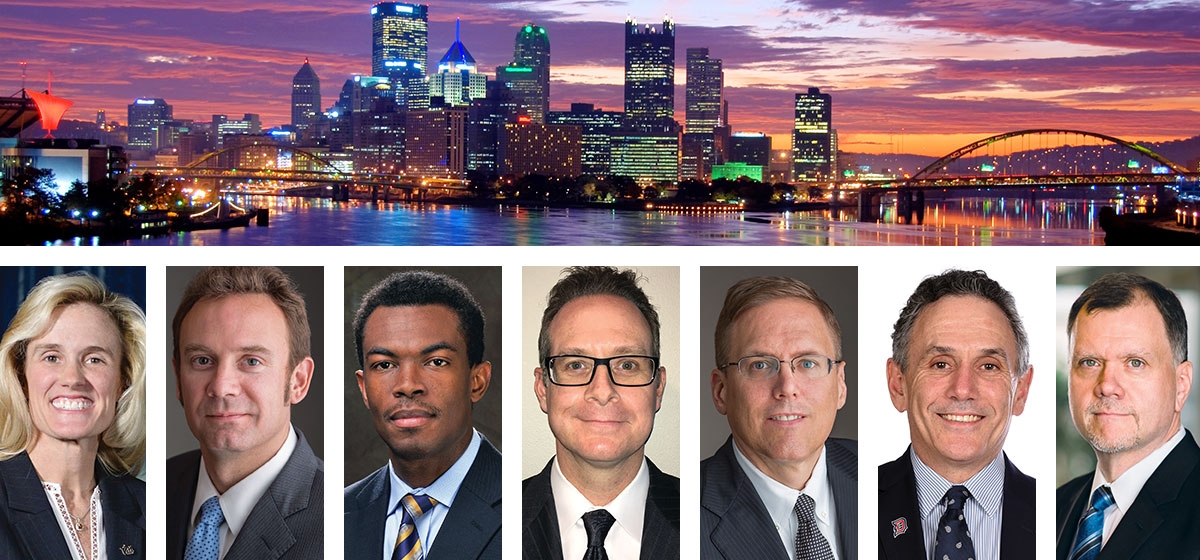 May 20, 2017
Heather Lyke is athletic director at the University of Pittsburgh. She comes to Pittsburgh from Eastern Michigan University where she has been athletic director since 2013, overseeing 21 varsity sports teams. A native of Canton, Ohio, she previously was an athletic administrator at Ohio State University for 15 years and has held positions with the University of Cincinnati and the NCAA. An athlete herself, she captained the Big Ten Champion softball team at the University of Michigan, where she earned her undergraduate degree. She has a law degree from the University of Akron.

Roy Harvey is CEO of Alcoa. He comes to Pittsburgh from New York. Before leading the 16,000-employee company, Harvey was executive vice president and president of Alcoa's Global Primary Products business. Previously, he was executive vice president of human resources, environment, health & safety and sustainability, and also oversaw the Alcoa Foundation. Since joining Alcoa in 2002, he's held a variety of operating and financial positions across the U.S., Europe and Latin America. A native of northeastern Pennsylvania, he has an undergraduate degree in mining engineering from Columbia University and a master's degree in international business and corporate finance from the Wharton School of Business.
Tagbo Niepa is an assistant professor in the department of chemical and petroleum engineering at the University of Pittsburgh's Swanson School of Engineering. He comes to Pittsburgh from the University of Pennsylvania where he was the postdoctoral fellow for academic diversity. He is an expert in biofilms, microfluidics and interfacial science and is gaining national acclaim for his bacterial research, which involves antibiotic discovery as well as how beneficial microbes can be used to clean the environment after oil spills. He is also a successful entrepreneur. He has a bachelor's in science and a Ph.D. in chemical engineering from Syracuse University.
Don Snowden is vice president of U.S. construction and commercial sales for WESCO Distribution, Inc. He comes to Pittsburgh from Portland, Ore., where he was regional vice president for WESCO's communications and security operations. During his 16 years at WESCO, he has held several sales, sales leadership, and P&L roles. In his current assignment, he provides strategic direction and progressive leadership and oversight to WESCO's contractor/ integrator, commercial end user and solar customer segment strategies. A native of California, he is a veteran and non-commissioned officer of the U.S. Marine Corps.
Bill Oplinger is executive vice president and chief financial officer of Alcoa. A native of Pittsburgh, he previously served as chief operating officer for Alcoa Global Primary Products, with responsibility for day-to-day operations of its five businesses— mining, refining, smelting, casting and energy. Before joining Alcoa in 2000, he held engineering, marketing management and business planning positions with Westinghouse and Emerson Electric. He earned a bachelor's degree in industrial engineering and operations research from Virginia Tech and a master's of science with honors in industrial administration from Carnegie Mellon University.
Keith Dambrot is the head basketball coach at Duquesne University. He comes to Pittsburgh from his native Akron, Ohio, where he led the University of Akron Zips basketball team for 13 seasons including 10 postseason appearances and a school record 305 wins. He was three-time winner of the Mid-American Conference Coach of the Year. Previously, he coached at Eastern Michigan University, Ashland College and Central Michigan University. He has an undergraduate degree in management and an MBA from the University of Akron.
Rob Rutenbar is senior vice chancellor for research at the University of Pittsburgh. In the newly created position, he will oversee and integrate research and manage the University's Center for Research Computing, the Innovation Institute, and the Office of Research. A 40-year veteran in computer science, Rutenbar returns to Pittsburgh from the University of Illinois where he led the computer science department. Previously, he worked 25 years in Carnegie Mellon's department of electrical and computer engineering. He has founded two technology firms—Neolinear Inc. and Voci Technologies, Inc.—and has 14 patents. He has a bachelor's in electrical engineering from Wayne State University and a master's and doctorate in computer, information and control engineering from the University of Michigan.