Know when to hold 'em: Le'Veon Bell stares down the Steelers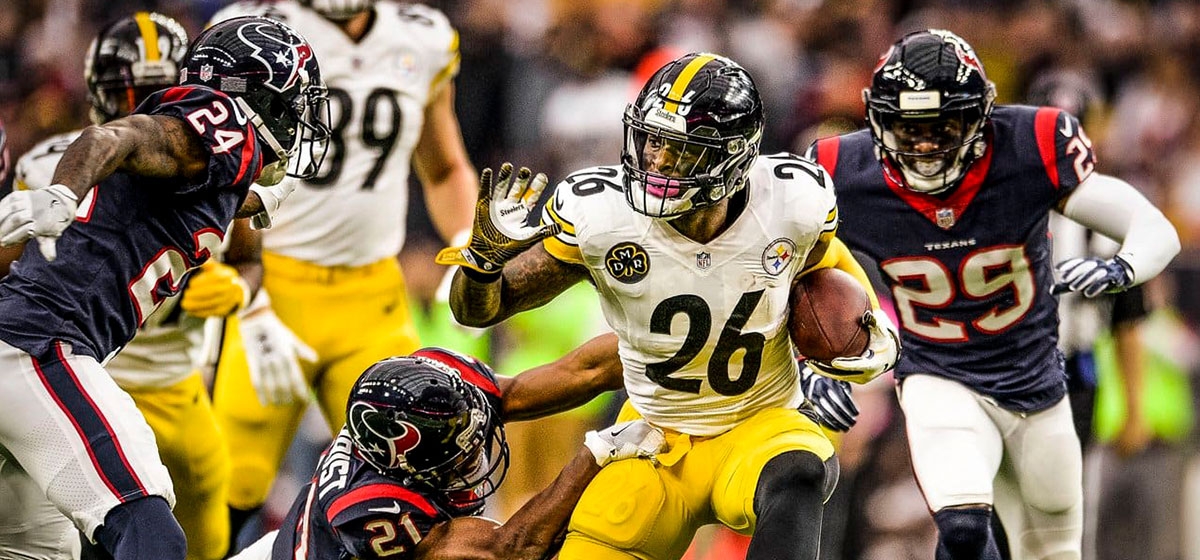 September 8, 2018
In poker, a player holding cards that he or she knows cannot be beaten is deemed to have "the nuts." It's the best possible position—without question, you cannot lose.

You can, however, not win—an opponent may be holding equivalent cards to yours. Both the Steelers' front office and their star running back Le'Veon Bell find themselves in a similar, unenviable situation. Each side has held their cards close; ultimately, neither side will win.
These contract negotiations have been well documented: after being suspended in consecutive seasons, Bell played under what is known as the franchise tag in 2017 (we'll cover the implications of that later). In a not uncommon but somewhat unprecedented move, the Steelers placed the tag on him once more this offseason. Bell is slated to be compensated considerably, but he's playing his hand a bit differently this time around.
While it is a team sport, it's also a job—players sign contracts, make money, and retire just as we do. Sure, they make an exorbitant figure, but they're the gears that propel an industry that brought in over $8 billion dollars in revenue last year. And not just any old industry, either—an entertainment industry. I'd wager to say you likely spent more time watching Le'Veon Bell on your television screen last year than you did your favorite actor or actress. He plays a convincing villain—it's not easy to cheer for a guy with two suspensions, two contract holdouts, and a selfish attitude.
Maybe we should. Here's why:
Bell led the league in touches (the number of times a player gets the ball) in 2017. That's not special in and of itself—after all, someone has to lead the league in touches every year. The Steelers called his number a whopping 406 times, 60 more than the next closest league mate (for contrast, Antonio Brown racked up 112 touches last year). The usage is notable for a few reasons:
It's historic—since its foundation in 1920, the NFL has only seen players produce 400+ touches in a single season 40 times;
In 2012, All-Pro running back Demarco Murray became the last player to accomplish this feat. He retired this year at the age of 30.
Bell remains one of 7 active players with over 1,500 career touches. At only 26 years old, he's the only one among them under the age of 30.
The Nature of Franchise Tagging
Firstly, let's establish what we're talking about. When a player's contract expires, he can re-sign with his team or leave for another via free agency. A franchise tag allows a team to maintain the services of a player whose contract has expired for one additional year. In exchange, the player is compensated similarly to the top players at that particular position. Each team can use one each year, and it's optional.
The Steelers are well within their rights to exercise a franchise tag—from a business standpoint, it makes complete sense. They are "prove it" contracts: teams pay a premium in the short term to verify the worthiness of a long-term investment. Both ends of the bargain were honored in 2017; Bell got paid like a top player, and he performed like one.
A second franchise tag is a bit of a different animal, and sometimes it works out fine for the player. Current Minnesota Vikings quarterback Kirk Cousins played under two consecutive franchise tags in Washington before cashing in on a monumental deal this offseason.
While it's well within the confines of the rules, it puts the player in an awkward position. As a fan, it's easy to get upset about the situation—good players, after all, make the probability of winning more likely when they play. Often, we tend to put the team's success above a player's livelihood. Kirk Cousins played his cards right, but plays a position that not only pays more, but also allows for a longer career. As of this writing, there are 15 starting quarterbacks currently aged 30 years or older, compared to 3 running backs (one of which, Adrian Peterson, was brought on due to injury).
The money is beside the point—tagging a player with a limited number of prime years isn't necessarily moral. It's not supposed to be—no team in their right mind can commit that much money to a position with a notoriously short shelf life. It's a business decision, and a smart one: reap the benefits of a player's prime years without committing to the not-so-prime years down the road. Much like any business, not all decisions are in the best interest of the employee. This brings us to:
Injury Risk
Plain and simple: this is a violent league, and running backs take a beating.
One of the reasons Bell has not signed is likely how he views this second consecutive one-year deal: as a death sentence. Giving a talented player the ball at a historical clip is good for the stat sheet and taxing on the human body. With each carry comes the increased likelihood of a broken bone, torn ligament, or brain-jarring concussion. These things don't necessarily end careers, but they certainly don't increase the likelihood of a long one.
A lot has been made about the contract Le'Veon was offered already, but the actual parameters of that offer were not disclosed; this is important. The Steelers could have offered him even more than he was asking. However, if most of that "promised" money isn't guaranteed after the first year of the contract, what incentive is there for him to sign? It leaves him exactly where he is right now.
Here's a relevant example: running back Jerick McKinnon signed a generous deal with the 49ers this offseason. On paper, it looked pretty good—$30 million over 4 years would place him among the richest at the position. Dig a little deeper, and it actually heavily favors the team; GM John Lynch can terminate the contract next offseason without paying the majority of the remaining money. McKinnon made a good chunk of money up front, and the rest of it if he remains healthy and productive. Unfortunately for him, an ACL tear in August will keep him off the field this year and potentially off the roster next year.
It's not difficult to come up with the narratives that can play out here. While this Steelers team is fully capable of winning, the storylines will be rather predictable if Pittsburgh stumbles out of the gate. After a strong preseason, fan favorite James Conner is fully capable and poised for a big year. He's an extremely talented player—you don't attain ACC Player of the Year as a college sophomore without some ability. He has an opportunity to make Bell a distant memory. If, however, the second year back struggles to get going, the city will become a hornet's nest in short order.
Is Le'Veon Bell worth the money he seeks? From a productivity standpoint, sure, he's arguably the best at what he does. From a reliability standpoint, not as much—he's burned this team with his immaturity. From a business standpoint, absolutely not—the turnover at the position is too high. It makes complete sense to wash our hands of him next offseason.
But before we write him off completely, try putting yourself in his cleats. Whether you believe he's worth all the money he wants is irrelevant—he believes he is, and is willing to sacrifice in the short term. Is it so hard to imagine holding out with the hopes of something more while his health is intact? It shouldn't be, especially for a town still coping with the fallout of Ryan Shazier's heartbreaking situation. Bell will likely never get that astronomical contract, but there's something commendable about not folding a good hand under pressure when you think you have "the nuts."