The Man Behind the Players
The man behind the players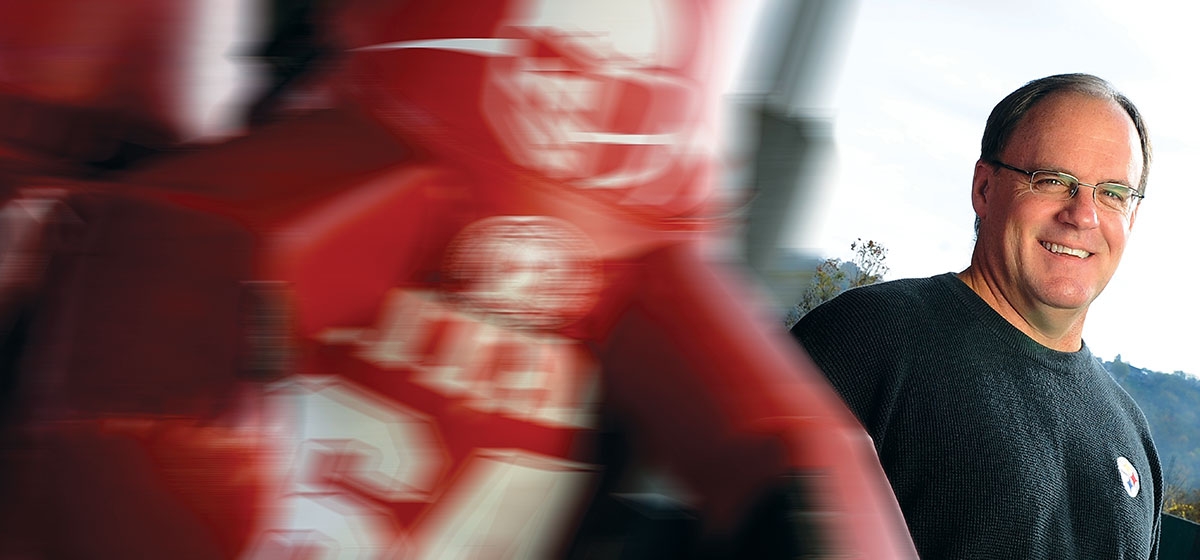 November 20, 2009
Kevin Colbert grew up the youngest of five boys living in a house on Pittsburgh's North Side. The house had one bedroom and one shower. The five boys lived in the attic, and they were orphaned by the time Colbert was 15.


Recipes for success, however, can be tricky things to gauge. Despite the odds, or perhaps because of them, that North Side boy has become one of America's most successful sports executives. Since becoming director of football operations for the Pittsburgh Steelers in 2000, Colbert has built a team that has won two Super Bowls.
Yet, in perhaps the most football-crazy city in America, Colbert can walk into most any restaurant and not be recognized.
"I don't mind," said Colbert, 52. "The only people who should be visible are the owners, the players and the head coach. Besides, when you win, there is enough credit for everybody."
Now six feet tall and 230 pounds, Colbert played football in high school, but no further. "Kevin was the worst punter in the WPIAL and was pretty rotten at defensive end, too," joked Colbert's North Catholic coach, Ron Hughes, who now works for Colbert as the Steelers' college scouting director.
Colbert's job is to decide which players the Steelers draft, trade and sign. He's become an expert at managing the NFL's salary cap, which is adjusted annually, based on the teams' revenues. Last season, the cap for each team's 53-man roster was $116 million.
The payroll limit forces some hard decisions. But Colbert has a knack for letting players leave to other teams—rather than pay them major contracts—and then replacing them with younger, less expensive and still capable players.
Exhibit one is linebacker Joey Porter, who left the Steelers after the 2006 season to sign with the Miami Dolphins. Porter had earned three Pro Bowl berths with the Steelers and led them to one Super Bowl championship. But he was about to turn 30 before the 2007 season, and Colbert didn't want to pay big money for a player he figured would soon be past his prime.
Result: Porter was a major disappointment with Miami in 2007 before bouncing back with a strong 2008 season. But with the best defense in the league last season led by their linebacking corps, the Steelers didn't miss Porter a bit.
Colbert's draft prowess landed Troy Polamalu in 2003, Ben Roethlisberger in 2004, and Santonio Holmes in 2006. Each was a first-round choice, meaning executives feel immense pressure to deliver instant starters.
Many of Colbert's late-round draft choices have defied the odds and become starters: Brett Keisel, Larry Foote, Ike Taylor, Chris Kemoeatu, and Willie Colon. And some of Colbert's best moves were signing rookies no other team bothered to draft. Defensive Player of the Year James Harrison leads this group. The Steelers signed and cut him three times. Undeterred, Colbert signed him a fourth time, and Harrison finally stuck. Colbert's other undrafted stars include Willie Parker and Jeff Reed.
"Because so much media attention has gone to Pittsburgh's past two coaches (Bill Cowher and Mike Tomlin), Colbert's personnel efforts have gotten overshadowed," said Alex Marvez of FOXSports.com. "They shouldn't. He does an excellent job identifying the traits of players who fit into what Steelers coaches are seeking for their schemes. The Steelers are not major players in free agency because of the budget restraints faced by smaller-market teams. But when the Steelers have dipped into the talent pool, they've come away with gems."
Like the Steelers organization man he is, Colbert deflected the praise. He credited Harrison's "devotion to the game" for the perseverance that brought him success. And he said it was college scout Dan Rooney Jr., the son of the Steelers' chairman, who pushed the team to sign Willie Parker after the running back went undrafted in 2004. Humility aside, however, the fact is that Colbert's fingerprints are all over this team—only three of the 53 Steelers pre-date him: wide receiver Hines Ward, defensive end Aaron Smith and cornerback Deshea Townsend.
"Kevin is a good listener," said Hughes. "He can sift through fact and fiction on a player. You can see a guy play well in college, but that does not mean that the same thing is going to happen in the pros. You have to judge character and not just whether the kid stole something. But football character—how important is the game to him? How hard does he work? Kevin's strength is that he is highly organized and can take all the information and put it together."
Hughes was Colbert's boss when they worked in the Detroit Lions' personnel department, and he has a close relationship with the man he mentored. "I can yell at Kevin more than anyone. I don't want to say our relationship is father-son, because he raised himself to a certain extent. But our families have known each other forever."
And family is at Colbert's core. He and his wife, Janis, have two daughters and a son: Kacie, 26, works for the NFL in media sales; Jennifer, 23, works in community relations; and Daniel, 20, studies sports management at Miami University in Ohio.
"My wife is a big sports fan," Colbert said. "We have season tickets to the Penguins and Pirates, and we'll still go to some North Catholic events and Mars games (where their kids went to high school). That's how we spend our free time."
In that way, life really hasn't changed much since Colbert was a teenager living at 48 Solar Street on the North Side.
"Our grandparents raised seven kids in that house," said Kevin's brother Bob. "And our parents raised us there, too. There was a kitchen and dining room downstairs, a living room and our parents' bedroom upstairs, and the boys all slept in the attic."
In order, "the boys" were Bud, Bob, Bruce, Bernie and Kevin.
When Kevin was born, Bob unsuccessfully lobbied their mother to give the baby another 'B' name.
Their parents, Evabell and John, weren't athletes, but they were big sports fans. Evabell's brothers—Rip and Dick Scherer—played football at Penn State and Pitt. And when Rip later became a local high school coach, the Colbert boys went to his games. After one big victory, Bob recalled, "My mom and her sister carried him off the field in celebration."
Evabell died of cancer when Kevin was five. John, a mailman, died of a stroke a decade later.
"I have very few memories of my mother," Kevin Colbert said. "My dad had a very tough chore raising five boys. After my mom died, we didn't have a female influence in the house. It was hard on him. I never had a chance to see him really enjoy life because he was either working or taking care of us. I never saw him socialize. But he did a great job keeping the family together."
When John died, Bud, the oldest son, became Kevin's legal guardian.
"Bud deserves a lot of credit for taking care of Kevin through his teenage years," Bob said. "Although my parents died relatively young, they must have taught us good core values. I don't believe my dad ever owned a car. We walked, took public transportation or bummed rides from relatives. All of us are still married to our first wives of 25-plus years. I am proud of that fact."
In 1979, Kevin Colbert earned a bachelor's degree from Robert Morris University, majoring in sports management. Later that year, he became a graduate-assistant basketball coach at RMU. In 1981, he switched to football and went to work for his brother Bob as Ohio Wesleyan University's backfield coach and recruiting coordinator.
The next in a series of breaks came in 1984, when he landed a job with the BLESTO scouting service. The next year, when legendary Miami Dolphins coach Don Shula offered him a job, Kevin called Bob for advice.
"He said he could work for Shula at twice the salary," Bob said with a laugh. "I said, 'What are you doing talking to me? Hang up the phone and go take the job.'"
Five seasons as a college scout for the Dolphins led to a decade as the Lions' pro scouting director. Finally, in 2000, he came home to run the Steelers.
At the press conference to announce his hiring, Dan Rooney was asked if it helped that he and Colbert shared North Catholic High as an alma mater.
"I will never forget his answer," Colbert said. "He just smiled and said: 'It didn't hurt.'"
Jerry DiPaola, the Tribune-Review's Steelers beat writer from 1994 to 2004, was there when Colbert was hired. "I thought the Rooneys were wrong after the 1999 season when they fired Tom Donahoe, and I believed the franchise was headed for trouble. But Dan Rooney knew what he was doing."
"In Kevin Colbert, he got a loyal employee who shuns the limelight, doesn't make waves and makes it a point to get along with the head coach—all things that Dan considers important for that job. More than that, Colbert knows the league, knows its power brokers well and knows how to aggressively attack the draft and not just passively let it unfold."
Once Colbert got the job, he built a great relationship with Cowher—the two would have regular racquetball games— and it led to a Super Bowl championship.
The Colbert-Tomlin dynamic, while not as close, has also led to the ultimate prize. Colbert said Tomlin would not have been brought in if he weren't a "great fit," and the coach returns the praise.
"Kevin's impact is immeasurable," Tomlin told the media during Super Bowl week. "We have a great working relationship. And the reason we do, is that neither one of us cares who gets the credit. All we want to do is win."