Kelleman, Fech, Kaminski, Thors, Bhattacharya, Crawley, Miller
Professionals new to Pittsburgh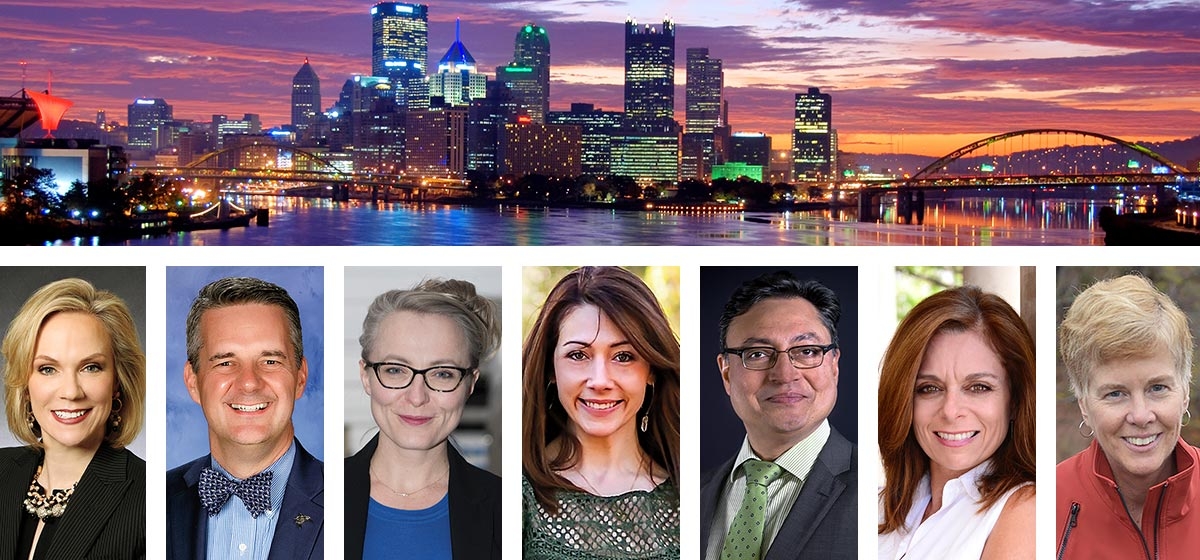 April 23, 2018
Katharine Eagan Kelleman is the CEO of the Port Authority of Allegheny County, succeeding Ellen McLean. Kelleman comes to Pittsburgh from Tampa, Fla., where she led the Hillsborough Area Regional Transit Authority and won that region's 2016 Businesswoman of the Year Award for economic development.

She has previously worked in transit agencies in Baltimore, Dallas and San Angelo, Texas. A native of Colorado Springs, she graduated cum laude from the University of Colorado and has a master's degree of public administration from Angelo State University, San Angelo, Texas.
Scott Fech will become the head of school of Winchester Thurston School July 1, succeeding Gary Niels, who is retiring after the school year. He comes to Pittsburgh from Davis, Fla., where he is Upper School director of the NSU University School. Previously, he was high school director of educational programs at The University of Chicago Laboratory Schools. A native of Griffith, Ind., he has an undergraduate degree in education and French from Indiana University, a master's degree in education from Purdue and a Ph.D. in educational administration and supervision from Loyola University (Chicago).
Marya Sea Kaminski will become the new artistic director of the Pittsburgh Public Theater in June, succeeding Ted Pappas, who retires after this season. She comes to Pittsburgh from Seattle where she was associate artistic director of Seattle Repertory Theatre. She is also a founding member and former co-artistic director of the Washington Ensemble Theatre. A native of Rochester, N.Y., she has an undergraduate degree in English and theater arts from the University of Pennsylvania and an MFA from the University of Washington's School of Drama.
Liza Prijatel Thors is vice president of communications for the Pittsburgh Symphony Orchestra, leading the PSO's communications team overseeing national and regional initiatives and media and social relations. She comes to Pittsburgh from Los Angeles, where she was a partner at Rebecca Davis Public Relations. Previously, in New York City, she worked in public relations with Universal Music Group and Susan Blond Inc. A native of Dayton, Ohio, Thors has an undergraduate degree from the UCLA School of Theater, Film and Television and a graduate certificate from Mike Nichols' New Actors Workshop in New York City.
C.B. Bhattacharya is the H.J. Zoffer Chair in Sustainability and Ethics at the Katz Graduate School of Business, at the University of Pittsburgh. He comes to Pittsburgh from Berlin, Germany, where he is on leave from the European School of Management and Technology. Previously, he was a professor of marketing at the School of Management at Boston University. A native of Kolkata, India, he has an undergraduate degree with honors in economics from St. Stephens College, Delhi, an MBA from the Indian Institute of Management and a Ph.D in marketing from the Wharton School of the University of Pennsylvania.
Marcia Crawley is vice president of advancement and community engagement for the Carnegie Museums of Pittsburgh, succeeding Dolly Ellenberg who is retiring. She comes to Pittsburgh from Detroit, where she was vice president of development for the Detroit Institute of Arts. Previously, she was senior director of development for Michigan State University in East Lansing. And following a 12-year stint as a broadcast journalist, she also was director of development for the Salvador Dali Museum in St. Petersburg, Fla. A native of the Tampa Bay area, she has an undergraduate degree in business management from the University of South Florida, Tampa.
Jayne Miller is the second president and CEO of the Pittsburgh Parks Conservancy, succeeding Conservancy founder Meg Cheever, who retires at the end of March. Miller comes to Pittsburgh from Minneapolis, where she has been superintendent of the Minneapolis Park and Recreation Board. Previously, she was director of the Huron-Clinton Metropolitan Authority, a five-county regional park system in southeast Michigan. Before that, she spent 22 years in a variety of positions with the city of Ann Arbor. A native of upstate New York, she has a bachelor's degree from Midland University in Nebraska and a master's degree in recreation administration from the University of Maryland.