Jim's Famous Sauce
A visit to Jim's Famous Sauce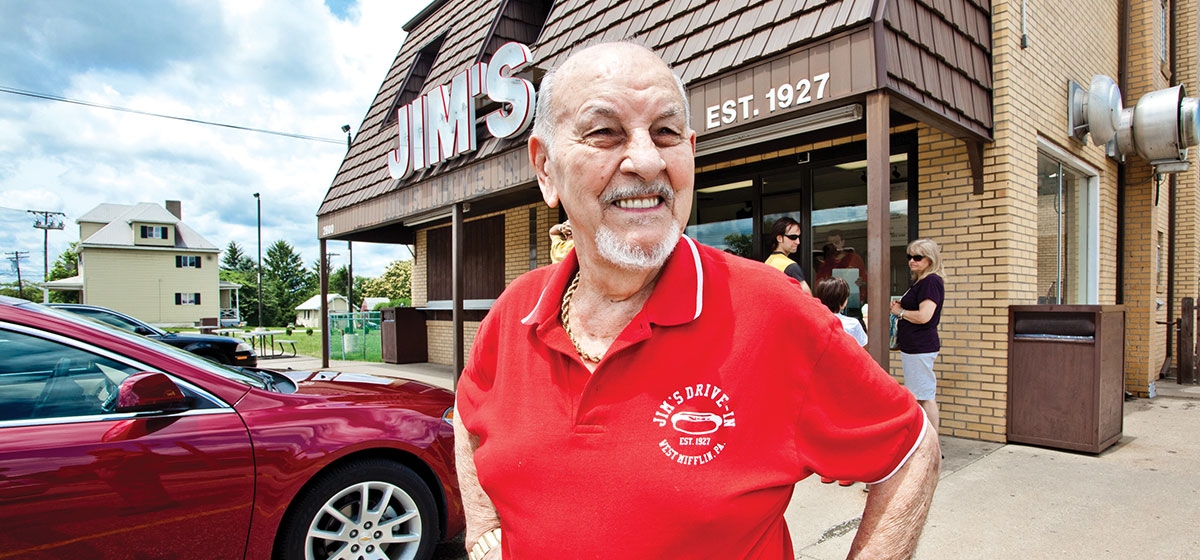 August 20, 2011
Alex Damianos awakened from a troubled sleep at 3 a.m. on a hot July night in 1959 to find his smiling father standing at the foot of his bed, staring down at him.

"Alex, I told you to learn how to make the sauce," Jim said playfully to his oldest son. "Now, think about the one ingredient that you keep missing… think hard."
Suddenly, the final ingredient popped into Alex's head. He fumbled for his clothes, dressed quickly and ran out the door toward the family's sandwich shop. By 4 a.m., he had made a perfect batch of Jim's Famous Sauce.
Jim Damianos had died suddenly one week before this unexpected appearance in Alex's room. Until that time, Alex had tried to get the family's secret recipe just right, but all anyone could say was, "There's something missing from the sauce."
No one was surprised that Jim had returned to his son in a vision to fine-tune the family business. A WWI doughboy, he returned to America the first time with his French war bride and lifelong partner, Melanie.
After going abroad for four more years, Jim settled here for good in 1927, scraping together $50 and opening a sandwich shop in McKeesport, a steel town bursting with immigrants and opportunity. He put every sandwich he could think of on the menu and over time eliminated those that did not sell.
The hot dog emerged as king from that simple marketing survey, and just when you think you have tasted every permutation of the humble dog, along comes Jim's.
First, the skinless hot dog is grilled and placed in a traditional soft bun. Then comes that famous sauce, a mildly spicy, slightly sweet, caramel-colored tomato-based concoction, surely alchemy. Next are the toppings, chopped sweet onions being the most popular, and then strips of American cheese are laid on top.
For the pièce de résistance, the fully dressed dog is put into a hot salamander, to broil until the cheese bubbles and slightly browns. The bun emerges crispy on the outside and still velvety soft inside. It is a sublime creation.
There are other offerings, including kolbassi, Italian sausage, grilled chicken and hamburgers, each one dressed with the sauce, and nothing costing more than $3.59. And old-fashioned, 20-ounce milkshakes, with hand-dipped ice cream, are $3.49.
In 1948 the shop moved to West Mifflin, where Jim continued his mysteriously enterprising ways. One day, when Alex and his kid brother, Syl, arrived for work, all the booths had been tossed into the parking lot, followed by the counter and stools a few weeks later, and in short order, business tripled.
Now, as then, you eat in your car or at the picnic tables in the side yard. And out of respect for their hot dogs, take-home orders are tenderly placed in little white pastry boxes, so they will not be squished under their own weight in a bag.
Alex is 91 now and still runs the show. Two full-time employees, Tim and Mike, have been there for 18 years, earning a stake in the business. Like middle brother Gus and nephew Brian Homoki, both of whom worked there for years, they are like family.
Syl, 77, a renowned Pittsburgh-based architect, will soon rejoin his older brother to focus on marketing Jim's Famous Sauce, now available in small bottles for $6.
And if any problems arise, no one would be surprised to see Jim again, gently prodding, providing that final piece of the puzzle.
Jim's Famous Sauce, 2600 Skyline Dr., West Mifflin, PA 15122.