In the Mind of the Beholder
Troy Hill exhibit "Historic Site" combines disparate elements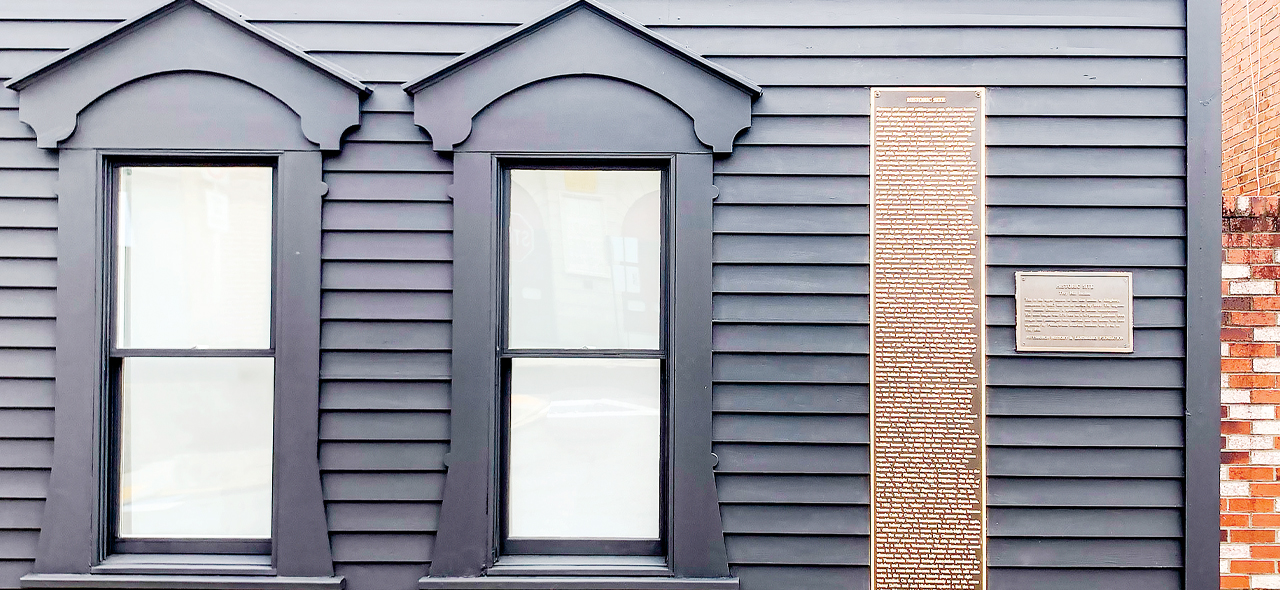 August 30, 2022
Lenka Clayton and Phillip Andrew Lewis came across an unassuming structure, located at the five-point intersection on Lowrie Street in Troy Hill, where they have a studio. Pittsburgh History and Landmarks Foundation had placed a plaque on the structure, informing visitors that it housed the upper level of Pittsburgh's first incline, founded in 1887, that ran 370 feet at a 47 percent incline. Its two-year history of carrying passengers and freight became a footnote in history, but the building, now empty, still stands in the neighborhood. Intrigued, the two artists set out to research the site's 120+ year history.

The result is Historic Site, an engaging public art project that goes far beyond a superficial understanding of the building's life.
Clayton and Lewis found lots of unrelated bits and pieces of information in archives, the press, and neighborhood anecdotes. They then created their own text based on all they found, creating a second historic plaque that they attached to the façade of 1733 Lowrie St. They placed the 8-foot, cast bronze sign on the right side, placing it between two windows and the original historic plaque. They also painted the front black, which makes it stand out more in the mixed-use neighborhood.
Their textual addition reads more like fiction than history and more like a list of unrelated things than a consistent narrative. It's a loose chronology, a partial and unfinished story that raises more questions than answers. Why is it important to know that Danny DeVito and Jack Nicholson filmed a scene in front of the building or that Wilma's restaurant served breakfast there ­— one egg, toast, and jelly cost 60 cents in the 1980s? Do geologic factoids about the area originally located under an ocean or shifting tectonic plates that formed the precipice or the fact that the Earth is still moving to the west at the rate of 2 inches a year add to our understanding of the site? And how does this information relate to different functions of the building, as a silent movie theater, several banks, and food stores? Monarch butterflies have passed over the site for some 15,000 years during their migration to Mexico, but does anyone outside of Pittsburgh care that the metal removed from the abandoned building went to the Warhola scrapyard? The uniform presentation of such discoveries, without comment, resists the usual hierarchies inherent in most histories. Instead we get glimpses of the site over millions of years.
By refusing to interpret any of these bits and pieces, the artists have left visitors to create their own sense of the history of the site, while simultaneously filling in information about one of Pittsburgh's neighborhoods. Using methods typical of site-specific work, they also interrogate history, asking key questions that are rarely raised: how do we define history, what is included and what left out, who gets to write it and make those decisions? The artists investigate the relationship between history and storytelling, fact and fiction, presence and absence, memories and statistics. Historic Site is a beautiful, free-form container of ideas that can provoke conversations and more explorations. The multiple strands woven together by the artists relate to their main question, a theme that has engaged so many contemporary artists: how is history constructed?
Historic Site follows in the footsteps of several site-specific artworks in the city. Clayton worked with Jon Rubin on a similar, research-based piece for the last Carnegie International. They used unedited and uncorrected records from the art museum that listed the title of every work shown in the exhibition since 1896, again allowing the viewer to construct their own story.
For the 1991 edition of the International, the show moved outside the walls of the art museum and two artists staged pieces at the Mattress Factory. Ann Hamilton staged a gutted miner's house as an experiential work, going so far as to include canaries as she imaginatively added nuances to our understanding of the site. Christian Boltanski has worked on several site-specific pieces based in history. He utilized an empty lot created by Allied bombing in The Missing House in East Berlin in 1993. He found mention of many of the inhabitants and posted their names on the adjacent walls as a remembrance, though with Boltanski's tendency to fabrication, we can never be sure of historic accuracy. For the Pittsburgh show, he created an "archive" of the show with a storage unit containing boxes labeled with the names and presentation dates of all the artists in the show, again eschewing any attempt at accuracy. In a similar vein, though not always with the site specificity, is Ai Weiwei's work on the 2008 Szechuan earthquake where his team worked to identify the school children lost in that horror. These works bring attention to sites and events that resist historic accounts.
As if Historic Site isn't complexly layered enough, Clayton and Lewis take things further. They established a small gallery inside the building and invited 27 other artists to make work based on words from their historic plaque, allowing other voices to add to the cacophony. Ranging from Phillip Glass to Ann Hamilton, Nina Katchadourian and Pablo Helguera, we can expect a variety of intent, production, finally perhaps getting some interpretation. There is a catch, of course. Their works will be seen two by two, through the front windows of the Lowrie property. Why? Because the exhibition space has been called Gallery Closed, and no one will be allowed inside the building, a lingering reference to the closing of many galleries during the pandemic, creating a lack of art to see. Like many artists moved to other platforms, especially social media, Zoom, and video, this gallery is, of course, open while closed, another enigma of the piece. Again, references to presence and absence, loss and recollection, visibility and invisibility that are embedded in other aspects of this piece are raised.
Even this aspect sits in a well-established context of contemporary art with connections to site-specific pieces and exhibitions as well as the construction of history paradigm. Combining these practices not only enriches Historic Site but positions it in several artistic trajectories of the last half-century. The idea of a "closed gallery" refers to important works of the last 75 years. European artist Yves Klein, whose mid-20th-century work had a fascinating relationship to spiritual resonances from many belief systems, shocked the world with his invisible exhibition. His 1958 show in a Parisian gallery presented an empty gallery, except for one cabinet. He painted the walls white and announced that his mere presence or aura was art, and he strolled through the space, looking at his "work" on the walls. The list of artists entranced by the idea of presence and absence in gallery spaces, related of course to art world commerce, includes some of the most famous and provocative artists: Robert Barry, Robert Irwin, Chris Burden, Vito Acconci, Michael Asher, Maria Eichorn, David Hammons, The Kabokovs, Yoko Ono, and Tavares Strachan (whose Encyclopedia of Invisibility was in the last International) who called his show, installed in an undisclosed location in Manhattan, Seen/Unseen, a title that has a lot in common with Historic Site.
Clayton and Lewis, delving into the intricacies of history, have more in common with historical collectors, especially those who put together cabinets of curiosities, pairing relevant disparities. Emerging in the 16th century, these works, many times taking over several rooms in private residences, were highly personal and idiosyncratic collections combining the real and the imagined. The comparisons, as well as the contrasts, have more to do with curiosity than concrete knowledge. As such, they provide another model of learning, one that forges connections among the inconsistent, counteracting traditional ways of learning.
This piece is packed with so much information that it takes time to unpack, and it is essentially an unfinished work. Kudos to the artists for asking questions without providing concrete answers. The only place where a point of view is expressed is in the last line of their historic plaque: "In the future, the climate will change, and the ocean will return."