Ideas for a Better Pittsburgh: Semifinalists, Part V
Pittsburgh Tomorrow contest results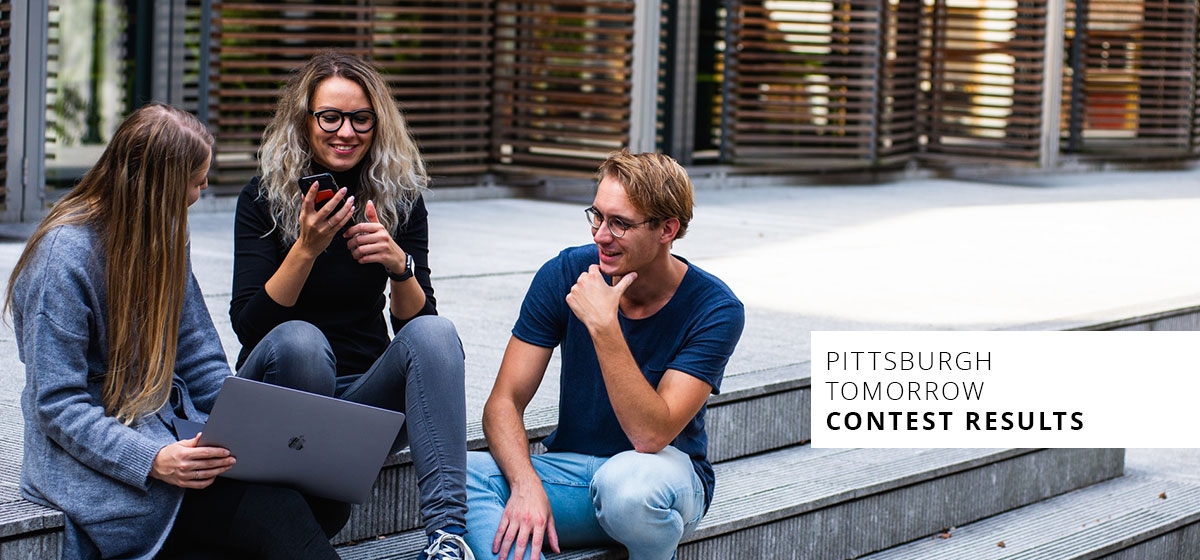 September 30, 2019
Pittsburgh Quarterly invited readers and neighbors to offer up their best ideas for improving the region through the Spring 2019 Pittsburgh Tomorrow Contest. The 13 finalists chosen by the Pittsburgh Today advisory board were published online and in the Fall 2019 issue of the magazine. But the ideas of another nearly three dozen thinkers made the semifinal round out of the 115 who submitted proposals that ranged from grand to humble in scope. Here are the thoughts of a few of our semifinalists. More semifinalists will be published in the coming weeks.

Read "Ideas for a Better Pittsburgh: Semifinalists, Part I" here.
Read "Ideas for a Better Pittsburgh: Semifinalists, Part II" here.
Read "Ideas for a Better Pittsburgh: Semifinalists, Part III" here.
Read "Ideas for a Better Pittsburgh: Semifinalists, Part IV" here.
Seed New Ideas
"Our idea for how to improve Pittsburgh is, in a way, an idea for how to generate ideas to improve Pittsburgh. The model is the third-trimester Project-Based Learning (PBL) unit at local high school Nazareth Prep. Each year, students of all grade levels tackle this course, in which they learn about an array of timely issues and team up to develop creative solutions to the challenges that most interest them.
"Ninth-grade students took on social-justice topics ranging from sexism, to human trafficking, to homelessness. Along the way, they received plenty of one-on-one guidance from their teachers, as well as feedback from other faculty members, administrators, community stakeholders and each other, before presenting their final projects at a year-end exhibition. One team, focusing on homelessness, originally planned to organize a fundraiser. After meeting with a professional directly involved in advocacy for people experiencing homelessness in Pittsburgh, the students realized that their idea failed to address some of the community's major needs, such as privacy and simple conveniences. The group went back and created a project on how tiny houses could be used to ameliorate homelessness.
"Project-Based Learning helps students develop into resilient learners, problem-solvers, entrepreneurs and servant-leaders. It cultivates an investment in real Pittsburgh communities and the real challenges facing them, and it empowers participants to engage with those challenges. We think that project-based learning units should be implemented more broadly in schools throughout Pittsburgh. Doing so would prepare Pittsburgh's young people to improve the city in ways we cannot yet even imagine."
—Liz Fetchin
Train to Exurbs
"I commuted on the Parkway East from Greensburg for 12 years before finally finding a local job here last September. Westmoreland Transit runs commuter buses in the morning and afternoon, but the times don't work for everyone. A while ago, I looked into Amtrak trains to the city, but they run from Pittsburgh to Greensburg in the morning and Greensburg to Pittsburgh in the afternoon. Doesn't work for commuting. If you could somehow convince Amtrak to run a commuter train or two into the city during rush hour, that could ease some Parkway East congestion."
—Cindy Leonard
Furniture Recycling Hub
"We want Pittsburgh to be the first city in the United States to have a furniture recycling center, a place that can serve as an example to the rest of the country, a place that can actively and positively impact the rising number of furniture ending up in our landfills. Pittsburgh is the perfect place for this, with its forward thinking commitment to 'green,' and acclaimed reinvention.
"Off the Curb, Inc., a new non-profit, wants to leverage the intellect and creativity in this awesome city to make a full-service furniture recycling center a reality. The center would encourage drop-offs of unwanted furniture. The furniture would be assessed for condition and donated to local charities. Items that are beyond repair and use would be completely disassembled, and the recyclable parts, such as untreated lumber and metal, would be recycled.
"According to the EPA, more than nine million tons of furniture and home furnishings were landfilled in one year alone. We would love to stop the waste and simplify the dilemma when it comes to furniture. Too many people are putting their unwanted furniture on the curb and hoping someone will grab it before the garbage collectors do. But our planet is too important to leave to chance. An Allegheny County Furniture Recycling Center would offer an innovative, positive alternative and serve as inspiration to the rest of the country."
—Shelley Franco
Foster Mon Valley Entrepreneurs
"My proposal would be to create an entrepreneurship and innovation program and space at Community College of Allegheny County South that would encourage people in the Mon Valley to create small businesses—including healthcare companies to serve Allegheny Health Network Jefferson Hospital—that could serve Pittsburgh and drive businesses to serve the entire Pittsburgh metropolitan region. I would ask for financial support to create opportunities in high schools that have a large economically challenged student population to have the opportunity to pursue a certificate from CCAC in entrepreneurship. The students who are in the program would graduate from high school with a business acumen, receive transferrable credit and have a 'shark tank' opportunity to receive funding for a small business while they are in high school. There would be a connection between the entrepreneurship and innovation center and the high schools in the region.
"We worry about diversity in the workforce and yet the Mon Valley has a lot of diversity. Other than AHN Jefferson Regional Hospital and the college, there are no businesses out here to serve a socioeconomically and diverse population that has some school systems that have challenges and provide little hope to students."
—Charlene Newkirk