Ideas for a Better Pittsburgh: Semifinalists, Part I
Pittsburgh Tomorrow contest results

Richard Stephen Haynes / Wikimedia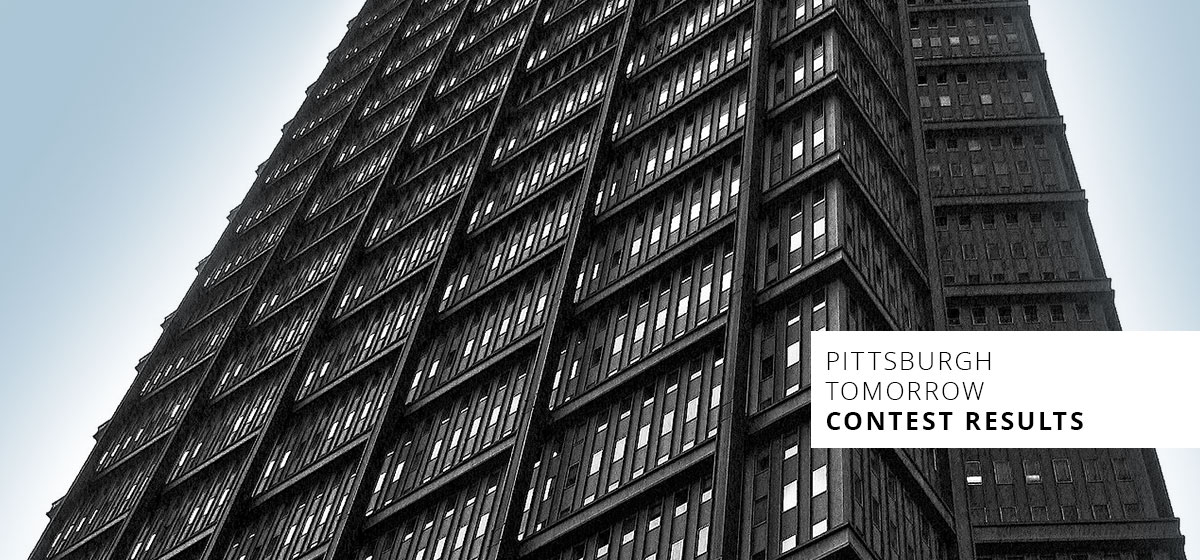 September 2, 2019
Pittsburgh Quarterly invited readers and neighbors to offer up their best ideas for improving the region through the Spring 2019 Pittsburgh Tomorrow Contest. The 13 finalists chosen by the Pittsburgh Today advisory board were published online and in the Fall 2019 issue of the magazine. But the ideas of another nearly three dozen thinkers made the semifinal round out of the 115 who submitted proposals that ranged from grand to humble in scope. Here are the thoughts of a few of our semifinalists. More semifinalists will be published in the coming weeks.

Bird's Eye View
"Take advantage of the existing design of the U.S. Steel Building and install an exterior elevator within the notch of two of the triangular sides, which face the point of the city. Have this elevator take tourists and visitors in general to the top of the building, transforming the roof into an urban park with an observatory. Imagine standing that high above our city, looking out at the expanse below. Wow."
—Chris A. Weber
Retool Leadership Training
"Build and operate a truly inclusive leadership development program that identifies, recruits, and trains next generation leadership across the professions, ages, geographies, identities and so forth. Pittsburgh's current "Leadership Pittsburgh" is fine for what it is. But it focuses narrowly on a band of 20th century identities and competencies—an understanding of leadership that is out of step with best practices in leadership education and out of step with the true breadth of Pittsburgh's opportunity and need. Focus instead on building leadership competencies as a form of post-industrial capabilities for governance, economic development, and community health across the wide spectrum of opportunity and need.
"I have built and run a pilot version of this for several years at Pitt Law, where I am a senior faculty member. I have a national network of leadership development professionals who could be engaged to help scale it.  Implementing this vision regionally would be a major expression of Pittsburgh's efforts to transform itself and serve as a model for post-industrial renewal worldwide."
—Michael Madison
Help Women Escape Abuse
"Many women are stuck in abusive relationships because they simply cannot afford to leave. Some abusive relationships involve financial abuse, leaving women at the mercy of their partner for money. Ninety percent of these women end up homeless or dead. Homeless shelters are not the safest place for women and their children. I've lived in a homeless shelter and can say from experience that my things were stolen and I was mugged in the middle of the night. There is still violence and abuse, even in the places promising to protect these women from harm.
"I think that, instead of homeless shelters being the only safety option available, there should be more resources to help women overcome the abuse, to be independent, to obtain job training for a real career. I think a temporary place for abused women and their children to help them obtain a career, a vehicle and a home of their own would greatly benefit the City of Pittsburgh. We need to help provide the resources for women and their children to leave a dangerous situation without sending them to another dangerous situation. It shouldn't be a place for them to go to just for a bed, but for a life. Whether it's a charity or an organization, women with children need help moving from an abusive situation. Leaving is difficult because of these obstacles. Moving takes a vehicle of adequate size. These people need a place where they can feel confident in starting over again rather than fear of not knowing what's going to happen. They shouldn't question where they'll be or where their kids will be in the next week or month.
"We need an organization for these kinds of people to help provide them with temporary resources until they are independent enough to thrive on their own. They need help moving, a careers unit to help provide education or training and job placement, to help them find an affordable home of their own in a safe neighborhood, maybe try and donate furniture or appliances to get them started. It would definitely make one of the biggest differences in Pittsburgh and in the thousands of lives who reside in Pittsburgh. They'd still be working for their goal, but they would get that step that they don't have now."
—Liza Rome
Build a Central Transit Hub
"My idea is for Pittsburgh to develop a central mobility station in the center of Downtown – Pittsburgh's own Grand Central Station. Central Station would have mobility spurs reaching out to Pittsburgh's workplace clusters of Oakland, East Liberty, Strip District, Hazelwood and North Shore, as well as its suburban communities.
"The station would be located at the U.S. Steel "T" station and the plazas on top of the station. There would be eight easy-to-understand spurs extending from the Central Station: an Oakland spur using the new Bus Rapid Transit; a Strip District spur using Smallman Street; a Hazelwood spur using Second Avenue; North Shore spur using existing light rail; an East Liberty/East Hills spur using the East Busway; a North Hills spur using the Parkway North; a Carnegie/West Hills spur using the West Busway; and a South Hills spur using existing light rail.
"On top of the existing underground US Steel T station there would be well-designed structures that complement the existing plazas and connect to the existing T station.  One structure would be located on the BNY Mellon side of Sixth Avenue and serve as the boarding location for the Oakland, Hazelwood and North Hills spurs.  Another structure would be located on Grant Street at the US Steel tower plaza and be the boarding location for the Strip District, East Liberty/East Hills and Carnegie/West Hills spurs. Such a station could offer many benefits, including easing congestion, and adding simplicity, convenience and predictability to public transit."
—David Aldous