Ideas for a Better Pittsburgh: Semifinalists, Part IV
Pittsburgh Tomorrow contest results

Jean Fortunet / Wikimedia Commons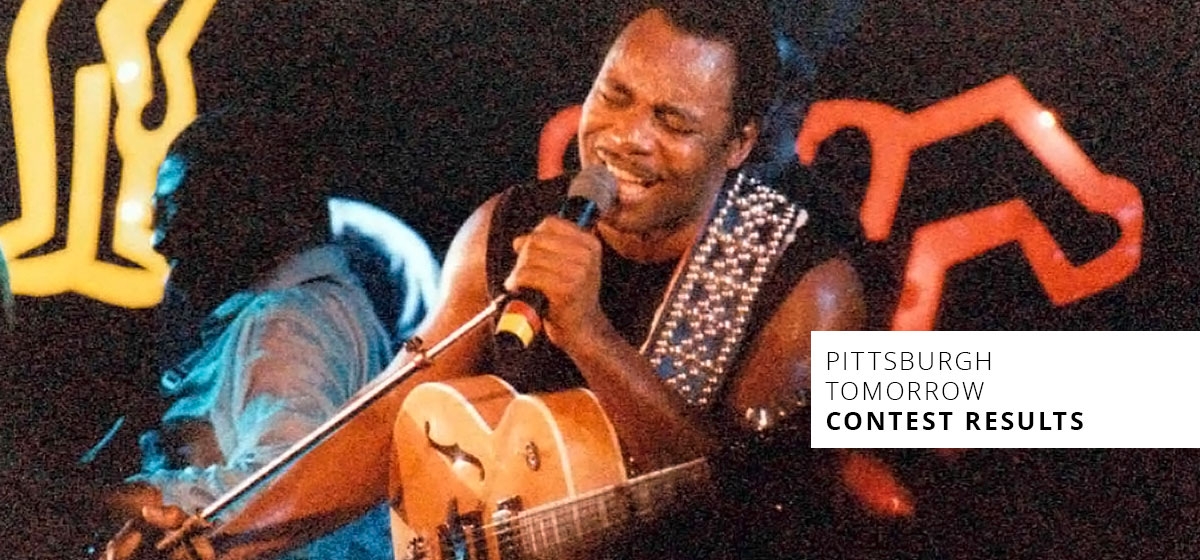 September 17, 2019
Pittsburgh Quarterly invited readers and neighbors to offer up their best ideas for improving the region through the Spring 2019 Pittsburgh Tomorrow Contest. The 13 finalists chosen by the Pittsburgh Today advisory board were published online and in the Fall 2019 issue of the magazine. But the ideas of another nearly three dozen thinkers made the semifinal round out of the 115 who submitted proposals that ranged from grand to humble in scope. Here are the thoughts of a few of our semifinalists. More semifinalists will be published in the coming weeks.

Read "Ideas for a Better Pittsburgh: Semifinalists, Part I" here.
Read "Ideas for a Better Pittsburgh: Semifinalists, Part II" here.
Read "Ideas for a Better Pittsburgh: Semifinalists, Part III" here.
City Jazz Greats Museum
"Pittsburgh is famous for its smooth sound of jazz.  Once known as the crossroads of the world, Pittsburgh is said to have more jazz legends per capita than anywhere else in the world, including Billy Eckstein, Billy Strayhorn, George Benson and Lena Horne. The music of Pittsburgh artists has permeated the hearts and homes of music lovers worldwide throughout the 20th Century and beyond. Other Pittsburgh greats range from rapper Wiz Khalifa to doo-wop groups, such as the Marcels and Del-Vikings.
"This project, the design and creation of a Pittsburgh African American music wax museum hall of fame, will shine a spotlight on Pittsburgh's African-American music greatness, help to market Pittsburgh's diverse music contributions to the nation and world, and be another step in Pittsburgh realizing itself as a first class city and incredible tourist destination.
"A signature component of the museum will consist of dozens of life-like wax figures of Pittsburgh's and the world's greatest musical geniuses. The museum will also house historic programs, memorabilia, costumes, oral history, recording studio, artifacts, rare musical instruments and concert footage.  Touch screen kiosks will encourage visitors to learn about the Pittsburgh's music scene, feature a timeline of development, along with a hall of fame inductee area. It will be the only museum in the world that tells the complete story of Pittsburgh's African American music scene of nightclubs, radio stations, personalities, record labels, song writers, recording artists and more."
—Donald Patterson
Transit-Oriented Development
"Pittsburgh has made great strides towards being more affordable and livable. To continue improving the quality of life for city residents, I recommend revamping the zoning code to accommodate transit-oriented development naturally, even at the homeowner scale. Currently, the code favors auto users. By changing these policies, we could make our streets safer for residents and visitors alike, encourage more business development, make housing more affordable, and infuse our public transit system with more demand.
"Revamping Pittsburgh's zoning code to allow for transit oriented development would include four main policy changes:
1) Abolish mandatory minimum parking requirements throughout the city.  Building parking in a city is expensive, and developers pass those costs on to end users. People who walk or use transit are forced to pay for parking they don't use, subsidizing the cost of drivers and causing some to drive who might otherwise take transit.
2) End limitations on the number of people who can live in a residence.  These rules artificially create housing scarcity and reduce affordability. There are six-bedroom houses in Pittsburgh that are zoned as single family.  A family of 10 can legally live in one, but it is illegal for a homeowner to rent it to more than three people.
3) End minimum lot size and curb setback requirements. Regulating lot sizes reduces flexibility for land owners, reduces affordability of property developments, makes neighborhoods less walkable and harder to serve by public transit. Eliminating minimums allows for denser neighborhoods, which can increase public transit ridership.
4) Allow mixed-use development in most locations throughout Pittsburgh. When developers are prohibited from building housing near commercial districts, it is difficult for residents to walk for errands or to work.
"Current zoning rules require developers to build in a way that favor cars over pedestrians, cyclists and transit. Walking, cycling and transit are safer, better for the environment, and more affordable than cars.  Also, because they have higher capacity than cars, in a dense urban environment increasing their mode share makes travel faster for everybody."
—Jonathan Salmans
Public Ride-Sharing Service
"When Austin was left without a ride-sharing service while tangling in court with Uber and Lyft, local entrepreneurs took it upon themselves to fill the gap. With the support of charitable donations and expertise from Austin's tech sector, they created Ride Austin, a non-profit ride-share service that offers better rates for drivers and cheaper fares for passengers. Ride Austin also has more robust background checks, the ability for women to request a female driver and the option to round up fares as a donation to local charities.
"Why should fares get siphoned off to the Irish bank accounts of Uber and Lyft when we can keep them in the local economy, using a non-profit model to pay drivers a better wage? At this point, the technology to create these sorts of apps is within reach for a reasonably well-funded operation; it's no longer exclusively the province of massive corporations or unicorn startups. Amid the ongoing backlash against Silicon Valley, many programmers are starting to seek out work that serves the public good and this would be a great outlet for those here in Pittsburgh.
"There's an important broader idea embedded in this model, which is that we don't need rent-seeking corporations operating platforms for on-demand labor. When communities own such platforms, they can implement socially conscious governance and better deals for workers, benefitting the local economy in the process. Drivers here deserve a better deal, and a 'Ride Pittsburgh' service could provide it.
"A quick addendum: This service could play a small part in bridging the appalling racial wealth gap here by subsidizing cars for drivers in historically under-served neighborhoods."
—James O'Toole
Upskill Pittsburgh
"At the Pittsburgh Institute of Aeronautics (PIA), we've seen that as Pittsburgh's economy shifts toward the technology and biomedical fields, many regional workers who lack the skills to compete in these sectors can feel left out of the loop, both functionally and economically. Meanwhile, other factors create a looming national employment challenge, one where Pittsburgh is uniquely positioned to lead by example. These factors include greater demand for skilled mechanical workers than America's trade schools can fill, worries about job security due to rising contributions from artificial intelligence and infrastructure and power grid upgrades that grow more necessary by the day.
"Boeing, for example, forecasts a need for 189,000 new aeronautics mechanics by 2037. Yet, skilled workers in this field are retiring faster than they can be replaced.
"PIA believes that Pittsburgh should invest in a regional upskilling program, on two fronts. First, such a program should provide people seeking new employment with active retraining for in-demand careers. This would help those whose skill sets are out of step with the shifting needs of our local economy to remain valuable contributors, while also ensuring that our region's tax base can support all necessary services.
"Secondly, this program should provide a clear path to employment for young people whose talents, interests or life goals are more aligned with blue-collar trades than white-collar jobs that require advanced degrees they may be unable to achieve or afford. This would create a stable employment base in our region without requiring future generations to incur unreasonable amounts of student loan debt in order to start their careers.
"By bridging the skills gap between the old and new economies, Pittsburgh can ensure that our citizens are well-prepared for the demands of 21st Century jobs while also setting a replicable example for the rest of the country. Our steel literally helped build America from the ground up; now it's time for our people to help forge America's economic future."
—Carrie Butler