Hough's
Beer, food and family in Greenfield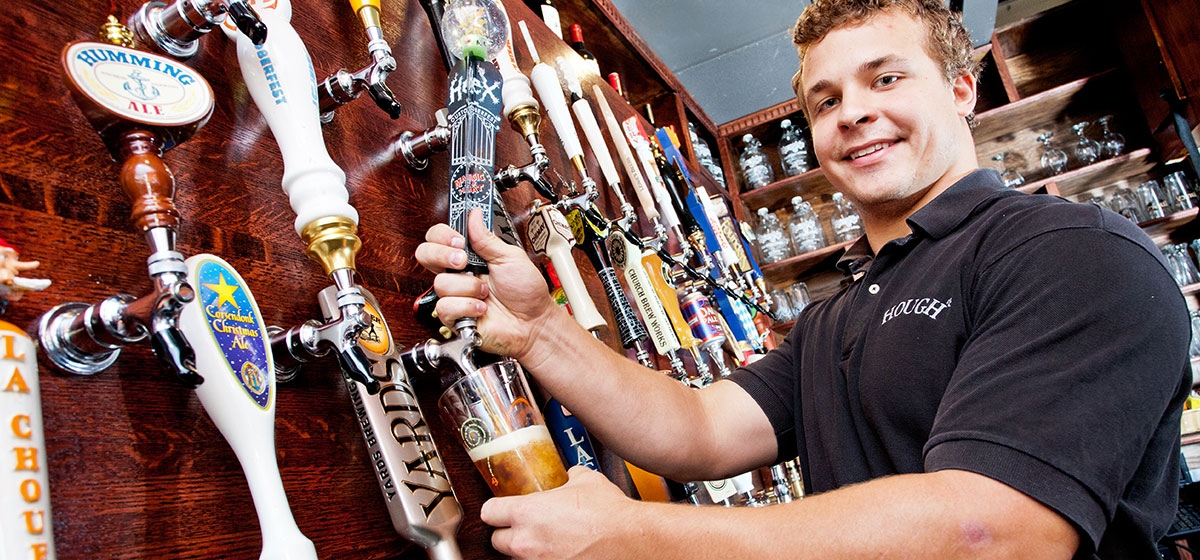 November 20, 2011
You can't go home again, Thomas Wolfe's 1940 novel about moving on in life, would have you believe that once you leave the nurturing familiarity of the old neighborhood, you can never return or recapture the magic of your youth. Wolfe should have spent a little time in Greenfield or checked with Barb and Johnny Hough.

The Taylor Allderdice High School sweethearts, class of 1976, grew up in Greenfield and married young. When they started their family, two boys and a girl, they moved to the wide-open spaces of near-rural Allegheny County. But like so many kids from the old neighborhoods, they never broke their ties, returning weekly for dinner with their folks and Mass at St. Rosalia's.
And when they stumbled across a vacant bar on Greenfield Avenue in 2008, the timing was perfect for the Houghs to realize a dream and open a neighborhood joint on the streets where they grew up. Johnny's corporate job had been eliminated, and he and Barb were looking for a new challenge, one that would involve the kids.
In years past, the old bar was packed at 7 a.m. with third-shifters from the J&L steel works, grabbing a harsh shot of rye whiskey to cut the dust in their throats. It was a rough-and-tumble joint that fit the lives of the shift-workers who walked to and from the mill. Back then, the bar reflected what the neighborhood was, and now it reflects what the neighborhood has become.
Greenfield has grown instead of changing, and the Irish, Italians and Slovaks of the old days are still here. But now there are regulars from every part of Asia, Russia, the former Soviet states, and elsewhere. With plenty of affordable housing close to the universities, Greenfield has quietly acquired the bohemian feel of an old affordable neighborhood rediscovered.
So when Johnny and Barb pondered their business plan, they turned to sons Matt and Greg and daughter Cassandra, all in their 20s, to set the tone. No longer just "a shot and a beer" joint on the corner, Hough's is a brew pub, with 61 draft beer taps and over 300 bottled brands.
While quaffing a hand-crafted beer, you can play shuffleboard, darts, trivia and beer bingo, or find a seat and use the wi-fi. The house rocks for Steelers and Penguins games, and with eight big screens, every seat is a good one.
Check out the menu at houghspgh.com for the full array of great bar food, half-pound hamburgers, pierogi bites, kielbasi sandwiches and pasta dishes. But the smart money is on one of the all-time great Reuben sandwiches, because Barb slow-cooks the corned beef overnight and garnishes it with homemade sauerkraut, with just a touch of that spicy zing.
In short order, Hough's has grown from one storefront to four, and the lowest level, a brewing room, has six 50-liter copper barrels along the back wall. You can choose a recipe, buy the hops, malt and the rest of the ingredients and make your own barrel of beer right at Hough's Copper Kettle Brewing Company, bottling and affixing your personalized label once it all becomes beer.
On any night, you might find a full squad of off-duty Pittsburgh firefighters enjoying a beer next to university professors or grad students, next to the young professionals of the Pittsburgh Sports League, next to neighborhood regulars like the legendary Jimmy Gregg, retired deputy warden of the county jail. It is a mix of old and new, and it works.
If you ask Johnny about his family's newest chapter in the old neighborhood, he will express the unmistakeable sentiment of a man fulfilled, saying, "This is the best thing that's ever happened to me."
As for Barb, she smiles and asks the question that would tug at Thomas Wolfe's heart, the question that is answered every night at Hough's in Greenfield: "Don't you always want to go home?