Holland, Beltran, Lee, Hayes, Kiser, Welsch, Griffith
Professionals new to Pittsburgh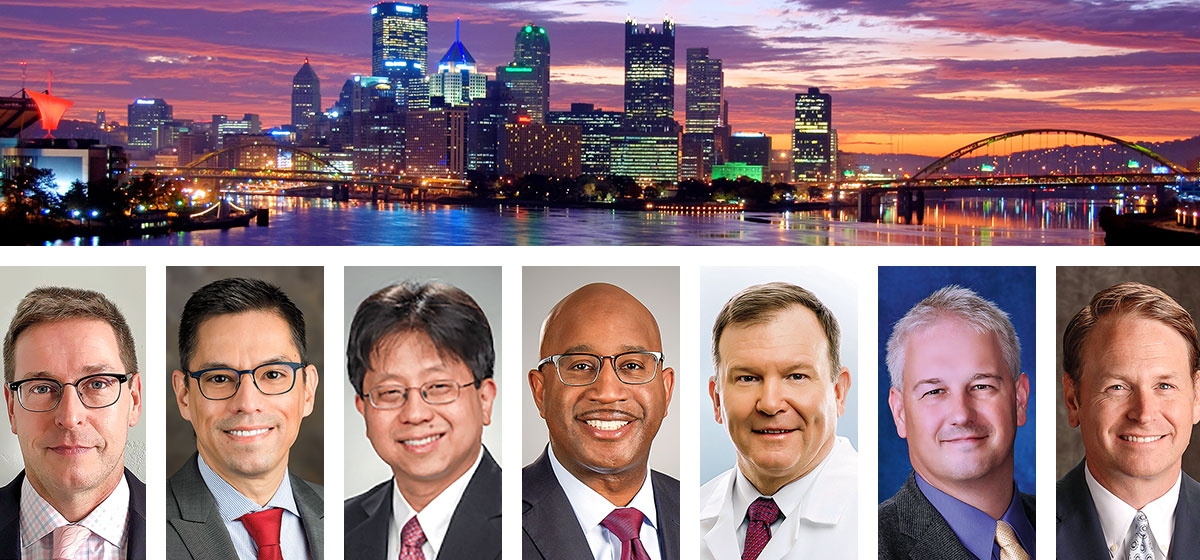 February 20, 2019
Michael Holland is vice chancellor for science policy and research strategies at the University of Pittsburgh. He is the first to hold the new appointment. His duties include developing and implementing university research policies and strategies to support collaborations across a range of disciplines.

He also oversees the creation of major research initiatives. Holland, a native of Asheville, N.C., earned a Ph.D. in analytical chemistry from the University of North Carolina at Chapel Hill and bachelor degrees in electrical engineering and chemistry from North Carolina State University. He arrived in Pittsburgh from New York University, where he was executive director of the Center for Urban Science and Progress. His resume includes positions at the U.S. Department of Energy and the White House Office of Science and Technology.
Tony Beltran is president and chief executive officer of Pittsburgh Mercy Health System. He succeeds Sister Susan Welsh, who retired. Before coming to Pittsburgh, Beltran was in Chicago, where he was the vice president for Safety Net Transformation at Trinity Health. In that position, he guided efforts to provide care for vulnerable populations and worked to address social issues that impact health in communities that Trinity Health serves. Beltran was the executive director of the Lake County Health Department in Chicago prior to joining Trinity Health and served as the first deputy commissioner for the Chicago Department of Public Health.
Jonathan Lee is director of surgery and director of surgical oncology at the Allegheny Health Network (AHN) Cancer Institute and the AHN Surgery Institute. He oversees the Cancer Institute's 13 disease sites in addition to the surgical oncology program. Before joining AHN, Dr. Lee was medical director of the Melanoma and Sarcoma Program at the Northside Hospital Cancer Institute in Atlanta, Ga. There, he developed and led multidisciplinary clinical cancer programs centered on community outreach and disease prevention, care optimization and advancing standards through clinical cancer research. Dr. Lee earned his medical degree at New York University and completed his residency at the University of Rochester.
Cain Hayes is president and CEO of Gateway Health. He is responsible for the day-to-day operations of the nonprofit managed care organization, which serves more than 500,000 members in six states with a network that includes some 78,000 doctors and health care providers, 475 hospitals, and more than 85,000 pharmacies and clinics. Hayes moved to Pittsburgh from Eagan, Minn., where he was president and chief operating officer of Blue Cross and Blue Shield of Minnesota's health business, responsible for its commercial and government markets, provider relations, network management, care management, clinical innovation, pharmacy, service operations and marketing.
Andy C. Kiser is chief of cardiac surgery at St. Clair Hospital. Dr. Kiser is a recognized heart surgeon and innovator. His expertise includes minimally invasive valve and coronary artery surgery. He is the inventor of a number of medical devices and the founder and CEO of the Advanced Cardiac Access Training Institute, which offers education and advanced training to surgeons worldwide. Dr. Kiser joined St. Clair from the East Carolina Heart Institute, which is affiliated with the Brody School of Medicine at East Carolina University in Greenville, N.C., where he was chief of cardiac surgery and the John Mark Williams Distinguished Professor in Cardiac Surgery. He earned his medical degree from the University of North Carolina, Chapel Hill.
Gabriel Welsch has been named vice president for marketing and communications at Duquesne University, a newly created position he'll assume in March. He is coming to Pittsburgh from Huntingdon, Pa., where he is vice president of strategic communication and marketing at Juniata College, overseeing marketing, branding and communications, digital and emerging media and public relations. He previously had been the interim vice president of enrollment management and vice president of advancement and marketing at the college and had taught English at Pennsylvania State University.
Bartley P. Griffith Jr. has been named president of Shady Side Academy in Fox Chapel. He will succeed the school's interim president, Amy Nixon, in July. Griffith is currently the assistant head of Gilman School, an independent K-12 day school that enrolls 1,000 boys in Baltimore, Md. In that position, he oversees academic affairs and assists overall operations. He also is a dean and faculty member of the Penn Independent School Teaching Residency, a collaborative program between the University of Pennsylvania and 10 independent day schools. In taking the position, Griffith is coming home. He grew up in Fox Chapel and attended Shady Side Academy for grades 6-12.