Girasole: Dinner and a Show
Dinner and a show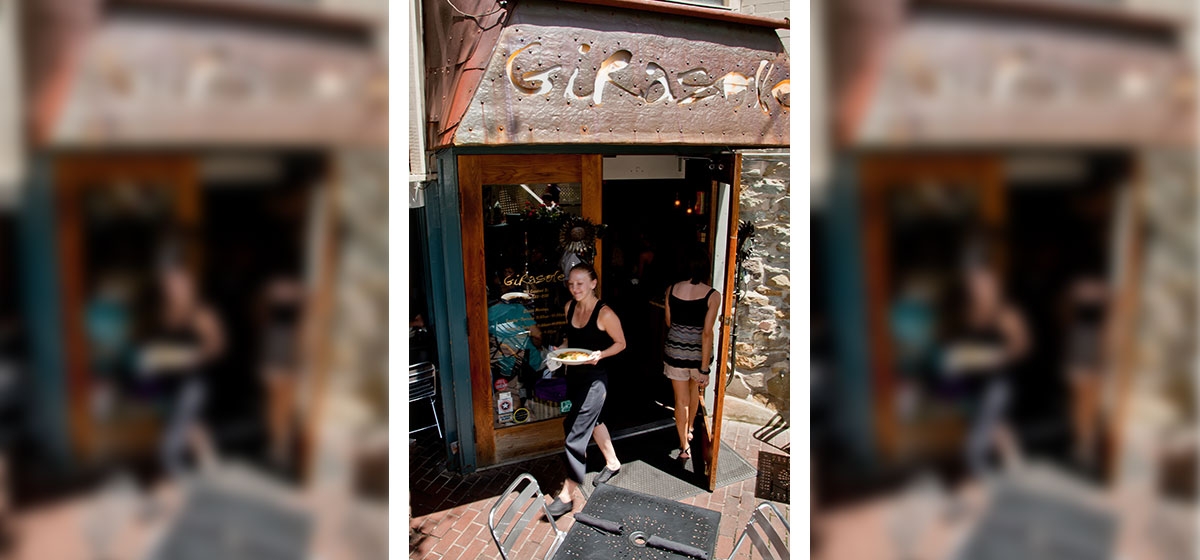 August 20, 2010
As the great American playwright Tennessee Williams once said, "I think Italians are like Southerners without their inhibitions." Williams could have made that observation from a table at Girasole, which combines the best of Italy and Pittsburgh: sometimes it can be a little bit pazzo, but it is always honest.

Girasole is often crowded, usually bursting with conversation and laughter, and always oozing passione for food, family, friends and life. With 45 seats, servers squeeze between tables, pirouetting with trays teetering aloft, nearly colliding but always missing each other, ferrying precious treats from the kitchen. Descend the six steps from Copeland Street in Shadyside, leave life's woes behind, and spend a little time in the Italian home of la famiglia Gerasole. This is a family enterprise from the front of the house to the back.
Patriarch Jimmy "Pie" is the host, but only part restaurateur, being a philosopher of life by nature. Local writers, politicians and business types jockey for a seat at that front table, where Pie juggles the door and the phone between quietly making sense of the world. Eat your pasta and listen, and Pie will tell you things like, "Hey, it's not what you were, it's what you are."
Matriarch Patti runs the business and marketing side for the restaurant, but she still cooks the Italian holiday feasts at home. With the Pittsburgh grandchildren often joining the lunch crowd, Patti says, "This is my family here. What can be better than
this?" Son Vito manages the wait staff, handles his own tables, and creates the wine list. Son Gino, a trained chef and pizzaiolo, found this location 10 years ago and created the Girasole style, a true trattoria.
Granddaughters Isabella and Olivia Gerasole hangout here when they visit from Chicago. They're the daughters of news anchor and son Vince, and they won the 2006 James Beard Foundation Award for best cooking Web site, Spatulatta, when they were 10 and eight
years old.
Jennifer Hagar, who started as executive chef and became Gino's wife along the way, crafts seasonal menus with old favorites, but always something new. Girasole is famous for gnocchi, ravioli and greens and beans with polenta. Or savor pollo, pesce or carne del giorno, prepared by 10-year veteran Girasole chef Chris Corimski.
Ask in advance, and Jennifer will prepare a multi-course menu from any region of Italy, along with matching wines chosen by Vito. And thanks to Pie, old-timers can order traditional dishes, such as spaghetti aglio olio with anchovies and breadcrumbs. Walk past the open kitchen and you might find Jennifer, amidst the bustle, smiling serenely, a woman in her element. "You get dinner and a show," she says happily, referring to the Italian movie scene that develops here on a typical night.
And when a real movie is being shot in the 'Burgh, cast and crew become regulars at Girasole. World-famous surgeons and distinguished professors dine beside their patients and students. Young and old, lovers and friends, newcomers and neighbors—they all add to the broth.
And for all the allure of the crowds, there are quiet moments between lunch and dinner, when you can sit in the sunshine, sip your wine and ponder the words of Italian filmmaker Federico Fellini, who said, "There is no end. There is no beginning. There is only the infinite passion of life."