Gimme That Old Time Music
It's alive and well in the Steel City. After all, Pittsburgh is Appalachia.
Photographs by Teake Zuidema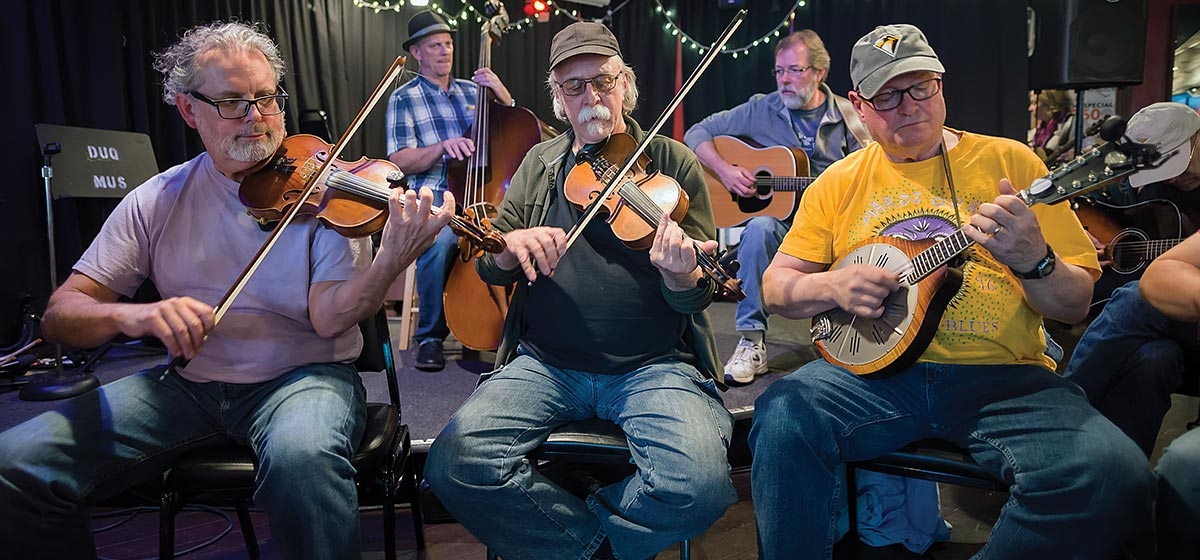 August 20, 2017
Every first and third Sunday of the month, at around 5 p.m., the front door of Hambone's, a bar and restaurant in Lawrenceville, becomes a portal to an alternate universe. Standing on Butler Street you will see men and women disappear through that door carrying banjos, fiddles, guitars, mandolins and the occasional contrabass.

---
---
Should you choose to enter Hambone's—no cover charge, just order a drink and relax—you could be transported to an Appalachian wedding, to a boat with Scotch-Irish immigrants crossing the ocean, to a wake in 19th-century Galway or maybe to a dance at the banks of the Castlefairn river.
That's right. You've entered the East End Appalachian Jam, a twice-a-month gathering of Pittsburgh's Old Time Music scene, musicians with a passion for playing tunes with roots that dig centuries deep into the old continent and that have arrived in Lawrenceville by way of Appalachia.
A bit after 5 p.m., six men and four women form a circle in the middle of the room. Undisturbed by the gazing clientele—some of whom had no idea they were in for a musical adventure—they tune their instruments and make small talk. Did you go to the concert in Morgantown last week? Where'd you pick up that tune? How about them Penguins?
Fiddle player Bruce Jacobs, an occupational therapist in the real world, looks at Mark Tamsula, who's a fiddler and full-time musician. "What shall we play, Mark?" It doesn't take long. Tamsula whispers the name of a song and the key, then he smoothly strikes the first notes of "Rock the Cradle Joe" on his fiddle.
Everybody knows this song, which goes all the way back to 17th-century England. The other jammers join Tamsula's fiddle like passengers jumping on a moving train. In no time, the bar reverberates with music that undeniably sounds like an invitation to dance. No words. No singing. Just this ancient melody with fiddles, guitars, a mandolin, two banjos and a contrabass. The jam has begun.
Appalachian Heritage
Old Time Music or Appalachian music is, of course, alive and kicking in the towns and hollers of rural Appalachia, places where farmers, coal miners and housewives have carried on musical traditions that came from Ireland and Scotland, and where the sound of the fiddle and the banjo have not yet been drowned out by Miley Cyrus or Wiz Khalifa.
But how do you come to Old Time Music in the Steel City?
For Heather Cunningham, Assistant Professor of Education for Chatham University, it wasn't exactly a straight shot. She sang in the church choir. Became a back-up singer in a reggae band. Learned to play acoustic blues guitar. Played in a Johnny Cash tribute band. Performed with an all-girl punk rock band. Joined the weekly bluegrass jam at the Starlite Lounge in Blawnox and then yearned to learn the fiddle.
"My friend Sarah Benson and I took fiddle classes from Mark Tamsula at the Calliope School of Folk Music," said Cunningham. "When we were more or less done with the beginners classes, we didn't have a place to play. So, in 2006, Sarah and I started the East End Appalachian Jam in the Brillobox on Penn Avenue. Some 10 years ago we moved over here, to Hambone's. This jam is open to any musician who can play the Old Time style. We deliberately choose a bar where people can walk in, make some music and hang out."
Most of the musicians are regulars, but sometimes musicians from other places drop by when they're visiting Pittsburgh. "In general we play songs that everybody knows. Especially the fiddlers have to know them; otherwise, we can't keep it going for very long. But people also introduce new songs that they've heard at festivals in West Virginia or elsewhere."
Still, why Old Time?
"I'm half Irish, and as somebody who grew up in working-class Pittsburgh, I feel at home with this music. I can own it," Cunningham said. "Pittsburgh is the largest city in Appalachia and I feel this music is part of my cultural heritage." She also likes to sing, which is why you also can find her at the Old Time song jam at Hambone's every fourth Sunday of the month.
Distinctive Regional Style
When you travel the country roads of Virginia, West Virginia, North Carolina or Kentucky, just about every other small town has an Old Time Music festival and everyone you meet has a brother, an aunt or cousin-twice-removed who plays the fiddle, the banjo or, on rare occasions, the Appalachian dulcimer.
Pennsylvania might not have the same reputation as the Virginias or the Carolinas, but that could be changing.
Fiddler Mark Tamsula and banjo player Richard Whithers are involved in a multi-year project to revive and record Appalachian tunes that once were played on the porches and in the dance halls of southwestern Pennsylvania. They find these tunes in the publications of folklorist Samuel Bayard.
Between 1928 and 1963, Bayard travelled through Washington, Fayette and Greene counties collecting more than 1,000 tunes from fiddlers and fifers. "He didn't have a car, so he walked everywhere or hitched a ride with a milkman," Tamsula said. "Local fiddlers would play for him and he wrote down the notes by hand. Then, for a check, he'd whistle the tunes back to them.
"Some of the tunes Bayard collected are clearly related to tunes that you can also hear in other parts of Appalachia. But Richard and I also found many tunes that are different and really belong to southwestern Pennsylvania." In the old days, people didn't travel and had no radio, Tamsula added, and since fiddlers just learned by ear, every region in Appalachia developed its own distinctive style of music and fiddling.
Tamsula and Whithers have recorded three CDs with tunes from Bayard's treasure trove, with titles such as "Keep off the Grass," "Up Jumped Jinny With Her Shirt Tail Torn" and "Such a Gittin' Upstairs." Most of them are strictly instrumental, but on their last CD, Behind the Door, they collaborated with traditional singer Ellen Gozion.
Together, the fiddler and the banjo player hope to give Bayard's tunes a new life by turning them loose on the Old Time Music circuit. "Some of the songs we put on our first CD are already being played at festivals," Tamsula said. "We even found musicians from Ireland who played one of the tunes we recorded."
The End of the Jam
Twenty-five tunes and almost as many stories later, the jam in Hambone's draws to an end. To top off the evening, the remaining musicians play a song made famous by the legendary Carter Family. For the first time this evening, jammers both play and sing. Even waitress Sadie Freund puts down her tray and joins in with a beautiful soprano as they play and sing "Will the Circle be Unbroken?"
The musicians pack up their instruments. They might reunite at a local farmers market or at the weekly contra dance event at the Swisshelm Park Community Center. After all, Old Time Music is essentially dance music.
When the last musician closes the front door, the spell is broken, the portal closes, and Hambone's is once again just Hambone's, a bar in Lawrenceville. And the alternate Old Time Music universe ceases to exist until their next Sunday meeting.
Old Time music in Pittsburgh
The East End Appalachian Jam takes place every first and third Sunday of the month at Hambone's Bar and Grill, 4207 Butler Street in Lawrenceville. At 3 p.m. on the first Sunday of the month, there's a jam for beginning musicians. On both the first and third Sunday after 5 p.m. is an instrumental jam for advanced musicians. Every fourth Sunday of each month, Hambone's hosts an Old Time singing jam: facebook.com/groups/EastEndAppalachianJam
Bluegrass is not the same thing as Old Time Music, but some Old Time Musicians also participate in the Bluegrass jam that takes place every Tuesday evening at the Starlite Lounge in Blawnox.
The Calliope School of Folk Music is the place to learn how to play Old Time on the fiddle, banjo and several other instruments. For 40 years, Calliope has been a driving force behind the folk music scene in Pittsburgh: calliopehouse.org
You can dance to Old Time music at the Contra Dance that's held every Friday evening at the Swisshelm Park Community Center: pittsburghcontra.org