An Ear for Music and Life
At 72, blind singer makes first record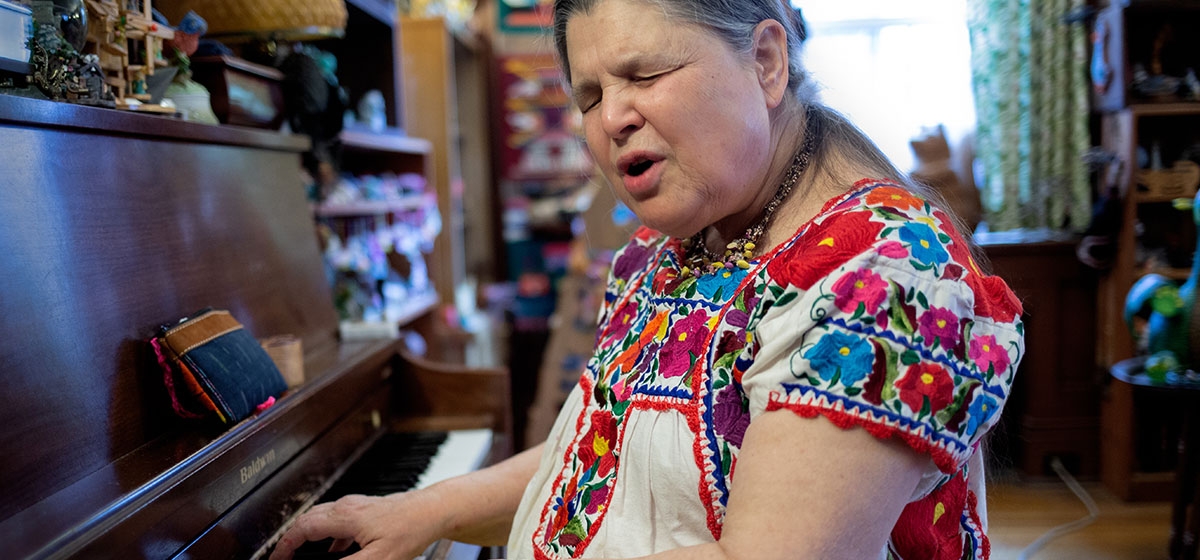 May 20, 2018
On a Tuesday morning in Squirrel Hill, Ceinwen (pronounced Kine-Win) King-Smith taps out notes on her piano. I stumble along, up and down the scale, straining my voice to match pitches.

---
---
Ceinwen listens. She's been blind since birth, and is so good at listening that according to her daughter she could hear from downstairs what her kids were doing in their rooms.
She doesn't judge. At 72, she's heard a lot of bad music. "You have to sing out," she says. "Once you do that, we can talk about what can be better, but first, you have to sing out."
Bad music is better than no music. Life without music, "well, that's my idea of hell," Ceinwen says. "The reason that so many great singers get their start in churches is that that's a safe space; you can sing in church and nobody will judge you."
Church is how Ceinwen got her start, singing her first solo at age 3. Her parents were preachers. When her dad took her to visit a construction site, she got bored and climbed the scaffolding. "I could hear the birds," she says. "And I wanted to hear them more clearly."
The blind girl was a language prodigy in her Chicago public school and later enrolled at Stanford University to study Russian. It was the age of Sputnik. She married a future U.S. Steel tax attorney and lived in Poland, Brazil and Canada, learning Polish, Portuguese and French along the way before settling in Pittsburgh 50 years ago. She taught in Pittsburgh public schools, mostly English as a second language and math. She knows eight languages.
She reared two kids and got divorced. Always looking for adventure, she traveled the world teaching English. She's been to China 22 times.
Music has been a constant. She played piano and the autoharp, sang in choirs, and taught. I found her through Calliope, Pittsburgh's folk music society. As soon as I stepped inside her house, decorated wall-to-wall with hundreds of pieces of colorful art, dominated by masks and elephants, I knew I had come to a good place.
Music is my family's business. Both my parents, and three of my five siblings, are professionals. My parents never pressured me to play, but it wasn't my thing, and the gap between the brilliance around me and my own clumsy attempts left me filled with anxiety and dread.
It wasn't until I moved far away from them—to Pittsburgh from Belgium in 2011— that I found the desire to play and sing.
After some breathing lessons, Ceinwen plays scales on the piano. Then we try a song or two.
Ceinwen is gentle and firm. "That didn't quite make it there.You can do better. That note kinda fell between the cracks." Or: "Well, that was, uh, flarp."
I'm still not a good singer, but I can mostly carry a tune now, and music no longer scares me. I'm not afraid to sing out, thanks to Ceinwen.
Ceinwen is an extrovert who feeds off the friendships of hundreds of people around the world. She sells necklaces at local fairs, serves on her church board, bakes for friends and sings with eight choirs, including Pittsburgh's Latin American choir, where she is assistant director. "I love conducting," she says. "Like a friend said, it's the perfect job for you because they're supposed to watch you, and it doesn't matter if you see them."
She likes to chat with strangers. When her kids were little, she sometimes invited people home after meeting them on the bus. "She's willing to talk to anybody but doesn't always get the cues sighted people do about their hygiene or possible danger, so sometimes we'd have to tell her, but we learned how those outward cues can sometimes be wrought with stereotypes," says her daughter Heather. "She taught us to be open to people, and not judge others by their appearance."
Ceinwen loves parties and holidays. "A good party, you got to have people, food and music, preferably some of which you make yourself," she says. One treat of knowing Ceinwen is watching her pull out one of the animal costumes—turtle, ladybug, panda, parrot, sea anemone—she makes every year for Halloween.
At night, when she doesn't have to worry about missing out on fun or friends, she holes up in her office and makes necklaces while listening to books.
A few years ago, she got a phone call from a California rocker named Johnny Harper. He was in Ceinwen's weekly folk group at Stanford in 1964. For five decades, he tried every once in a while to find Ceinwen. He remembered how unique her singing style was.
Blind people don't hang out online, and he finally unearthed her phone number in Pittsburgh thanks to a family obituary naming her, with a married name he hadn't known, as a survivor.
After breezing through a half-century of stories, their conversation turned to music.
"Why can't I find any of your stuff?" Harper asked.
Sheepishly, Ceinwen admitted that she had never recorded anything.
Let's make a record, Harper said.
Ceinwen agreed. And in November 2016, she flew to California, planning to record 35 songs in three days. "There was no goofing around," she says. "We worked eight hours a day." The following summer, Ceinwen returned to California for six more days of recording. "I was only going to do this once, and I wanted it to be representative of my life and music."
The final two-CD version of "My Life In Song: Ceinwen King-Smith sings 40 songs in 10 languages" includes classics such as "Swing Low, Sweet Chariot," the love song from Titanic, and "Wishing You Were Somehow Here Again" from "Phantom of the Opera." There are also songs such as "Pie Jesu," in Latin; "Flowers Are Good in the Spring" in Russian; and "Alfonsina and the Sea," in Spanish.
One song is Malvina Reynolds's protest song: "God Bless the Grass."
God bless the grass that grows through the crack. They roll the concrete over it to try and keep it back. The concrete gets tired of what it has to do. It breaks and it buckles and the grass grows through…
In the wide-ranging and engaging jacket notes, which include a few lines on every song, Ceinwen comments that she has taught Joni Mitchell's "The Circle Game" to "many students in China."
And in the entry for a Chinese song, "Lift Your Veil," Ceinwen quotes the lyrics: Lift your veil so I can see your face. Ah, your face is round like an apple in autumn, your eyebrows are long and thin like the moon over the treetops, and your eyes glow with the spark of love.