Still Squonky After All These Years
Photo courtesy of Squonk Opera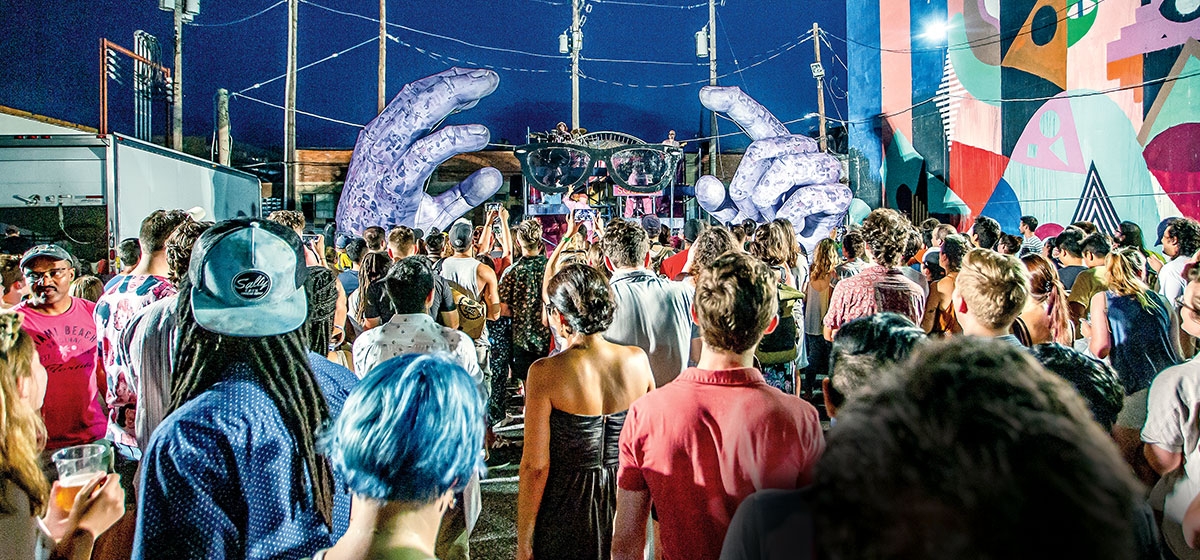 November 4, 2019
Leave your preconceived notion of an opera in the car. Whatever Squonk Opera is, it certainly isn't what you're thinking. A description that succinctly encapsulates this Pittsburgh native is futile. Not quite a rock band, anything but an opera. So, what then?

Squonk's strength lies in its innate pliability. Each show is built atop a particular theme, each song married to playful choreography and imaginative set design. Cumulatively, you're left with something unique. One moment you're treated to a guitar solo or a funky bass riff, the next an electronic bagpipe or cheerful keyboard melody. Musically, Squonk keeps your ears guessing at every turn. "Does it sound like this? Does it look like that?" Don't bother—just when you have them pegged to zig, they zag without missing a beat.
It turns out there's a method to the madness. Composer Jackie Dempsey and designer Steve O'Hearn spend months, sometimes years, concocting these wild exhibitions. It's part of a creative process they've been mastering for almost three decades: the harmonization of a musical mind with inventive one. O'Hearn is the first to tell you how much easier that is said than done. "Making a new show is full of contention and disputation, different ideas that don't meld. Sometimes it fits together, and sometimes something that seems very counterintuitive will make sense—like a very soft lovely piece of music with a very raucous visual."
"Our styles come together in very unexpected ways in every show," Dempsey adds.
Take "Pneumatica," for instance—"about air, made of air, and powered by air." The 2014 production featured a 40-foot tall robotic woman with air-powered arms overlooking the audience. Flanked by air cannons, the musicians fired inflated tentacles that snaked their way through the crowd. Their more recent performance, "Cycle Sonic," put a unique spin on "poetry in motion." What started out as one uniform stage quickly morphed into a multi-stage production on wheels. Each instrumentalist played while perched atop a platform, an actual human pedaling and steering underneath to a cleverly orchestrated routine. The cyclists even had a part, setting a beat with bicycle bells and horns.
There's a lingering unpredictability to every moment of every show, and that's just the way they like it. "We acknowledge that fireworks and parades and monster truck rallies are fun to watch," says O'Hearn. "What we do is very much driven by being Pittsburghers, by the things we grew up with."
Their latest co-commissioned show, "Hand in Hand," played in Pittsburgh in early August. The theme: the current political and social climate. The star: a pair of gargantuan, fully functional, unapologetically purple hands. "We want to bring people together no matter what you believe," says Dempsey. "When you're at a festival or big public event, having fun listening to music, eating a hotdog… you're not worried about the person next to you believing what you believe—you're all enjoying it together."
Squonk's journey has been a bit of a winding one. Most things that arrive to a Pittsburgh junkyard have reached their final destination; for Squonk, it's where it all began. After finding their groove performing in the now defunct Bloomfield Bridge Tavern off Liberty Avenue, the group began booking festivals and outdoor venues. They gained a bit more momentum after a successful run at the renowned Performance Space New York, formerly known as P.S. 122. 
It wasn't too long before the spotlight was suddenly on them. Ben Brantley, noted journalist and current chief theater critic at The New York Times, took notice and set the bar high; Squonk was squarely on the radar. From his original 1999 review of their performance "BigSmorgasbord WunderWerk:"
"You should probably know that when this critic looked at his notes the day after seeing 'Squonk,' he found a scrawled sentence he didn't even remember writing: 'I can't believe I'm such a sucker for this.' By and large, the show inhabits its own little reality warp, a place where squares and hipsters alike can seek refuge from the too solid world. Yes, 'Squonk' is nothing more than a friendly exercise in escapism. But in this harsh, hot and unkind summer, friendly escapism may be just what you're looking for." 
Regarding the music stylistically, he added: "It's new age with a dark side, and it slinks under your skin whether you want it to or not."
High praise in a notoriously tough city to receive it. The moment was a surreal one for the group, a tipping point most of us only see in movies and visualize in daydreams. Dempsey remembers it vividly. "Everything changes. As soon as the review came out… literally the next morning we're on the phone with London, Berlin, somewhere in Asia, David Letterman show is calling… it's just how you imagine it would be—everybody wants you."
The momentum propelled them to midtown Manhattan, where they'd set up shop in the Helen Hayes Theater. Now under the bright lights of Broadway, both the pressure and the stakes were a bit higher. The Playbill synopsis was brief: "An experimental music-theatre piece, which originated at the Squonk Opera company in Pittsburgh, revolves around the serving of an unusual banquet." Sadly, just as brief was their stay: Squonk bowed out after a 6-week residence, grossing just under half a million dollars.
It wouldn't take the wind from their sails. They produced a handful of new shows, one of which led them front and center of an eager audience once more. Over a decade after Broadway, the Squonkers found themselves this time on a national platform. Their audience: Howie Mandel, Sharon Osbourne, and Piers Morgan. The quarterfinals round of "America's Got Talent" seemed to serve as a crossroads of sorts: play a crowd pleaser, or stick to something uniquely Squonk. They performed the latter: a 90-second snippet from their original show, "Mayhem and Majesty." They didn't advance; they knew they wouldn't. After all these years, how could they suddenly conform to a template while remaining abstract and unusual? O'Hearn is at peace with it: "We have never once felt like were trying to perform for a particular audience or to be famous. That's not who we are."
And who they are, they stayed. Squonk has continued to perform at festivals across the country and around the globe, including trips to South Korea, Germany, and a two-week stint at a Chinese beer festival in 2017. "The thing about designing for outdoor works," O'Hearn says, "is that it changes the audience behavior entirely. What the expectations are when you go in and sit in a theater or concert hall is radically different than what happens when you're standing in a crowd on the street, in a park, or a junkyard. It's more by the seat of your pants, and for that very reason it's just more fun."
While the new show is still just as fun and outlandish, they don't want their guests to lose sight of "Hand in Hand's" overarching theme: the concept of togetherness, regardless of beliefs or affiliations. "You want to unify, you want to give people a reason to unify," says Dempsey. "And for that you need humor, accessibility, and you don't want to preach. Our hope is that this work is optimistic."
Like past performances, crowd interaction is another key component O'Hearn has designed into the experience. "A crucial part of the show is passing control of the hands out to the audience—to have ropes go out to the audience so they can control these giant 25-foot hands. For us, it was just sort of one of the comic ways we could describe this current tension."
Adds Dempsey: "It's hard to feel anger or animosity towards other people when you're all tapping your foot to the same music."