A Gilded Age Holiday
Festivities at the Frick
The Frick Art & Historical Center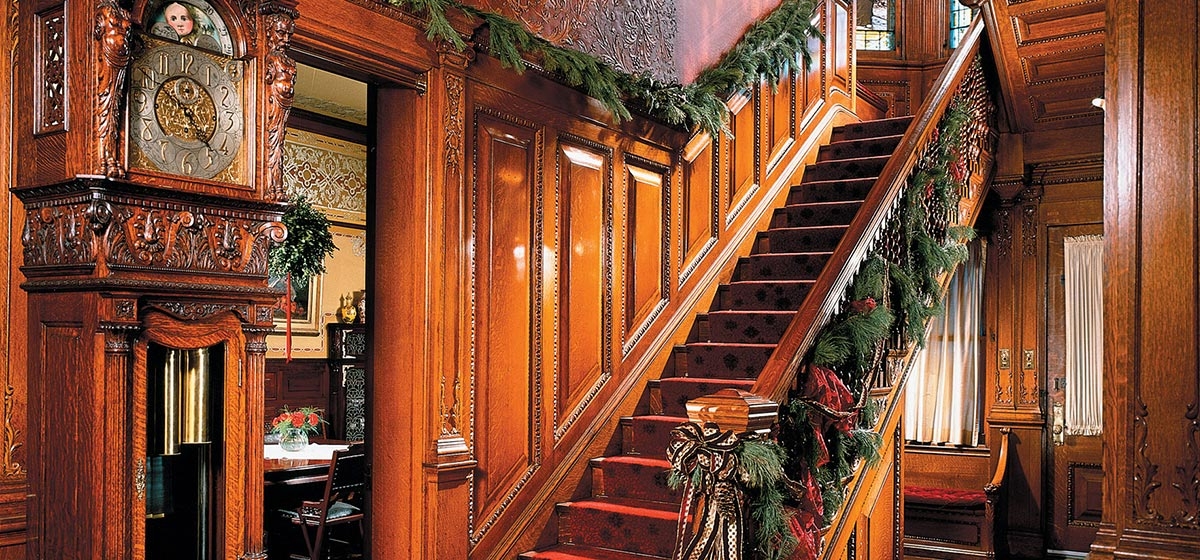 November 20, 2010
In 1882, Henry Clay Frick purchased an Italianate-style mansion on Penn Avenue in Point Breeze. The "Coke King" named it Clayton, commissioning two major renovations for his growing family. Within 10 years, though, Frick and his wife, Adelaide, suffered the loss of two of their four children, 8-year-old Martha and infant Henry Clay Frick, Jr., in 1891 and 1892, respectively. And in 1905 the Fricks and their two surviving children, Childs and Helen, moved to New York City.

Though she left Pittsburgh as a teenager, Helen so loved the city that she insisted on having her 1908 debut at Clayton. Eleven years later, she became America's wealthiest heiress, inheriting $38 million upon her father's death. She would amass an impressive collection of art and devote her resources to preserving her family's history and developing a variety of art- and history-focused institutions based in western Pennsylvania. The Frick Art & Historical Center is one resulting gem.
Perhaps knowing she would ultimately share them with the public, Helen saved records, receipts, diaries and historical documents pertaining to Clayton and the family. She kept much of the interior and furnishings as they were at the height of the Gilded Age. Two years after her death in 1984, an exhaustive renovation and preservation of Clayton and its surrounding buildings was completed.
The resulting experience provides an intimate and detailed look at the lifestyle of the upper class at the turn of the 20th century.
While most of the homes along Pittsburgh's fabled "Millionaire's Row" have been demolished or converted into condominiums, Clayton remains.A visit to the Frick Art & Historical Center and Clayton engages in any season, but especially at the holidays.
This year's theme, "A Gilded Age Christmas," shows how the Fricks and their contemporaries celebrated. Visitors see public areas of the home decorated with fresh pine and set to receive guests. The kettledrum tea service in the parlor, dining room set for a dessert of Christmas pudding featuring Copeland china, and the huge tree and orchestrion playing music on the enclosed porch, are a vision of Christmas past. Behind the scenes, you can see how the kitchen staff prepared for company and where the children would have had their own party. Upstairs, in the family's private areas, evidence of Christmas preparations abound—from evening gowns to handwritten shopping lists and toys.
In addition to docent-led tours of Clayton, visitors can tour the Frick Art Museum, showcasing Helen's collection of fine and decorative arts, as well as traveling exhibits. (The current show features the works of Victorian-era photographer Julia Margaret Cameron.) The greenhouse—where everything from tropical plants to vegetables used in the café are grown—and the children's playhouse give more glimpses into the past. The Playhouse now houses the Visitors' Center & Museum Shop, with gifts ranging from books and notecards to unique children's items and a selection of scarves, totes and umbrellas incorporating patterns and designs in Clayton's architecture. The Car & Carriage Museum features some of the Fricks' cars, as well as vehicles made here when Pittsburgh was important in the automotive industry.
The Frick Art & Historical Center also holds numerous lectures, workshops and events.
If these activities leave you exhausted, take a respite at the café at the Frick, with its fresh ingredients and unique preparations. Whether you're in the mood for a lunch and a glass of wine or afternoon tea, the seasonal menu offers a tempting array. (There are special evening hours during the holidays.)
Pittsburgh has an unusually rich history, and we are fortunate that Helen Clay Frick preserved some of it for usFrick Art & Historical Center, 7227 Reynolds St., Pittsburgh, Pa. 15208, (412) 371-0600. Frickart.org.