Get the Message?
Sports marketing: If you're going to play, do it right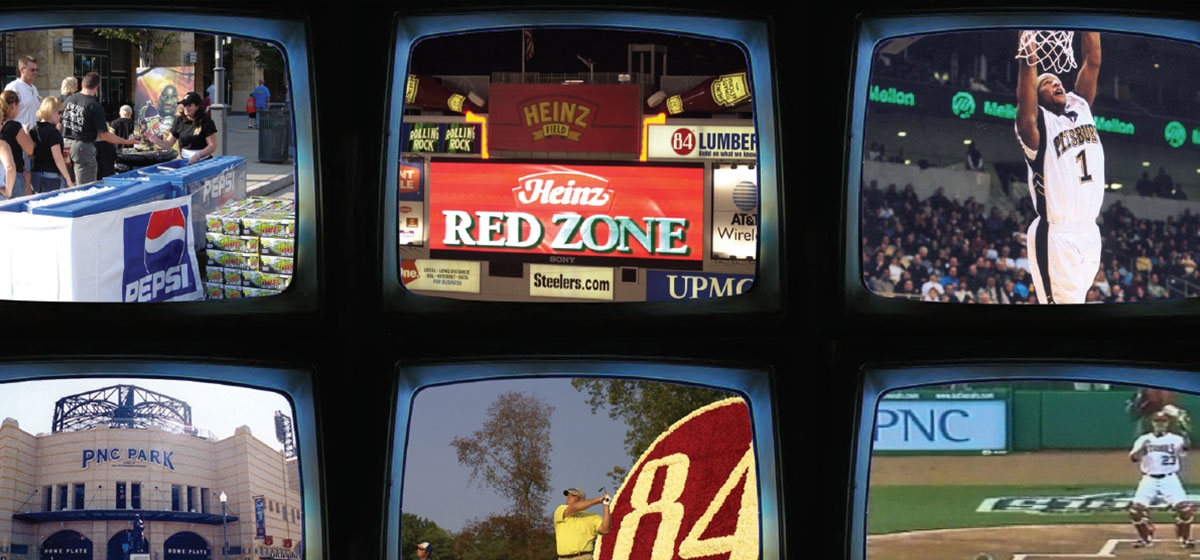 November 20, 2005
When President George W. Bush tossed the ceremonial first pitch at the home opener of the Washington Nationals in April, it marked the return of Major League Baseball to the nation's capital after a 34-year hiatus. It also gave a newcomer from Pittsburgh millions of reasons to cheer for a team that plays against the Pirates.

As the president released his historic pitch at RFK Stadium, PNC Financial Services Group was pitching its brand to more than 56,000 fans at the ballpark and to millions of potential customers inside and outside the Beltway.
Thanks to a last-minute deal reached days before the game, Pittsburgh-based PNC had become the official bank of the Nationals, so when the president's pitch sailed into the catcher's glove, millions of television viewers saw a PNC logo positioned strategically behind home plate, while many prominent movers and shakers in politics and business watched the pitch from 900 premium PNC Diamond Club seats, another perk of the agreement.
It was a sports marketing home run for PNC, whose multiyear pact with the Nationals was accelerated by its business strategy off the baseball diamond: PNC was in the process of acquiring Riggs National Corp. for $297 million in cash and 6.6 million shares of PNC common stock, a deal that would make PNC a new player in the highly competitive Washington, D.C., banking market.
"We were acquiring Riggs and nobody in Washington knew what PNC was, so we needed to build brand awareness," recalls PNC spokesman Brian Goerke. "We called the Nationals after learning that one of our competitors was negotiating with the team. They liked the fact that we had baseball experience with PNC Park and the Pittsburgh Pirates. We had to move quickly. Our goal was to introduce the PNC brand in the D.C. market. PNC was the new guy in town and the Nationals were new too. It was a perfect partnership for us."
In the booming business of sports marketing, forming and leveraging a perfect partnership isn't easy or inexpensive, but companies such as PNC, Heinz and 84 Lumber are proving that sports co-branding can be a powerful platform for promoting and selling products to legions of fans and their families. Marketing executives and experts say those companies are getting a solid return on investment and enhancing their image by teaming up with the Steelers, Pirates, the PGA and other franchises.
But a perfect partnership in sports marketing requires more than a one-time investment for naming rights or signage, experts say; the winning formula usually involves these four crucial steps:
Identifying the ideal partner, one that is the best fit with your image, your business and your customers;
Developing a strategic marketing plan in close collaboration with your partner and making sure that the plan is tailored to the needs of both.
Activating your plan and your assets to achieve your business goals; and
Committing sufficient or additional financial resources when necessary to ensure longterm success.
"Finding the right image match is a critical thing in sports marketing," says John Clark, assistant professor in the sports management program at the Robert Morris University School of Business. "If you don't have the right match, it doesn't matter what you do or how much you spend. Obviously Heinz is getting good value through its partnership with the Steelers, which is still a family business, and PNC is getting the same from the Pirates."
Tony Quatrini, director of marketing for the Pittsburgh Steelers, which ranks among the top five NFL teams annually in terms of popularity, says some potential corporate sponsors and partners don't make the team's final cut because image is a deciding factor.
"The Steelers are very selective about our corporate sponsors and partnerships. We believe that our brand should be associated with brands like Heinz, PNC and 84 Lumber, as opposed to Hooters or Levitra," says Quatrini. "The naming rights agreement with Heinz has enhanced both of our brands."
For Heinz, image was a major consideration in partnering with the Steelers, a legendary franchise with intensely loyal fans, strong family ownership (the Rooney family) and a track record of community service. But image was only part of the equation: Heinz saw sports marketing as an opportunity to boost brand loyalty and sales by catering to the national hunger for Pittsburgh Steelers football.
Since announcing its $57 million naming rights agreement in 2001, the world's leading ketchup maker has used Heinz Field and the Steelers as pillars for its sports marketing strategy. Working collaboratively with the Steelers, the promotions have expanded beyond signage, tickets and corporate suites at Heinz Field to include football tailgating cookbooks featuring Heinz products, co-branding initiatives with Giant Eagle and other major retailers, product sampling, and branding and promotional "drop-ins" during national television and radio broadcasts of Steelers games.
"We've established a strong connection between football and food, particularly Heinz products," says Robin Teets, senior manager of communications for Heinz U.S. consumer products. "The name recognition we're getting constantly from Heinz Field is impressive. It's an efficient use of marketing resources to reach our core audience."
Heinz allocates less than half of 1 percent of its total marketing budget for its Heinz Field marketing program. Robert Morris' Clark says the best example of the company's cost-effective sports marketing is the Heinz Red Zone because it enables Heinz to "own the moment" during a game to reach millions of consumers. The innovative marketing starts at Heinz Field, where a huge red Heinz ketchup bottle tilts whenever a team drives past its opponent's 20- yard line. That image has appeared on millions of television sets, but the marketing doesn't stop there. On game day, the Steelers' play-byplay broadcasters mention the Heinz Red Zone and related product promotions on air; these "drop-ins" are guaranteed under a paid agreement with the Steelers that is separate from the naming rights pact.
Building on the concept, the company launched Heinz Red Zone promotions in Giant Eagle supermarkets across western Pennsylvania to drive sales of products such as Ore-Ida french fries, Bagel Bites, Friday's frozen snacks and ketchup. The in-store promotions were so successful that Heinz is duplicating the Red Zone concept with the Cleveland Browns, Cincinnati Bengals and the Baltimore Ravens and major supermarket chains in those markets. The big difference is that only Heinz Field has the tilting ketchup bottle.
The success of the Heinz Red Zone demonstrates several rules of thumb that marketing executives say companies should consider carefully before teaming up with professional or collegiate teams.
"Corporate sponsorship is being measured much more as a direct return on investment," said Tim Schuldt, vice president of marketing, sales and broadcasting for the Pittsburgh Pirates. "It's important that you reach your demographic targets."
NC, for instance, is reaching its demographic targets through multiple sports marketing investments. In addition to its $30 million stadium naming rights agreement with the Pirates and its more recent deal with the Nationals, PNC partners with the Steelers.
"We live in a sports-crazy society," says Goerke. "What you want to do with these opportunities is to tie in with the mindset, not only with the team, but with the whole experience of watching and attending a game."
Marketing experts say an acceptable return on investment is $1.25 for every $1 spent on your sports marketing programs. PNC claims its ROI for PNC Park is "significantly above that" and Heinz says its strategy is delivering impressive results.
Schuldt offers this advice for companies contemplating partnerships with any team, including the Pirates, whose brand will get a prestigious boost of global publicity in 2006 when PNC Park hosts the All-Star game, which is televised around the world. "Make sure your company has additional resources and adequate finances to activate your sponsorship," Schuldt says. "And make sure you're dealing with a team that is flexible in building packages that are customized to your needs."
Heinz executive Michael Doherty helped implement the marketing plan for Heinz Field and he presented the Heinz Red Zone concept, with Quatrini, to all teams at an NFL meeting.
"In a lot of instances, naming rights aren't being maximized because a plan isn't activated," Doherty says. "For some companies, it just doesn't make sense."
For potential corporate sponsors, the Steelers, Pirates and Penguins (who hope to build a new arena, in part to attract lucrative corporate sponsorships), aren't the only available partners.
One increasingly popular choice is the 84 Lumber Classic, an annual PGA Tour event that raised $2.7 million in 2005 for the United Way, its affiliates and hurricane relief. The event, which bears the name of 84 Lumber Company, a privately held business founded by Joe Hardy, attracts some of the world's best golfers to the challenging Mystic Rock course at Nemacolin Woodlands Resort, as well as a growing list of corporate sponsors.
"The 84 Lumber Classic gives our company an opportunity and a platform to showcase who we are," says Jeff Kmiec, vice president of marketing. "We use this is as an incredible way to further our relationships with existing customers and start relationships with potential customers."
Kmiec says the September 2005 tournament attracted more than 300 corporate sponsors and generated 3 billion impressions nationally over a 30-day period through media coverage. As the company continues to open new stores in new locations (it projects 50 new stores for 2006), the tournament introduces the 84 Lumber name in these markets, he adds. Sponsors included companies such as Verizon, Coca-Cola, Neighborhood Ford Stores, Heinz, PNC, Citizens Bank, UPMC and Federated Investors, to name just a few.
The marketing opportunities at the 84 Lumber Classic range from proven promotions like hospitality tents, booths, signs and program ads to more creative efforts. One Coca- Cola promotion in particular quenched the thirst for sports marketing in more ways than one. The beverage company turned the 17th hole into a promotional venue for its new raspberry- flavored Dasani water as a mobile marketing team swarmed the area, giving out free samples, T-shirts and golf paraphernalia. On the 18th hole, each golfer was offered a bottle of Dasani.
"Players conducted their media interviews with outlets like ESPN and the Golf Channel with Dasani bottles nearby or in the shot," recalls Kmiec, who is already busy seeking sponsors for next September's tournament.
Corporate sponsorship opportunities aren't limited to professional sports franchises. With nationally recognized NCAA Division 1 programs in football and basketball, the University of Pittsburgh is turning sports marketing into big business. One major advantage is that the Pitt Panthers play football at Heinz Field and basketball at the Petersen Events Center, two world-class facilities that attract sponsors.
"We try to sell football and basketball together to sponsors because it gives us longevity in our product," says Rex Hough, vice president of Panthers Sports Properties. "But our goal is to build relationships with our clients."
After meeting with potential sponsors to determine their needs, Hough says, "we could get into a $1 million commitment or a $5,000 commitment," depending on whether a company wants a complete package, including luxury suites, or just a few options. Suites at the Petersen Events Center range from a low of $37,500 to a high of $80,000 per season.
Marketing experts agree there is one potential pitfall to becoming closely identified with sports teams, and it all comes back to image.
"Problems on the field, like steroids or drugs, can affect the corporate brand," concludes Clark, of Robert Morris University.
But that problem apparently hasn't deterred companies from investing in sports sponsorships. Estimated spending on sports sponsorships in the United States was projected to reach $7.69 billion in 2004.