For the holiday table
Unexpected treats call for creative wine pairings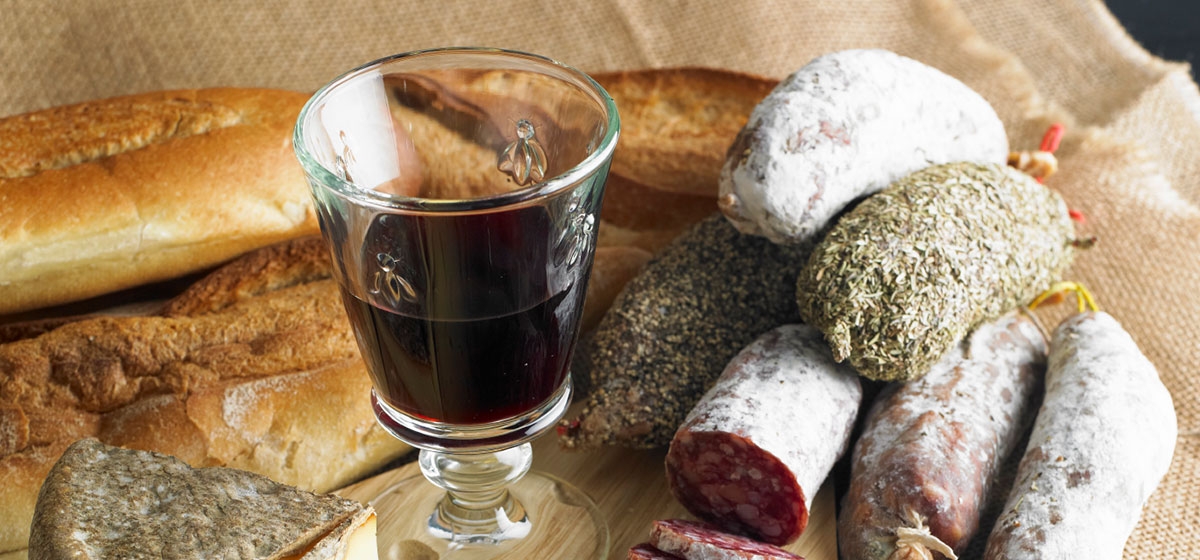 November 20, 2011
What do you do when someone arrives on your doorstep with a slab of homemade duck pastrami? At my house, we shout thanks and reach for a corkscrew. It's a holiday tradition.

Each winter, we set aside one evening at home when my foodie friends gather with us, bringing their special dishes to add to our offerings. As foodies, we like to show off. There's homemade charcuterie, fresh game, some old family recipes. We spread everything out on the table, and it's a bit like the car show as we circle, oohing and aahing, asking about technique and inspecting the handiwork.
The challenge is finding the wines that do justice to this very high-level potluck. We'll start with a sparkling rosé to rev up our palates—Chandon from California (available at PA Wine & Spirits Stores, $16.99), or Moët & Chandon Nectar Impérial Rosé, real-deal Champagne ($49.99).
After this aperitif, we move on to red wines. I love my rosés and rieslings, but on a special occasion, when the food is rich and salty and gamy (and it's cold out!), only big reds will do.
Several friends have taken up curing meats and making sausages. (I covet one's fire-engine-red Italian deli slicer, if anybody needs a Christmas hint for me.) We've enjoyed pastrami, plus prosciutto, sopressata and bresaola—Italian-style hams, coarse dried sausages, and air-dried beef, respectively. I like California zinfandel, like the drolly labeled Plungerhead Old Vine Zinfandel ($17.99), with these beautiful cold cuts. You want a wine with enough drying tannins to balance the fatty meats, and a little sweet fruit to counter the salt.
While we're sipping and tasting, there's a pot of risotto on the stove. I invite guests to help stir the rice, to see how hard it is to make a real risotto! We use my grandmother's recipe, which called for fresh chicken stock, handfuls of Parmigiano cheese, pancetta, mushrooms and, at the end, a splash of my grandfather's homemade red wine. Sadly, this key ingredient is no longer available to us, but Bolla Amarone della Valpolicella ($39.99), from the land where they invented risotto, is a worthy substitute. Don't skimp and pick up a cheap "cooking wine," because the best companion to this rich dish is a glass of the same wine used to make the risotto.
There will be fresh game on the table—my neighbor prides himself on bringing down the deer that ravage my garden all summer. Venison wants a dark, rich blend of fruit and cedary notes—a little bit of forest floor to complement the game. Try a Bordeaux-styled California wine: Hahn Estates Meritage ($17.99).
The showstopper at this holiday repast is usually a whole, roasted foie gras—the fattened and politically incorrect, but supremely delicious, goose liver. Typically foie gras is served in slim, sautéed slices, which I like with a slightly sweet red wine, or a white moscatel. When roasted, it's best with an elegant California red. Testarossa's Monterey County Pinot Noir (Chairman's Selection, at Premium Collection PA Wine & Spirits Stores, $14.99) is a steal, with restrained fruit notes and just a hint of spice.
To find a pairing for dessert—which will be chocolate—I'll trudge downstairs and break out a vintage port, the older the better. If you don't have any in your own cellar, treat yourself to the Taylor Fladgate Century of Port collection—a bottle each of 10-, 20-, 30- and 40-year-old delectable tawny ports (www.FineWineAndGoodSpirits.com, $179.99). You'll have an instant collection of vintage ports, and I suspect a very happy holiday.