Salt, Air, Time and a Pig's Hind Leg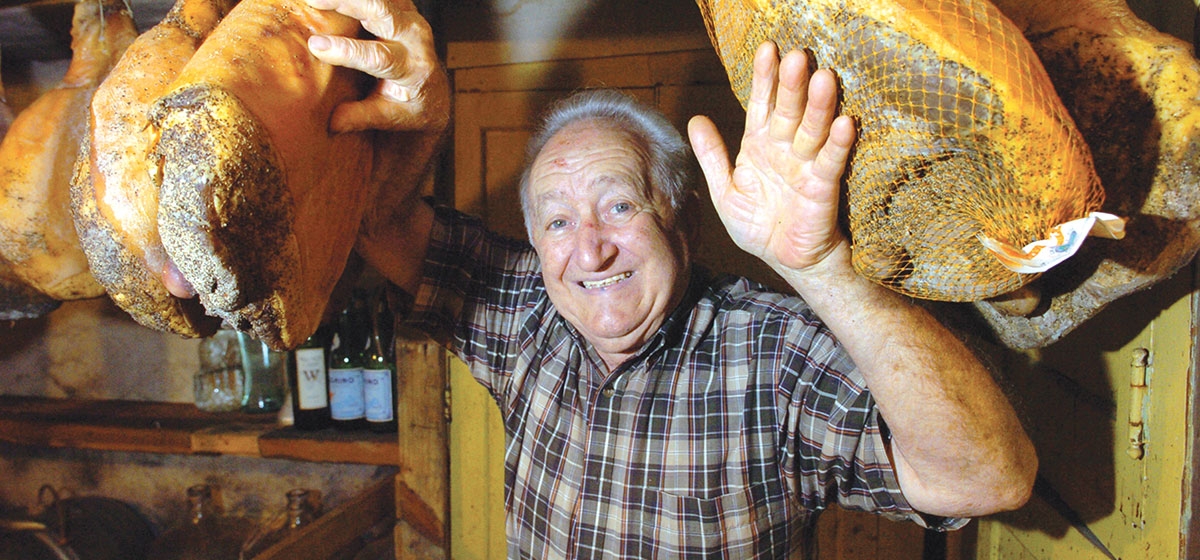 August 20, 2006
In a food world where cured pork products have been catapulted to sexy heights of connoisseurship by chefs like Mario Batali, Pittsburghers blithely accept, take for granted and plain underappreciate the elegant—and bargain-priced—sausage and prosciutto made here in a fourth-generation family business in the Strip.
"Parma is the best kept secret in town," says Chef Toni Pais of Café Zao.
Pais likes to bring visitors to the 50-year-old Penn Avenue store to taste and schmooze over homemade wine in the cramped back office where Parma Sausage Products founder Luigi Spinabella, 78, holds court.
Spinabella's daughter Rina Edwards, 48, flips a sheet of butcher paper over the desk, not obscuring the calendar with Luigi's ballpoint entries charting the ages and stages of some 6,000 prosciutto hams and a dozen classic kinds of sausages that are dry-curing in rooms overhead.
Rina is setting the stage for "spuntini," little snacks, paper plates of thin-sliced sopressata, a spicy dry-cured sausage, creamy mortadella, a cooked sausage with sweet spice and flecks of fat, and "rustico," a garlicky product perfected by her husband, Parma general manager and head sausage maker John Edwards.
One product is a must-taste. That is prosciutto, purest and most challenging of Italy's cured pork panoply. This is Parma's Gigi brand, short for Luigi.
Prosciutto has not been cooked. It is fresh ham raw-cured by salting and air-drying. Slowly, steadily, the hanging hams give up moisture and gain flavor. After at least a year — sometimes up to three — when the outside rind has begun to resemble a geode and the inside has turned to silk — the ham is ready to eat. It is served in paper-thin slices, meltingly tender and sweetly fragrant with the slight fermented funk that time creates.
Luigi loves to serve prosciutto with a floral white wine like the Malvasia the family made from grapes found at the Strip last year.
"There aren't too many ways to make prosciutto," the genial Spinabella says. "The investment is time."
With a corkscrew motion, Spinabella shows how he pokes a long sliver of horse bone, a sonda, into a hanging ham, sniffs the bone's aroma, then calls on a half century's olfactory memory to know just how the ham is progressing.
Pittsburgh Italians take this mystical rite in stride. This may be because so many have a "garage prosciutto" hanging in their suburban homes.
One such is Giuseppe DiBattista, 78, father of Vivo chef/owner Sam DiBattista.
"My parents' generation arrived with what I call 'World War II thrift,' Sam says. They knew how to keep food without refrigeration by canning, drying, pickling, fermenting." They were closer to their meat sources too. Sam remembers classmates coming home after school, "appalled to discover a bunch of dead rabbits hanging in the garage, the ones they'd been playing with the afternoon before."
DiBattista senior no longer keeps rabbits, but the dozen or more prosciutti he cures every year rank with the best a connoisseur may taste.
Both Spinabella and DiBattista would be national treasures if Japan's reverence for artisans prevailed here.
Each has a vivid memory of the first step on the journey: the first pig they killed, some 50 or 60 years ago.
In Luigi Spinabella's office a family portrait shows the determined, bespectacled boy he was, growing up in the town of Ranzano in Parma. With his father away, the weather turned bitter, fatal to outdoor animals. The pigs had to be slaughtered. The eight-year-old didn't wield the knife, but he gave his fathers' helpers authority to proceed.
DiBattista was 18. His mother's family in tiny Madonna Della Croce in Abruzzo owned a farm with communal oven and laundry. They owned most of the land round about. DiBattista had a good mentor in his maternal grandfather. This nonno, invited to a mayor's banquet, noted that he could certainly make better prosciutto and sausage than what he'd been served. He was annointed the region's purveyor and that skill came to Pittsburgh with Giuseppe.
At DiBattista's airy Dutch Colonial house on a Coraopolis hill, the retired steelworker describes, with Sam translating, his early trial and error.
"A leg of pork was a serious investment, too big to risk. So at first I over-salted. As my confidence grew, I used less."
In the typical Italian basement kitchen, the tools are simple: a dented salt shaker holding one pound of salt prescribed for each 14- to 18-pound ham. (Parma uses more salt — but they are producing hams in the thousands, not dozens, as well as meeting commercial regulations and contending with health inspectors looking over their shoulder.) An ancient baby scale used for weighing the legs. A wooden probe, porous like the horse bone, for testing.
DiBattista leads the way past an ancient coal furnace that the family used to fire up with wood to sear lamb shoulder chops.
He opens a door, releasing a burst of musky perfume, part dirt floor and part air-curing hams. The dirt moderates the all-essential humidity that keeps the hams from drying out. Sam once served this prosciutto to a traveler from Italy who wanted to know, "Was this earth floor?"
DiBattista senior gives a firm friendly squeeze to a ham or two. He indicates the steel trough where the hams spent their initial "time on the salt."
USDA regs say prosciutto may be sold after 12 months, but Parma's averages 20 to 22 months.
In the '90s when Spinabella got seriously into prosciutto production, the specialty was not yet riding the wave of national promotion it would shortly receive. So in Parma's inventory languished a connoisseur's dream—hams that had hung 3 1/2 years, getting better and better. "They had a buttery texture you can't imagine," Rina remembers.
Besides age, prosciutto, like wine or cheese, can reveal terroir and regional style, Sam explains.
His father aims for the style of Abruzzo where temperatures are cooler and altitudes higher than in Parma. We sit down with a plate of DiBattista's 24-month-old prosciutto. The rosy slices are breathtakingly pretty, with a sheen like a silk necktie. We roll slices and bite. The texture is a bit firmer, more satiny than Parma's pure velvet. The flavor, sweet, nearly nutty, hints at Spain's air-cured jamon.
Both DiBattista and Spinabella have been known to take amateurs under their wing. There are plenty of ways a garage prosciutto can go wrong. It must not dry out too fast. Spinabella is blunt: "If it crusts, it's done for." Faulty boning or bleeding, too little salt or too little time on the salt lead to odiferous disaster. Some people will try things like spraying with a caramel solution, introducing preservatives or drying with fans.
DiBattista is set with his approach. "I no change," he says.
It's a guy thing
For every Pittsburgh prosciutto-maker there are dozens making sausage. Locals swear allegiance to a particular fresh sausage, made with love for the city's discerning markets by retirement-age uncles like Salvatore Merante, 75, and Joe Labriola, 85.
These guys have a following.
Calabrian-born "Uncle Sal," makes sausage, both sweet and hot, for Groceria Merante, on Bates Street in Oakland.
Cut into this artisan product, uncooked, and breathe a fresh revelation. Pork, salt, pepper, nothing more. The coarse grind is no kin to factory mush. Merante, who boasts a travel-poster handlebar mustache, grinds 100 pounds at a time, mixing it with his hands.
"This I make like my mother. No preservatives." Did you hear? "That's NO preservatives."
A Butler company processes the meat on Tuesday. On Friday Merante makes sausage. "Fresh and nice," he says with satisfaction. "Fresh killin'."
He's been making sausage for 52 years, 45 of them in a busy market near Mercy Hospital, owned with his late brother Italo. His hot sausage, famously delectable on the grill, has dried red pepper and cayenne. Hotter, Merante warns, than Labriola's.
Italians have a food holiday for everything. For Pittsburgh Calabrians, a July picnic in North Park is Sopressata Day.
"This is when amateurs bring out the sausage they made last winter, when pigs were cheap and fat," says Sal's niece, Filomena, who runs the Groceria Merante with her sister Julie. "It's such a guy thing."
And the guys do get serious about spicy sopressata, pressata, pressed, as it cures. Some shorten the name to "soup-ra-sot." Even "supersudd." In any dialect it is a benchmark for Italian masculinity.
Individuals make hundreds of pounds a year to serve with homemade wine to friends and family. The summer fest is a chance for peers to see who's who in the Pittsburgh sausage world. Winners are announced. Merante admits he entered his own product under a friend's name to win one year.
Prosciutto what?
Parma has come a long way since the mid-'50s when sausage was made in rented quarters on the Strip's Spring Way alley near McDonald's. The family lived on the third floor. The building still bears a faded Parma Sausage sign.
"Until 1997, when Rich Sebak's 'The Strip Show' came out, people would come in for their 10 pounds of hot sausage for graduation parties, Rina says. "They'd ask for ham and baloney, which we don't have. They didn't even know we made all the stuff here.
"Now they're looking for different tastes and textures. They want antipasto—prosciutto, sopressata, capicolla. They're buying tons of pancetta to cook with."
In perhaps the biggest transition, Parma is no longer a guy thing. Luigi recently made Rina president. Rina, in turn, is mentoring her daughter Erin, 23. Well, who exactly is mentoring whom? Erin and husband Darren Schumacher, 23, brought computers to Parma.
"Think about it," Rina muses. "Until 1995, we were cash only."