Flo's Wisdom—on the Eve of 50 Years as a Waitress at Pamela's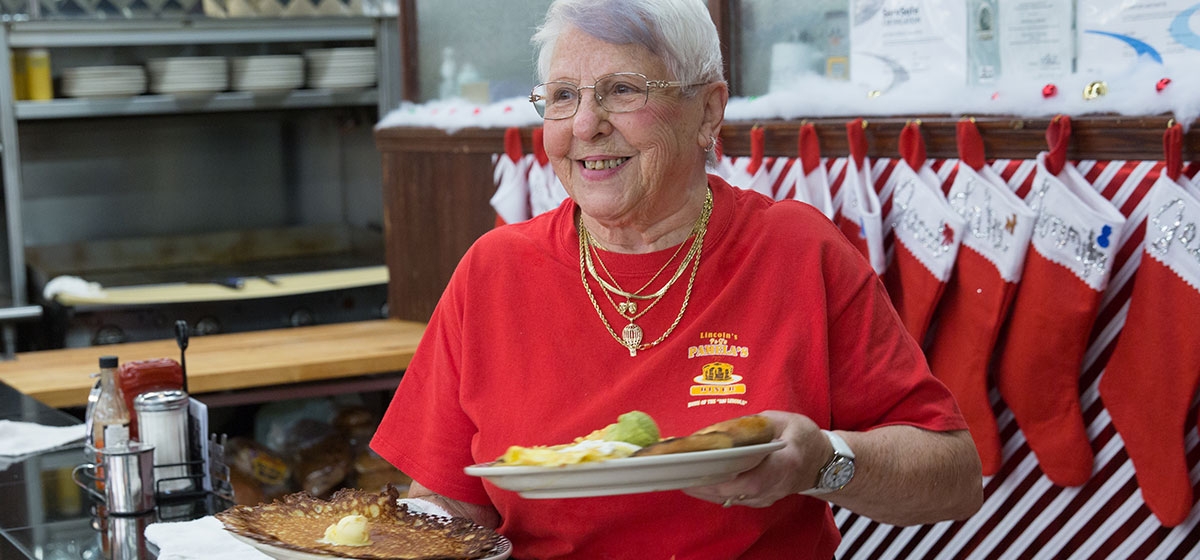 January 8, 2018
Around 1 p.m., right after the lunch rush, 87-year old Flo Silbach will start slowing down. She won't quit, though. Oh no, no way she's quitting. Her shift at Pamela's Diner in Millvale doesn't end until four. So, instead of shuffling around the tables and booths, jotting down orders in neat cursive and clearing empty plates once overflowing with hash browns, Belgian waffles piled high with strawberries, and BLT's, she'll just start her cleaning. Get all her chores done. Chat with the fella sitting at the lunch counter who grew up in Millvale, too. Punctuate every sentence with a laugh that bubbles.

---
---
"Order up!" one of the short order cooks calls out from behind the open grill.
"I got it," Flo replies, wiping her hands across a white dishtowel tucked into her black apron.
"I got it, Flo," the other waitress smiles, waving her off. "I got it."
Flo was up at 5 a.m. today, just as she is every Monday. Couldn't wait to get up. Couldn't wait to get to the diner, where she's been waitressing since 1968.
"Flo, you'll never make it," her husband replied when she told him about her new job. Back then, oh, she was shy. Just in a shell. Her first day coincided with the Millvale Centennial. What a madhouse. Pamela's was pure chaos. One of the older gals, a redhead named Stella, took Flo under her wing and showed her the ropes. "We got through it," Flo laughs.
When each of her three daughters turned 16, they all got a job here, too. But it was never work for Flo. Not even after she got up to working six to seven days a week, then back down to two after getting both knees replaced in 2013.
She'll still get up before dawn, hurry in to talk to her co-worker Gloria, spend most of their time together laughing.
If you ask, she'll tell you about the time she did Karaoke at the Christmas party. "Oh, that was so fun!"
When she went up in the hot air balloon for her sixtieth birthday. "We were up for an hour over Wexford. Just beautiful!"
The two bus trips she made to Toronto to see Phantom of the Opera, her favorite. "I love the theater!"
"I love my home, but I don't want to stay there," she says. "I'd rather be here, seeing people and being active."
She chalks her good health up to being blessed and the aspirin she takes daily. The Makers Mark and club soda doesn't seem to be hurting, either.
"You still on your Makers Mark?" her doctor asked.
"Yeah," Flo replied.
"Well, whatever you're doing," her doctor replied, "keep doing it."
When four o'clock rolls around, she'll hurry home to start baking her Christmas cookies. She already has 10 different doughs made. There's the Mexican wedding cookies, the nut horns, thumbprints, peanut butter blossoms—that one with just the peanut butter and chocolate in the middle…
"We'll get together at noon on Friday and will get done baking at midnight," she laughs. "A group of four women and one man. He serves the beverages." She likes to gift her cookies to people, like her three neighbors. She'll bring in a big tray for everyone at Pamela's, too.
Flo has seen a lot of changes over the past five decades. The biggest change is the way kids behave. Or, don't, to be honest. "There's no behavior," she says. "I'm a big believer in 'children should be seen and not heard,' but not everyone agrees with me," she laughs.
But it's okay. She likes people. Even when they're grumpy or growling or carrying the weight of the world on their shoulders and taking it out on their eggs and the person with the bubbly laugh serving them, Flo won't get mad. Won't ever walk away in a huff.
"I smile and take every day as it is," she says, her face lighting up. "There are a lot of things we can't change, so just keep smiling."