Flying High: Duck Hodges Victorious in Debut
NFL Week Six

Karl Roser / Pittsburgh Steelers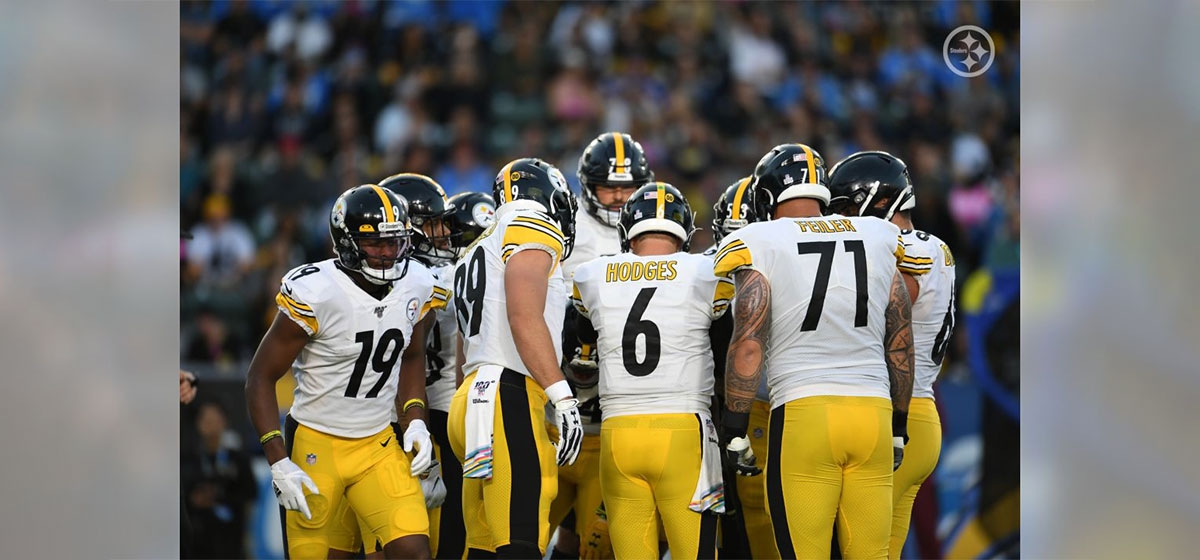 October 14, 2019
A mix of ho-hum performances sprinkled in with a few eyebrow raisers made up the week six slate. The unbeaten 49ers and Patriots took care of business, the Saints kept marching on, and the Cowboys' spiral continues. Even Washington got a win, albeit to the Dolphins.

One thing is for sure: nothing is set in stone yet. The top teams in six of the eight divisions are all separated by one win or less. New England has a two game lead in the AFC East on Buffalo, who were on a bye this week.
Then there's the Ravens, perched comfortably atop the AFC North with a two game cushion over Cleveland and Pittsburgh. QB Lamar Jackson continued his reign of terror on the ground against Cincinnati, rushing for an unstoppable 152 yards on 19 attempts. He's now got 200+ more rushing yards than all other quarterbacks, and is seemingly on pace to become the second QB in NFL history to rush for over 1,000 yards (Michael Vick, 2006).
That said, exposing your quarterback in the open field is always a dangerous proposition; doing it 19 times is borderline unheard of in today's NFL. Ravens head coach John Harbaugh surely would like to manage his young quarterback's workload better than that, especially against a winless team like the Bengals. Jackson is absolutely talented enough to surpass Vick's record. The only question is if he can stay healthy enough to do it.
Steelers corner
What a difference a year makes.
Less than a year after the Chargers snatched a win in the final seconds in Pittsburgh, the Steelers fly out to Los Angeles and ground the league's number four passing offense (at least through three quarters). Chargers WR Keenan Allen was wiped off the face of the planet. After making Heinz Field his playground last December (14 catches, 148 yards), the two-time Pro Bowler only mustered a measly two catches on Sunday. RB Melvin Gordon, in his second game back from his holdout, was met with similar struggles. The Chargers rushing attack churned out a total of 32 yards, good for a league worst on the day.
What more is left to say about these monumental defensive efforts? If there's even a single glimmer of hope for postseason aspirations, it rides on the shoulders of this defense.
Chargers QB Phillip Rivers probably didn't sleep well after the game and that's on account of the nightmare that is LB Devin Bush. On the Chargers second possession, Bush scooped up an errant backwards pass by Rivers and cashed in the touchdown to get the scoring started. On the very next series, he intercepted Rivers after a DL Tyson Alualu deflection at the line of scrimmage. Seven straight James Conner touches later, and it's 14-0. Bush has so far admirably filled the glaring hole left by Ryan Shazier, who must be proud of the rookie's incredible debut to date.
Collectively, the rest of the defense continues to look dominant. LB T.J. Watt is a man possessed—the tenacity he brings every play is exciting to watch. The defensive backs also did an exceptional job keeping LA pass catchers in check most of the game. CB Cam Sutton made a nice over-the-shoulder interception to seal the win late, and the continuous double teams on the aforementioned Allen forced Rivers to telegraph his throws for much of the evening.
Where things continue to remain murky are on the other side of the ball. The much-anticipated debut of QB Devlin "Duck" Hodges was about as good as one could have reasonably hoped for from an undrafted rookie. Credit once again to OC Randy Fichtner for not trying to force Hodges to step in and be a gunslinger. The offense was balanced, efficient, and finally got some push up front for Conner and rookie Bennie Snell. Hodges himself has some savvy to his game: his composure in the pocket is solid and he's not afraid to run. His 21-yard scamper against Baltimore would have been Roethlisberger's longest run since 2010. His handling of a couple wild snaps from C Maurkice Pouncey was veteran caliber.
While Hodges has a leg up on Rudolph in duck calling, the offense still looks similarly limited. No surprises here—Fichtner is simply limiting the opportunities Hodges has to turn the ball over. The couple times Hodges did try deep, he badly under-threw Smith-Schuster and was also picked off in the fourth quarter.
It will be infinitely easier said than done, but this offense must find a way to score more points. It's not every week the defense is going to spot 14 points and shut out the opponent for three quarters. Pittsburgh has a couple weeks to get healthy before a Monday night bout with the dumpster-fire Dolphins (0 – 5). This is not a game to overlook—whether it's Rudolph or Hodges under center, neither is likely capable of putting up 40+ points on Miami like the Ravens and Patriots have already. The loss of DE Stephon Tuitt for the year to a pectoral injury won't make things any easier, either.
That said, with Cleveland sputtering and Baltimore facing Seattle (5 – 1) and New England (6 – 0) upcoming, Pittsburgh has an opportunity to climb back into the divisional conversation. It's not over yet, folks!
Around the NFL
If you need a reminder that it could always be worse, look no further than the Tennessee Titans. This team is a complete disaster, having scored seven points over its last two and a half games. They benched starting QB Marcus Mariota midway through their 16 – 0 loss to Denver in favor of Ryan Tannehill, a guy the Dolphins didn't even attempt to keep around this offseason. What originally looked like halfway respectable wins against Cleveland and Atlanta now appear rather flimsy.
They also happen to share a division with one of the hottest teams in football. The Houston Texans are hitting their stride, handing Kansas City its second straight loss 31 – 24. The Chiefs are still one of the odds-on favorites in the AFC, but teams are starting to figure them out. Perhaps the void left by RB Kareem Hunt is bigger than they anticipated. The former Pro Bowl back was released last November after video surfaced of him kicking a woman in a hotel hallway.
"We may not be as good as we thought we were." That's Cleveland WR Jarvis Landry speaking to the media last week. Well, that trend continued: After scoring touchdowns on their first three possessions, the Browns let a 20 – 7 lead slip away as they were defeated by the Seahawks 32 – 28. QB Baker Mayfield's learning curve looks steeper every week—he leads the league in interceptions, which is saying a lot on a day Tampa QB Jameis Winston threw 5 of them. More alarming, considering the weapons at his disposal, is his completion percentage. At 57%, he sits at the bottom of the barrel with the likes of the aforementioned Mariota, and Dolphins duo of Josh Rosen and Ryan Fitzpatrick. Yuck.
Yes, their consecutive wins have come against Atlanta and Cincinnati, but this Arizona Cardinals team is becoming increasingly fun to watch. Rookie QB Kyler Murray is an NFL Houdini, continually slipping away from defenders and scrambling around the backfield like a rabbit toying with old dogs. At one point, the FOX commentators were outwardly laughing at the lineman in pursuit of the 2018 Heisman Trophy winner. Remember: this is a team with a completely new offensive system, coach, rookie quarterback, and coming off of a 3 – 13 season. Their division is probably too competitive this year for playoff hopes, but they'll nip a few teams down the stretch if they continue on this trajectory.
Fantasy forecasting
Big stats are all about opportunity. Some of the most talented players in the league are held back by their situation; Corey Davis and Joe Mixon owners already know this firsthand. Let's change it up a bit this week and take a look at increased opportunity for lesser-known assets, as well as some highly-owned studs that underperformed.
Target hogs
Bengals wide receiver Auden Tate (23% owned) and Jets WR Jamison Crowder (42% owned) lead the pack this week in terms of untapped opportunity.
Tate saw increased attention as the Ravens completely eliminated WR Tyler Boyd; QB Andy Dalton simply had nowhere else to go. Tate was only able to haul in five of those 12 targets, and that percentage is not likely to increase. The seventh rounder out of Florida State tested sluggishly at the combine last year and will struggle to create elite separation, relegating him to occasional touchdowns and jump-balls downfield. With AJ Green's return looming, Tate can be safely left on the wire.
Crowder's nine targets is a trend that is likely to continue. We touched on this here recently: QB Sam Darnold is clearly a fan of Crowder, and it's no coincidence to see this uptick in usage in his return from mono. Crowder was targeted by backup QBs 14 times over three games during Darnold's absence. Compare this to the whopping 26 times Darnold has looked his way through two games, and you've got a guy with a reliable floor every week that they're both on the field. Confidently scoop him up where available. You may not need him, but he's a safe play in a pinch.
Any time a tight end gets notable targets, you pay attention. That's why it's easy to look TE Dallas Goedert's way after the eight targets QB Carson Wentz peppered him with on Sunday. It's appetizing, but unsustainable: TE Zach Ertz is firmly entrenched as the top dog on the depth chart. Goedert becomes an instant must-own should Ertz ever miss time, but can be safely avoided in the interim.
Duds for studs
The aforementioned Keenan Allen (six targets) has brighter days ahead, as does Amari Cooper (two targets) who left early with a quad injury.
JuJu Smith-Schuster owners should officially be concerned at this juncture. Life was going to be hard enough without WR Antonio Brown drawing primary coverage every week. The loss of Roethlisberger has compounded this problem, and the fallout is palpable; after putting up eight 100+ yard performances in 2018, he has yet to cross the 90-yard threshold this season. You're still playing him if you have him, but monster stat lines are likely not coming anytime soon.