Fire & Ice Festival, Laurel Highlands Model Railroad Club
Visit the Fire & Ice Festival and Laurel Highlands' Model Railroad Club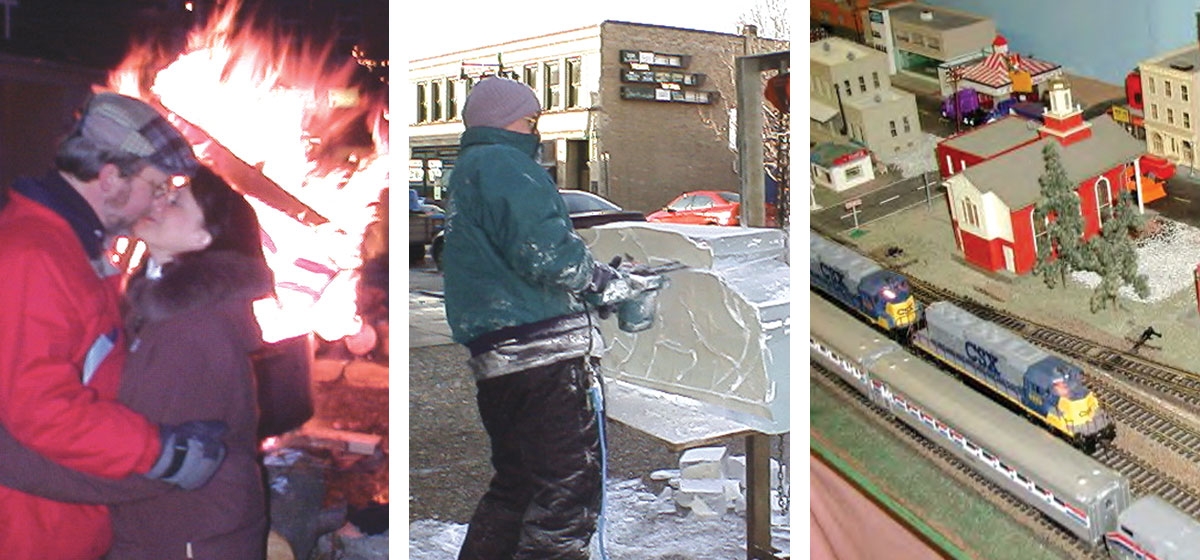 November 20, 2006
For those who enjoy the kinship, shopping and food at community celebrations, summer brings the mother lode with its county fairs, pie eating contests, town carnivals, cotton candy and dunk tanks.

Fall brings harvest celebrations with apple cider, pumpkin picking, hayrides and candy apples. Even March and April have their Friday fish fries at churches and fire halls. But a good winter celebration is hard to find.
It is possible, though, to interrupt your hibernation and celebrate winter in a unique way at the 12th annual Fire & Ice Festival in Somerset.
This event, Jan. 12-14, truly embraces winter. More than 60 ice sculptures in a 12-block area range from the scales of justice in front of an attorney's office to an icy tooth near the dentist's to an intricate American eagle with an eight-foot wingspan. There are also ice-carving demonstrations, and street corners have roaring fires to warm the crowds.
On Saturday, you can start the day with the Kiwanis' all-you-can-eat pancake breakfast at the Fraternal Order of the Eagles. Stop by the First Christian Church for their famous soup sale—but get there early for the best selection. There's a chili cook-off at the American Legion and a "King of the Hill" race with remote control vehicles in the borough parking lot.
It may be too cold for the bathing suit contest of a traditional beauty pageant, but you can cast your vote for the 2007 Snow Baby and Snow Toddler. Add in scavenger hunts, a 5K walk/run, performances by a variety of bands, a silent auction, bake sales, teen and children's activities, shopping and fireworks.
Open all year, but offering extended hours during the Fire & Ice Festival, is the Laurel Highlands Model Railroad Club's train display.
Located in the basement of the Newberry Place Building, this train show is coordinated by a group of about 30 model train enthusiasts who range in age from 4 to 80, who have put together a variety of elaborate displays from different eras, including, of course, the classic Plasticville, USA.
A winter visit to Somerset has more than enough to fill a day or weekend with the family or a date. It's definitely worth the drive.