Exploring the Maridon
Butler's specialty museum showcases Asian art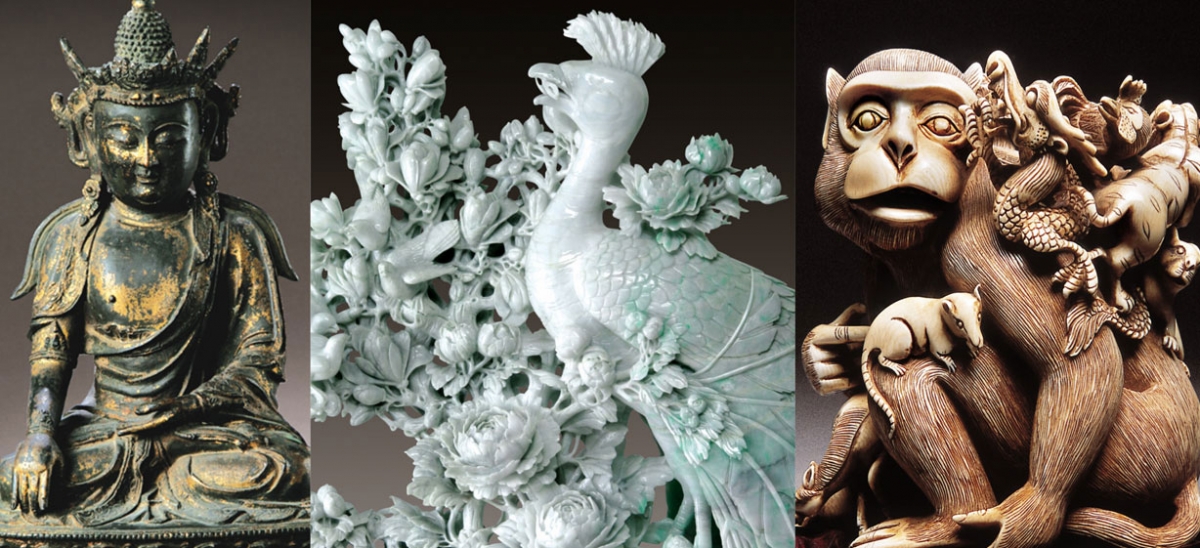 May 21, 2016
Most people do not associate Asian art with Butler, Pa. However, the only museum dedicated to ancient and contemporary Chinese and Japanese art and culture in western Pennsylvania is tucked away on a residential street in this city of around 14,000 — epitomizing the concept of "hidden gem."

The Maridon Museum is home to the priceless, private collection of the late Mary Hulton Phillips. She was married to Donald Phillips, the grandson of T.W. Phillips, a local gas and oil baron. (The museum's name is a combination of their two names.) Phillips purchased a carved Japanese ivory figure and that started her on a 40-year path of collecting the finest Asian art and Meissen porcelain available worldwide. The Phillips had no children, and Mary, a beloved Butler philanthropist, opened the museum in 2004 to display her collection so that it could be shared with everyone.
While not a large museum, it draws on a collection of more than 800 pieces spanning 4,000 years—ranging from large sculptures and wall-sized paintings to delicate miniatures. There are exquisite, intricately carved jade and ivory pieces, primarily from 1890–1950. The provenance of some are quite eclectic, with previous ownership ranging from the Shah of Iran to Augustus II (also known as August the Strong, King of Poland and Saxon ruler) to "hostess with the mostest" Perle Mesta.
"A Collector's Journey," the Maridon's permanent collection, reflects Phillips's taste and interests in both large, significant objects and small, whimsical pieces. These comprise decorative and functional uses and range from everyday life to the splendor of the imperial courts. One gallery has about 100 netsuke-wood, ivory or bone pieces carved into tiny humorous or charming toggles used to decoratively secure a small bag to the obi on men's kimonos. This gallery also focuses on the life of Chinese scholars, with the objects and scrolls representing their lives.
In a wonderful example of "east meets west," a portion of the museum is dedicated to German Meissen porcelain. The Chinese and Japanese were known for their fine porcelain and had been making it for more than 1,000 years, and the Dutch East India Company imported it to Europe in large quantities. However, the Europeans were unable to replicate its translucent delicacy. In the early 1700s, King Augustus II, who had spent vast sums buying and then trying to reproduce Asian porcelain, imprisoned an alchemist and tasked him with replicating the "white gold." When he succeeded, Europeans could finally produce their own pieces, and Meissen porcelain was born in a town in Germany near Dresden. The Maridon collection of more than 300 pieces includes platters, tableware, figurines and an orchestra of monkeys playing instruments. Known for its detail, hand-painted artistry and representation of 18th-century European lifestyles, the Meissen porcelain collection contains both blanc de chine (white china) and beautifully colored pieces both decorative and functional. Coveted by collectors from the Vanderbilt family to Queen Elizabeth, the Maridon's assortment of Meissen porcelain is one of the largest private collections of its kind in the U.S.
An especially appealing feature of the museum is the signage. While some museum signage assumes a doctorate in art history and others intend to bestow one, at Maridon, there are short, informative paragraphs that aid in the understanding and appreciation of the art, objects and culture.
With a commitment to engaging the community, the Maridon Museum sponsors a variety of educational and interactive programs for students, families and adults. They are also connected with the Japan America Society of Pennsylvania. Although small, the gift shop has a lovely selection of reasonably priced items.
If you visit the Maridon Museum, why not make a day of it? Start off at Cummings Candy & Coffee for a cup of destination-worthy coffee and a warm cinnamon roll. Founded in 1905 by a Greek immigrant, it has been continuously operated by the Cummings family ever since and is the oldest family-run business in Butler. They roast and grind their own coffee beans, and serve them prepared numerous ways (French press, pour over, drip, espresso, cappuccino, latte, flavored, etc.). They also have a loose tea bar, and serve frozen coffees, milkshakes, smoothies, hot chocolate and ice cream cones. Their housemade baked goods range from scones, muffins and biscotti to fresh cookies. The inside of the building hasn't changed much over the past 100+ years, and they still make their own handdipped chocolates.
After touring the museum, treat yourself to a delicious lunch and craft beer at Reclamation Brewing Company (RBC). Three beer enthusiasts opened the microbrewery in September, and it features 12 rotating taps that include their own brews, a local mead and hard cider. From the unique (Blood Orange IPA) to the intense (8.5% alcohol Promised Land Ale), there are many options; you might want to start with the beer flights to narrow down your choices! All of the food is made in-house, including soups, slow-cooked beer chicken, shepherd's pie and the perfect beer accompaniment—a pint jar of crisp, salty bacon. Butler's Pennie's Bake Shop custom-makes its desserts using RBC stout in the recipes.
Maridon.org, 322 N. McKean St., Butler, (724) 282-0123.
Cummingscoffee.com, 146 N. Main St., Butler, (724) 287-3287.
Reclamationbrewing.com, 221 S. Main St., Butler, (724) 282-0831.