Essential Dining: Winter
Ten great places to come in from the cold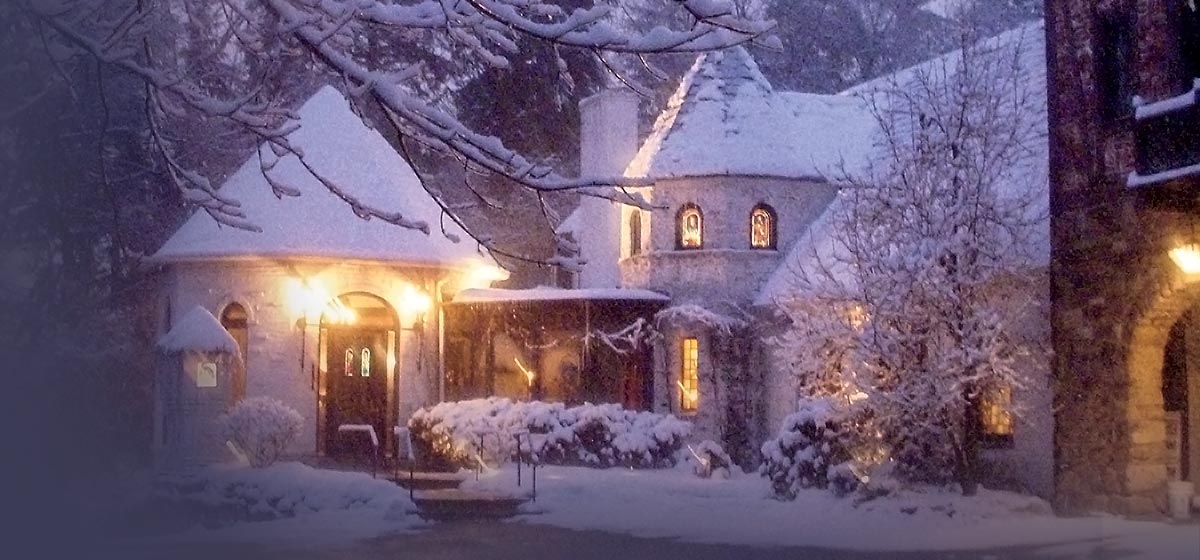 January 14, 2019
While Pittsburgh winters often begin with sparkling lights, a gentle first snow and holiday splendor, they can quickly become slush and ice.
The constant threat of the wintry mix, the steady stream of gray days, and scattered plastic chairs reserving parking on snowy streets can wear down the most pleasant among us. Confronting the cold and the other inconveniences of the season requires an indomitable spirit.
As an antidote to the winter blues, we offer 10 great options where you can stimulate your palate, lift your spirits and warm your hearts. These restaurants have either winter menu items, amenities or both that allow us to enjoy the season more fully. Comforting smells and tastes from fresh, warm crusty bread, hearty meat preparations, soups and stews eaten in cozy, warm surroundings give us a reason to get out and celebrate winter.
Whether you prefer to dine in your favorite jeans and snow boots or in a little black dress with a pashmina shawl and some sparkle, you will find an appropriate and inspired winter venue on our list to thaw your winter soul. Challenge yourself to brave the cold by making our selections part of your winter plans. Staying engaged in the season and all it has to offer will help you enjoy, not merely survive, winter.
Hyeholde
With blazing fires in a country inn built of stone, you will be transported back in time. A romantic interior awaits, featuring exposed beams, leaded stained glass windows, European furniture and tranquil tapestries. Surrounded by old-world charm, you will find traditional service and one of Pittsburgh's most sophisticated menus, including classic preparations such as sherry bisque, lamb shank, rack of lamb, and elk carpaccio. By an outside patio with a fireplace with comfortable seating, you can sip mulled ciders and specialty drinks such as the Rook (made with kahlua, Baileys Irish Cream, Crown Royal, espresso and frothed milk). Chances are you'll feel more like you're dining in the Alps than Moon Township.
Legume
Pittsburgh's most deeply committed and accomplished farm-to-table restaurant changes its menu daily. Vegetables preserved from the fall harvest along with hearty greens and root vegetables are winter staples. Nourishing preparations of grass-fed rib steak and pork chops are created with accompaniments such as grilled escarole, roasted turnips, roasted mushrooms or grilled pears and brandied cherries. French fries cooked in tallow with aioli are an indulgent, must-have side. A special winter menu highlight is the cassoulet (a meaty French stew named for its cooking vessel). Every ingredient is carefully sourced and the flavors are built over days of preparation. Watch for it on the daily changing menu and plan to enjoy it with a robust red wine while watching the snow fall gently on Craig Street.
Eleven
A cocktail known as Incident on Smallman Street ($11) made with Maggie's Farm Spiced Rum, cyner (an Italian bitter), apple cider, ginger and lemon sounds like a strong beginning to your evening. Add to that the Eleven Burger, made with braised veal, black pepper bacon, crispy onion and your choice of cheese, while you sit at the bar overlooking the Strip District watching winter pass you by. Butternut squash and apple soup and beef tenderloin with gnocchi, mushrooms, spinach and blue cheese are pleasing dishes to enjoy in the comfortable dining room where service is prompt and professional. One of the few restaurants with its own baker, Eleven's warm homemade bread with flavorful butter can lift your spirits.
Twisted Frenchman/La Riviera
Offering fine food and tasting menus, the elegant dining room at Twisted Frenchman is bathed in soft light and soothing blue hues. Enjoy warm lobster bisque, foie gras, filet of beef or whatever the chef has planned that evening. Chef Andrew Garbarino offers tasting experiences ranging from four to 21 courses. The four-course tasting menu priced at $65 per person provides ample portions at a reasonable price. La Riviera offers a more casual setting serving delicious cocktails alongside winter favorites such as: rabbit stew and braised root vegetables; hot pots; baked raclette; and warm potato salad with duck leg. Service in both venues is outstanding and both are housed in an East Liberty building that has been fully renovated by the chef/owner.
Poulet Bleu
A trip to Lawrenceville is all it takes to enjoy the romance of this typical French bistro where you can gather with friends at the bar to enjoy a bowl of rich French onion soup, creamy macaroni au gratin, pot au feu, garlicy escargot or traditional steak frites. Upon arrival you will be greeted with humid air filled with luscious kitchen smells in a cozy, friendly atmosphere. The open kitchen creates an intimate setting to engage the diner with the savory French classics you will soon enjoy. Service is helpful with a hint of French pretension. Save room for the chocolate soufflé.
Everyday Noodle
This Squirrel Hill Asian eatery provides comfort food at its finest. Pork soup dumplings are the star. To the uninitiated, dumplings filled with pork and hot soup require you to carefully take a bite to release the steam and to drop a small amount of the hot broth into a spoon before you place the entire luscious, warm dumpling in your mouth. Polite and helpful wait staff will coach you through your first soup dumpling experience. Don't miss healing bowls of chicken soup generously filled with whole chicken legs and thighs. As an added bonus you will be entertained by the noodle making that goes on in plain sight.
Stagioni
Tuscan specialties are served in this Southside favorite where you are treated like family and wood-fired smells greet your arrival. Winter flavors come through with classics such as: butternut squash arancini; grilled escarole salad; spaghetti with chilis and bread crumbs; polenta with sautéed mushrooms; and tagliatelle with Bolognese sauce. Other favorites include roasted whole branzino and roasted quail. Hand-pulled, made-to-order fresh mozzarella is always a treat. Check out Sunday Suppers where four-course family style dinners are served at communal tables for a modest price.
Whitfield
If you are looking for a bohemian, Soho vibe, head over to the Ace Hotel in East Liberty where you will find a bustling bar and an uncommon menu. Using locally sourced beef and pork, the menu includes interesting charcuterie platters with pickled vegetables, bone marrow, and pork terrine. When you need a break from cooking, take the clan to try the assorted steak cuts, which can be ordered family style with assorted sides and sauces. Brunch also offers a winter escape with comfort food such as duck leg confit hash browns, mushroom gravy and biscuits and bacon macaroni and cheese alongside traditional breakfast items such as omelets and buttermilk blueberry pancakes. Desserts are made in house by the award-winning pastry chef.
Casbah
A consistent favorite since it opened many years ago, Casbah serves slow-roasted meats, mushroom risotto, beef short rib ravioli, a notable pork chop, and Elysian Fields Farm lamb dishes in a warm and friendly atmosphere. Orecchiette with chicken, cranberries, goat cheese and sage cream is a special treat. The heated patio offers the chance to eat "outside" on a snowy night. Located in Shadyside with reliable valet parking, this is an easy lift on a cold night.
LeoGreta
If you seek the warmth of an old-fashioned Italian grandmother cooking her coveted dishes in a humble and loving setting, venture to Carnegie to try this intimate neighborhood establishment. Here you will enjoy classic Italian dishes such as beans and greens with sausage, cavatelli with hot sausage, and gnocchi with light tomato sauce. Like most things on the menu the gnocchi, cavatelli and sausage are all house-made, using tried and true cooking techniques. For dessert, the cheesecake and the flourless chocolate cake are rich and delicious. Off-menu winter seasonal specials will make this spot worth the trip.