Eleven Debutantes Presented at the 94th Cinderella Ball
January 25, 2020
Photo by Caroline Kelley Willig.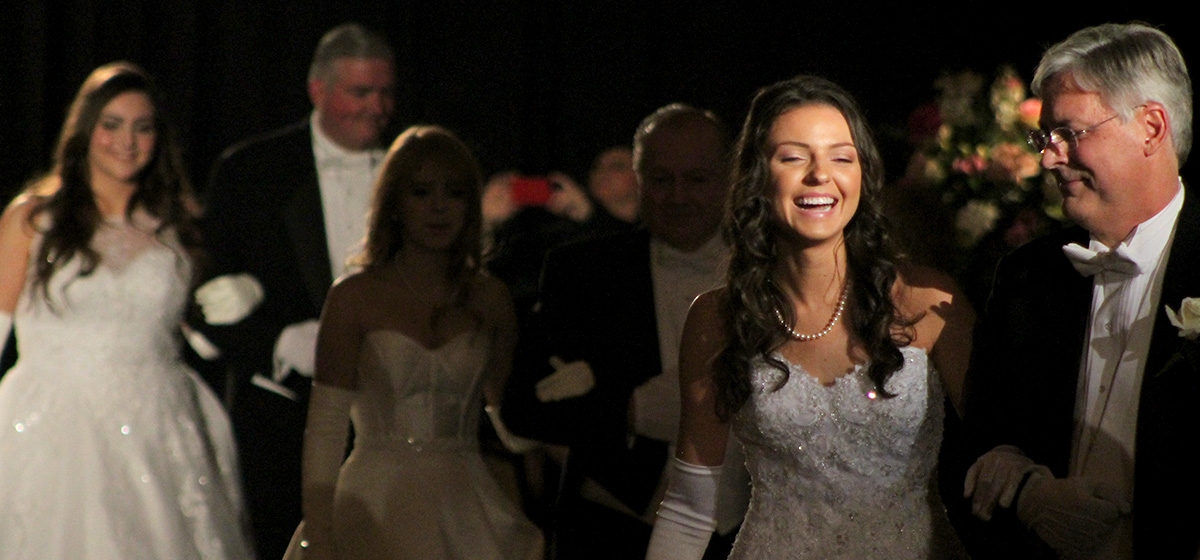 January 27, 2020
The 94th Cinderella Ball was held on Saturday, January 25th, 2020 inside the Grand Ballroom at the Omni William Penn in Downtown Pittsburgh. After an introduction by ball chairs Mrs. Laura Penrod Kronk and Ms. Britton Peyton Wean, 11 debutantes were presented on the arms of their fathers to a room full of 325 guests including family, friends and local community members.
The Floor Committee, comprised of 45 young men invited by the debutantes, kneeled the length of the ballroom and watched intently as each debutante promenaded along the center of the ballroom amidst cheers from excited guests.
Dr. Elizabeth Barker, executive director of The Frick Pittsburgh, was on hand to represent her organization, this year's chosen beneficiary. Throughout the year, the debutantes logged over 530 volunteer hours at The Frick helping with school programs and various events. The Cinderella Women's Committee awarded scholarships to both Sophia Marie Marquette and Daniella Arabella Santucci who each contributed over 100 volunteer hours. The 2021 beneficiary will be the Pittsburgh Cultural Trust.
Prince Charming, Mr. Robert William Cochran, a student at the College of Charleston, drew a namecard from a beautifully decorated pumpkin to reveal his Cinderella, Miss Adeline Morrow Todd, a third generation debutante. Her grandmother, Barbara Scheetz Todd, a debutante presented at Cinderella Ball in 1954, was in attendance and overjoyed to see her granddaughter chosen as Cinderella.
After a waltz by the debutantes and their fathers, guests enjoyed a four-course dinner of lightly blackened shrimp and grits, a bibb lettuce and poached pear salad, filet mignon with gorgonzola port wine sauce and warm chocolate lava cake for dessert while the Rick Purcell Band played on. Arrangements of pink roses by Pete Donati & Sons stood tall on each table, highlighted by colored spotlights which shone down on the chandeliers and dancefloor. Post-dinner, guests hit the dancefloor as the Move Makers Band took the stage until midnight.
The debutantes of the 94th Cinderella Ball are Miss Katherine Ferko Bennett, Miss Katharine Davis Fleischner, Miss Lauren Elizabeth Gaydos, Miss Elena Elizabeth Hoffman, Miss Alexandra Ruth Keefer, Miss Sophia Marie Marquette, Miss Lauren Anne Peterson, Miss Meghan Quaid, Miss Daniella Arabella Santucci, Miss Adeline Morrow Todd and Miss Cassidy Jane Walsh.