Duck Delivers
NFL Week 13
Karl Roser / Pittsburgh Steelers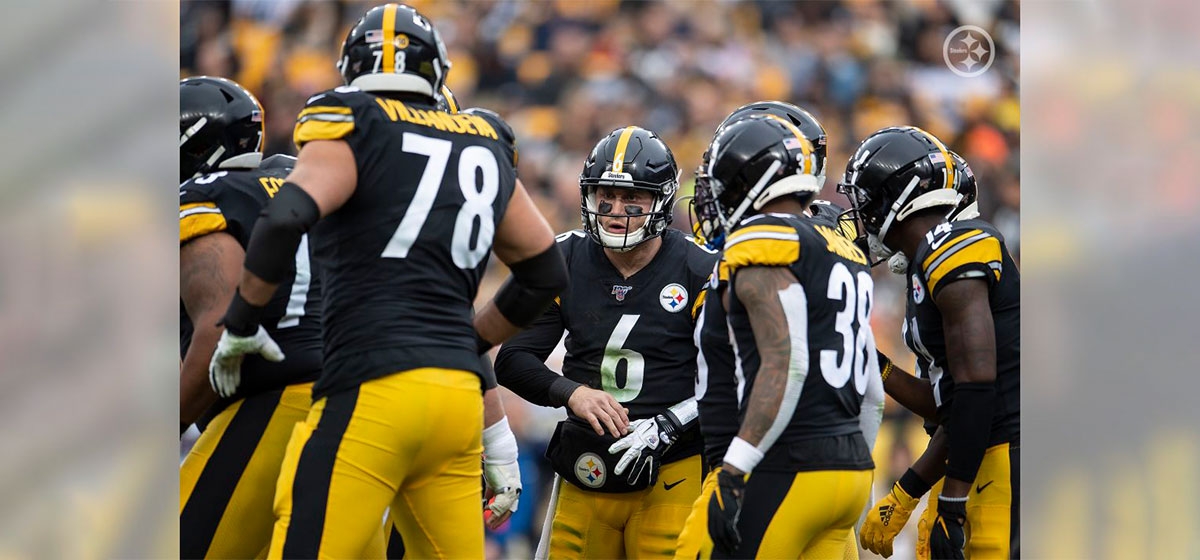 December 2, 2019
Two teams have separated from the pack through 13 weeks; the Saints and the Ravens have established comfortable three-game advantages. The rest is completely up for grabs. With only four weeks to go, five division leaders are separated by a single game. The stakes are a little higher when December rolls around.

With New England's loss on Sunday night, Baltimore quietly slips into first place overall in the AFC. Barring the extraordinary, the Steelers are more or less out of AFC North contention, but far from out of the picture.
Steelers Corner
Pittsburgh should not have won this game.
Down to its third-string quarterback operating within a patchwork offense, there were very few reasons to be optimistic. Cleveland is star-studded, on a three-game win streak and, unlike the Steelers, mostly healthy. Take a look at some of the names on both offenses that played a role in Sunday's game and try not to laugh:
Baker Mayfield. Odell Beckham Jr. Jarvis Landry. Nick Chubb.
Devlin Hodges. Kerrith White Jr. Deon Cain. Tevin Jones.
All of these Browns were drafted in the 1st or 2nd round, the undisputed best at their position, with a few Pro Bowls sprinkled in. All of these Steelers went mostly undrafted, none were on Pittsburgh's roster in week one. This team had no business competing in this game, and for yet another week coach Mike Tomlin managed to squeeze water from a rock. The man has endured a lot of criticism over his career, but what he has managed thus far in 2019 is nothing short of remarkable.
Pittsburgh's 20 – 13 win over Cleveland once again showed this team what it's capable of: winning close games with a combination of elite defense and good-not-great offense. It's not a formula that typically works in today's modern pass-happy game, but it's working for them.
Should they continue to stack wins, it's tricky to assess how exactly they fit into the postseason—can you win in the playoffs averaging 20 points a game (24th in the league)? Stranger things have happened, and look no further than the rivals to the east for proof. Fortified with one of the league's formidable defenses, not once did then-quarterback Joe Flacco finish in the top-10 in passing yards leading up to their 2012 Super Bowl Victory. The Baltimore Ravens won playoff games for five consecutive seasons with a defense that kept them in games, complemented by an offense that didn't take them out of it. Comparing Hodges to a champion quarterback probably isn't fair, but it's proof you don't need to have a Joe Montana to call a season a success.
Baltimore eventually fell back into mediocrity after they opened up the vault for Joe Flacco's new contract. While Pittsburgh's quarterback situation is financially stable, Bud Dupree continues to price himself out of their budget with each game. Through 13 weeks, he has already surpassed his career high tackle and sack totals. He had two career forced fumbles coming into the 2019, and has tallied four more this season alone. Considering some of the hefty prices teams have been forking over at the position, it's safe to say Dupree will stand for a credit limit increase this offseason. The top 10 highest paid outside linebackers averaged around $79 million per new contract. Whether or not it's Pittsburgh that foots the bill remains to be seen, but his price seems to be going up by the week.
It's more of the same this week against Arizona: winning in the face of unfavorable odds. Pittsburgh opens up as one and a half point favorites against the 3-8-1 Cardinals – not exactly a ringing vote of confidence from the odds makers. It's a good opportunity for Duck Hodges to spread his wings against the league's worst passing defense, which would be a good tune up for a Buffalo team that's hardly allowing any success through the air.
Pittsburgh cannot afford to look ahead, and all their focus will be on containing quarterback Kyler Murray. The former Heisman winner has had varying levels of success in his rookie season, but hasn't often had to face the speed the Steelers bring on defense. The usual suspects will be in on the action, but look for the linebackers in particular to exploit some matchups against a team that's given up a healthy 42 sacks on the year.
Around the NFL
The Thanksgiving slate wasn't jaw-dropping football by any means, but made for some exciting moments.
It was more of the same from Atlanta, who lost 26 –18 at home to the Saints. The game was out of hand late in the 4th quarter… until it wasn't. Down 17 with under four minutes to go, Falcons kicker Younghoe Koo converted three onside kicks in the closing minutes. One of them was called back on a flat-out bad call by the referee, but let's not water down the craziness: there had only been three converted in the entire league this season. Only four were converted in all of 2018. Naturally, Falcons quarterback Matt Ryan couldn't complete the comeback, but the kicking accolades are noteworthy nonetheless.
Dallas is doing everything it can to keep the NFC East interesting, but was mostly dominated by the Bills on Thanksgiving Day, 26 – 15. It almost seems as if nobody wants to win the NFC East at this rate. Down one game to Dallas, the Eagles were in prime position to catch up in a tasty matchup against the two-win Miami Dolphins. Well, the Dolphins now have three wins and the Eagles continue to flounder. A lot will be written in the coming weeks as to the legitimacy of the head coaches in this division. Cowboys coach Jason Garrett is all too familiar with the hot seat—he seems as good as gone if Dallas falls short. Eagles coach Doug Pederson has done next to nothing with a team that went to a Super Bowl not even two years ago. Giant's coach Pat Shurmur is on a seven-game losing streak in his second year. Redskins coach Jay Gruden has already been shown the door, as interim coach Bill Callahan is just keeping the seat warm.
Chicago was gifted a matchup with Detroit on their third string quarterback, but only managed to squeak by 24 – 20. It seems the Lions are just the bad-beat team this year; they tied the opening week, and seven of their eight losses have been by one score or less. On paper, they have a fairly talented roster, but have relinquished fourth quarter leads in too many games. Coach Matt Patricia isn't on any sort of hot seat, but the expectations were surely higher from the former New England defensive coordinator. With some high quality draft picks incoming, this is a team that will likely see some progression in Patricia's third year.
Winless no more, the Cincinnati Bengals finally got one in the win column with the 22 – 6 victory over the Jets. Not coincidentally, quarterback Andy Dalton returned to the lineup after a three-game benching. Steelers fans should be thankful the switch was made a week after their win; rookie quarterback Ryan Finley finishes his Bengals debut run with 474 passing yards over three games and a foul 62% passer rating. Andy Dalton isn't a world beater, but it's safe to say the Steelers got the more favorable of the two quarterbacks.
It's funny how the perceptions of teams change as the season progresses. The gloom and doom of a looming undefeated season for the Patriots seems silly in retrospect. The Texans handed New England their third loss on Sunday night, 28 – 22. It wasn't as close as the score suggests – the score was 28 – 9 with less than four minutes to go in the game. Their once elite defense has sputtered of late, and Tom Brady is missing throws with cast of misfits at wide receiver. Let's face it: despite the recent losses, the Patriots are still the Patriots. While more depleted this year than most, Bill Belichick and Tom Brady find ways to win, especially come playoff time. They are more beatable than usual, but I bet you'll be hard pressed to find a team that wants to face them in January.
Fantasy Forecasting
The fantasy playoffs are officially underway. Thankfully, the injury bug didn't bite this week and most rosters move to week 14 unscathed. There aren't a ton of players you can confidently plug-and-play, but if depth is an issue this is a good week to bolster.
A couple under-owned tight ends are perched atop this week's target list. In fact, eight of the top ten most targeted tight ends this week are owned in under 60% of leagues—that's how unpredictable this position is. We highlighted the Colts Jack Doyle (52% owned) here last week, and he had a great week: 6 catches on 11 targets for 73 yards and a touchdown. The upcoming matchups aren't great, but the targets will be there. Lion's rookie T.J. Hockenson (32% owned) also saw 11 targets, but was only able to muster 18 yards. After bursting onto the scene in week one, the top-10 pick has gone completely quiet. The targets have been sporadic and, coupled with the Lions' quarterback woes, should be avoided.
It's difficult to recommend anybody in the Chicago offense, but WR Anthony Miller (13% owned) will not be denied. He has clearly locked down the complementary role to Allen Robinson in his sophomore year, and has seen a whopping 33 targets over his last three games. Anything can happen with Mitch Trubisky behind center, but Miller is starting to show the promise Chicago saw when they invested a second round pick. If you need a flex play, Miller is seeing consistent enough targets to get you double digit points.
Redskins RB Derrius Guice (50% owned) had the best game of his young career on Sunday, racking up 129 yards and two touchdowns on only 10 carries. It will not be easy to predict his usage down the stretch as Washington is already out of contention, and veteran Adrian Peterson continues to get the first crack at touches. Proceed with caution, but add if you have a spot to spare.