Days of Wine and Music
Photo by Roberto Smiraglio, courtesy of Narcisi Winery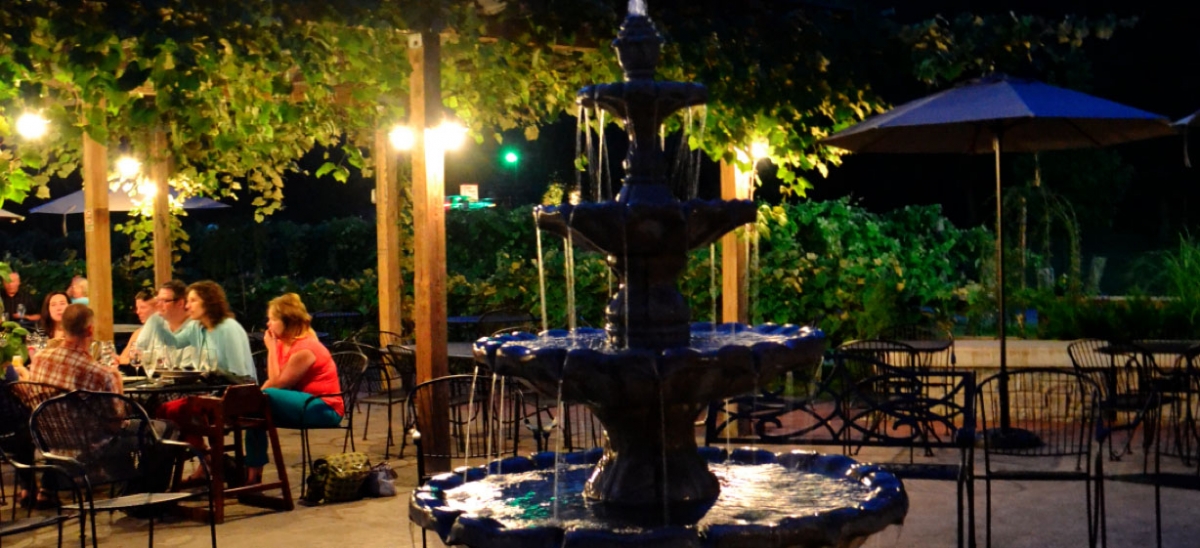 May 20, 2015
There are few things more enjoyable during beautiful weather than sitting outside with family or friends, listening to live music while sipping on wine. Fortunately, there is a charming, local, Tuscan-themed venue where one can do just that.
Narcisi Winery, on route 910 in Gibsonia, is a family-owned endeavor that began in Italy generations ago. The Narcisi family immigrated to America in the early 1900s, bringing their tradition of winemaking. They evolved from creating homemade wines to full, commercial production with the opening of Narcisi Winery in 2001. Today, Dennis Narcisi, his sons Tony and Randy, and winery manager Roberto Smiraglio have built a business that encompasses wine and much more.
Using grapes from the Lake Erie AVA (American Viticultural Area) as well as two varietals grown at the winery, the Narcisis sort, crush, ferment and bottle 20 wines on-site. They produce approximately 177,000 bottles annually, most of which is sold at the winery. Prices range from $14 to $19.50 a bottle. There are big, bold reds, a popular Riesling, a refreshing peach wine, and many other options.
Visitors to the winery can take part in a tasting, schedule a private or group tour of the production facility, and shop in the delightful gift shop. They can also order gift baskets or personalized mini or full-sized bottles of wine for special events.
La Vite Ristorante serves lunch and dinner with a rustic Italian theme, as well as holiday meals, banquets and monthly wine dinners. In addition to indoor and balcony dining, there is seasonally available outdoor seating on the patio and in the pavilion. And of course, Narcisi wine is served.
And then, there is the music. The Narcisis have created a beautiful atmosphere in which their wine can be savored. From spring through fall, there is live music every Friday night, and on Saturday and Sunday afternoons. Guests can enjoy acoustic music on the patio or bands performing on the stage in front of the lawn. Music ranges from Italian classics to accordion, classic rock, jazz, pop and blues. Etta Cox, Good Brother Earl and The Elliots are some of the many performers.
Guests are invited to spread a blanket on the lawn or grab a seat under the pavilion, bring a picnic basket, purchase food from the restaurant or snacks from the gift shop, and simply enjoy the music. Of course, the wine flows freely, making the outing even more enjoyable. There is no cover charge for the concerts, and they are family- and pet-friendly. Servers are available for wine and limited food service.
Narcisi Winery, 4578 Gibsonia Road, Gibsonia, PA 15044, 724- 444-4744. For more information, visit: narcisiwinery.com.
In addition to Narcisi Winery, there are several other wineries in western Pennsylvania that offer tours or tastings:
Christian W. Klay Winery, Chalk Hill
Greendance Winery, Mt. Pleasant