Cudd, Farmer, Schuler, Buford, Kraybill, Martin, Gunther
Professionals new to Pittsburgh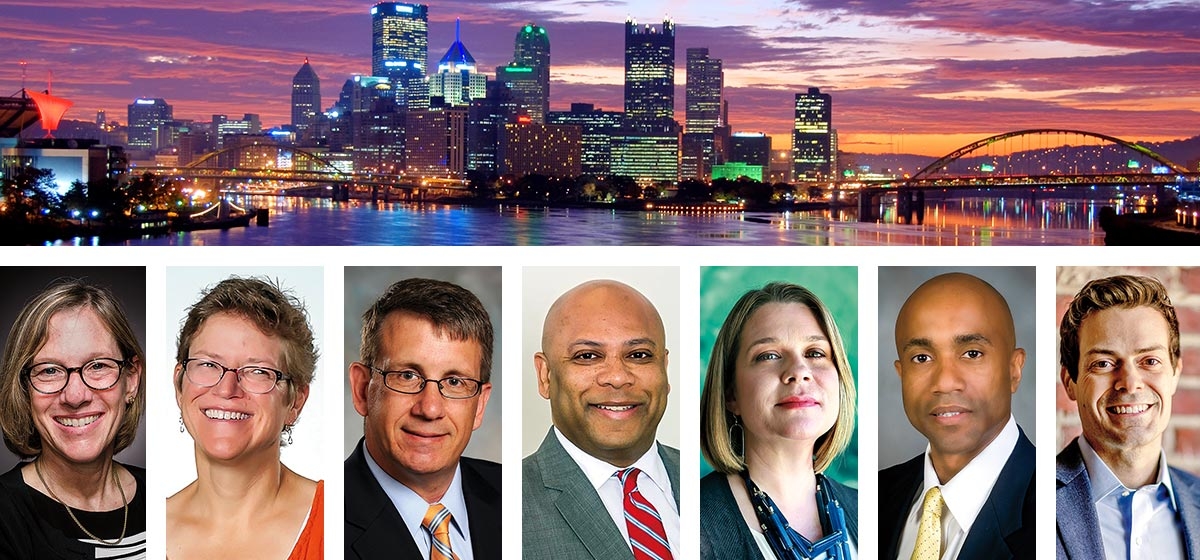 October 8, 2018
Ann E. Cudd is provost and senior vice chancellor of the University of Pittsburgh, supervising the academic and research operations of more than 700 full-time faculty and 7,000 students.

A native of Gambier, Ohio, she comes to Pitt from Boston University where she served as an administrator and professor of philosophy for the past three years. She previously worked at the University of Kansas for 25 years in a variety of faculty and administrative roles, including vice provost and dean of undergraduate studies. Cudd has an undergraduate degree in mathematics and philosophy from Swarthmore College, and master's degrees in economics and philosophy and a Ph.D. in philosophy from the University of Pittsburgh.
Elizabeth Farmer is the dean at the University of Pittsburgh's School of Social Work. A native of Carlisle, Pa., she comes to Pittsburgh from Virginia Commonwealth University's School of Social Work where she was a professor and associate dean for research. Previously, she was on the faculty at Case Western Reserve University, Duke University and Pennsylvania State University. Farmer's work in community-based settings includes serving as a treatment foster parent, respite care provider and group home parent. Her research in improving treatment and care for youth with mental health problems and in improving foster care resulted in an evidence-based model, "Together Facing the Challenge," which is being implemented in more than 20 states. She earned an undergraduate and master's degree from the College of William an Mary and a Ph.D. from Duke University.
Greg Schuler is the chief investment officer at the University of Pittsburgh. A native of Calgary, Canada, he comes to Pittsburgh from St. Louis, where he has been chief investment officer and treasurer for BJ HealthCare, a nonprofit health care integrated delivery organization. He managed investment activities covering $8 billion in assets and oversaw treasury activities related to debt, derivatives and cash management. He has an undergraduate degree and an MBA from the University of British Columbia.
Earl Buford is the CEO of Partner4Work, the region's workforce investment board. He comes to Pittsburgh from his native Milwaukee, where he was president and CEO of Employ Milwaukee, the largest of Wisconsin's 11 workforce boards. Previously, he served as the president/CEO of the Wisconsin Regional Training Partnership/BIG-STEP. Considered a thought leader in the field of workforce development, Buford has an undergraduate degree in history from the University of Wisconsin.
Anne Kraybill is the Richard M. Scaife Director of the Westmoreland Museum of American Art. A native of Towson, Md., she comes to Pittsburgh from Bentonville, Arkansas, where she joined the team that was launching the Crystal Bridges Museum of American Art in 2011, ultimately becoming its director of education and research in learning. Previously, she held positions at the Vero Beach Museum of Art, the Center for Creative Education and the Norton Museum of Art, both in West Palm Beach. She has an undergraduate degree from the Maryland Institute College of Art, and a Masters in Museum Education from the University of the Arts in Philadelphia and a Master of Science in Instructional Technology, from East Carolina University.
James R. Martin II is dean of the University of Pittsburgh's Swanson School of Engineering. He comes to Pittsburgh from Clemson, S.C., where he has been chair of the department of civil engineering at Clemson University. Previously, he spent more than 20 years on the Virginia Tech civil engineering faculty and five years as director of the Disaster Risk Management Institute. He is internationally recognized for his research on earthquakes. He has a bachelor of science in civil engineering from The Citadel, and both a master's of science degree and a doctorate in civil engineering from Virginia Tech.
Justin Gunther is the director of Fallingwater and vice president of the Western Pennsylvania Conservancy. He is returning to Fallingwater, where from 2007–2011 he was curator of buildings and collections. Most recently, he was the architectural historian at the Virginia State Capitol in Richmond, his hometown. Gunther also served as a professor and program administrator at Savannah College of Art and Design and manager of restoration at George Washington's Mount Vernon. He has a master of fine arts in historic preservation from the Savannah College of Art and Design and an undergraduate degree in biology from Virginia Commonwealth University, where he graduated summa cum laude.