Smicksburg, Pa.
Cars share the road with Amish horses and buggies in Smicksburg, PA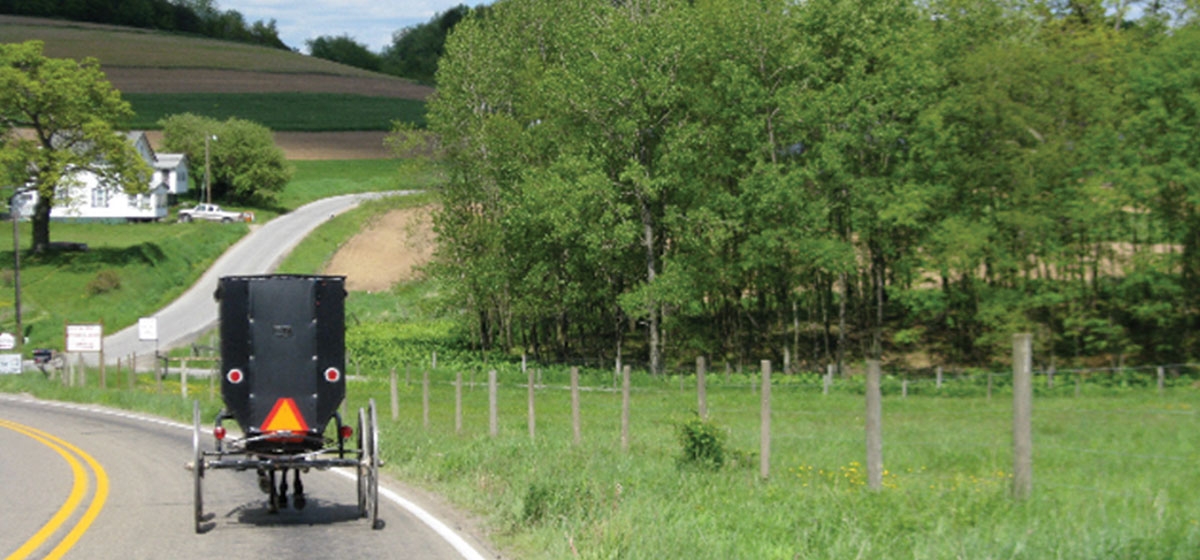 August 25, 2008
Soaring gas prices might have you reconsidering autumn travel, but much of it can be duplicated within an hour's drive of Pittsburgh. If you are yearning for New England's fall colors, Lancaster's Amish countryside, a vineyard's fall glory or a small town's welcome, try a visit to Smicksburg, in northern Indiana County.

The drive to Smicksburg and neighboring Dayton is breathtaking. Brilliant maple trees form a canopy over the road, yellow corn stalks cover the rolling hills and grazing cows, sheep and horses dot the pastures.
Amish farmhouses are easy to spot. Look for the horses and buggies next to the front doors; the black, blue and white laundry hanging on clotheslines; chickens pecking in the driveways and farmers plowing with teams of horses. The buggies can leave ruts in the roads, so be careful passing these low-octane carriages. You'll become part of this simpler life, too, as most cell phonesare useless around here.
Smicksburg itself is tiny. Only about 50 residents live in the town proper, although the surrounding area is home to around 300 Amish and numerous "English" families.
Town has a couple dozen unique shops and restaurants. Patty and Alan Painter grow a large variety of flowers on their farm, dry them in their barnand create stunning wreaths, garlands and swags—for sale at the Drying Shed. They also make their own potpourri and primitive wooden crafts. The house is filled with gifts and crafts such as candles, wall hangings and American decorative items.
Thee Village Sampler has a variety of shops carrying coffees and teas, lace, kitchen gadgets, dishware and Christmas items. And don't miss the fabulous fudge. In addition to standard flavors such as chocolate walnut and peanut butter, they make Snickers, Mounds and other unique flavors. Created with local cream and Amish butter, this fudge is positively addictive!
Next door is Thee Village Eatinghouse, the perfect place to stop for a delicious lunch or early dinner.The on-site bakery makes all of the breads, rolls and desserts. The "Sticky Fingers" pulled, barbecued pork sandwich, tomato cheese pie, wonderful chicken salad, vegetarian and children's meals make choosing a challenge. Be sure to leave room for a hot apple dumpling for dessert, and if you get hooked on their warm, crusty breads, you can always purchase some to take home.
Windgate Vineyards and Wineryis a few miles outside of town. The owners, retired Pittsburgh surgeon Daniel Enerson and his wife Cay, also run the adjoining antique store and bookshop. The award-winning wines are available in several varietals. There are also tours of the facility, a tasting room, gift shop and a picnic area.
Smicksburg Community Cheese uses local Amish milk to craft their cheese. Popular varieties include farmer's longhorn, Colby-jack, onion and dill. There are always free samples, and a viewing room for observing the cheese-making process is open Mondays, Wednesdays and Fridays.
There are also stores selling fiber arts, Native American items, pottery, quilts, antiques and handcrafted, Amish-made chairs and tables. Handworks has artisans spinning and weaving to create knitted and woven sweaters, rugs and blankets. And some Amish families sell items from their homes and farms such as eggs, baked goods, quilts and jam. (The Amish-run businesses are closed on Sundays.) It's also fun to drive around and enjoy the sights. The hand-painted signs advertise goods and services not typically available in the Pittsburgh area— including blacksmiths and barn sales.
If you don't want to refill your tank on a beautiful fall day, Smicksburg is worth the drive.