Cool It This Summer
Avoid the heavy and go with refreshing, light wines
Mark Swallow/Shutterstock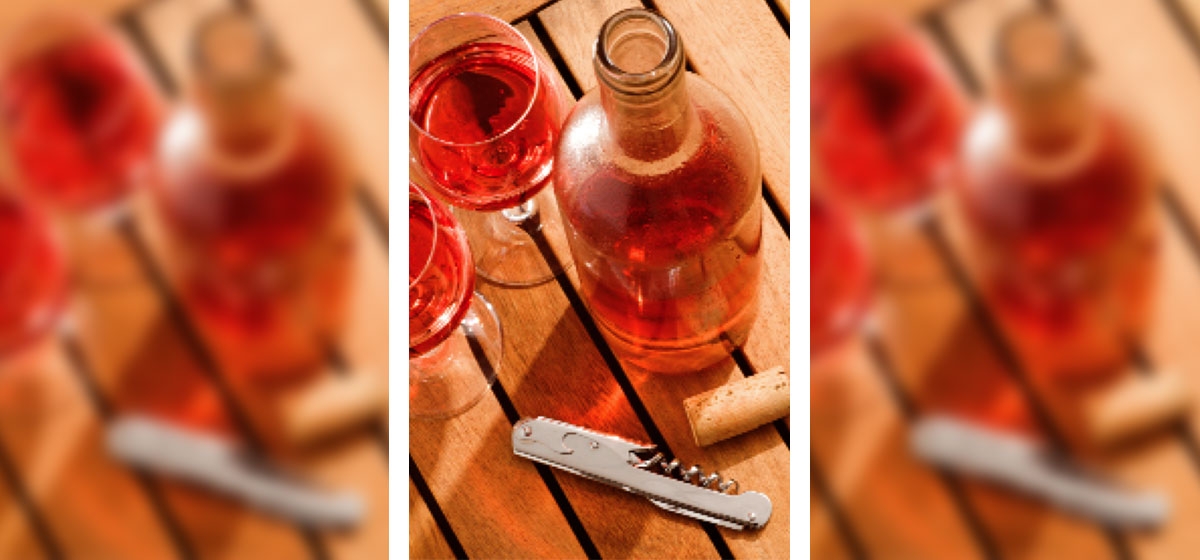 May 20, 2011
Some guys will always go for the blockbuster red wine: the high-alcohol zinfandel or inky shiraz. I can appreciate those big reds, too, if conditions are right (snow, cigars, a two-inch-thick porterhouse).

But when summer mercifully comes to Pittsburgh, those monster reds are as out of place as a woolen overcoat worn poolside. It's time for my favorite wines—well-made whites, graceful rosés, light-bodied reds—to have their moment in the sun. Heat makes us crave lighter flavors. Dry, dark red wines filled with tannins and alcohol not only won't refresh you, they'll overwhelm your palate and summer's lighter foods. So—is it getting hot in here?—here are a few suggestions for warm-weather wines.
White. Look for quaffable wines with no more than 12–13 percent alcohol, and some acidity to refresh your palate. You can't miss with a food-friendly riesling from the Pacific Northwest. Just off-dry, Chateau Ste. Michelle's Columbia Valley Riesling ($11.99 at PA Wine & Spirits Stores) has mineral notes, but also some sweetness to temper the heat. A crisp pinot grigio or pinot gris aged in stainless steel offer only refreshment—no cloying oak or butterscotch. A New-World version, like Francis Coppola's Diamond Collection Pinot Grigio ($15.99), also has mild tropical fruit flavors to complement pork or seafood from the grill.
Sparkling. I love inexpensive summertime whites with just a touch of frizzante, low-level carbonation that provides a delightful refreshing sensation. Moscato, the trendy Italian or Italian-style white, has naturally low acidity, but enough citrusy zip to taste clean and refreshing. Most, like Elmo Pio Moscato ($8.49), are on the sweet side, but nicely accompany hors d'oeuvres or desserts. For a drier, bubblier sparkler, Moletto Prosecco ($13.99) is perfect before a meal or with seafood.
Serve these chilled. If you've had a bottle in the fridge for a long while, let it sit out 20 minutes before serving—too cold, and you'll lose the wine's subtler flavors and aromas. Taking a wine right off the shelf? Go ahead, toss in an ice cube. Any full-flavored white with a balance of sugars and acids can stand up to a little ice. For wines low in acid (gewürztraminer, California chardonnay), add a thin wedge of lemon and seltzer for a nice, cooling spritzer.
Rosé. We're talking crisp rosés made from fine red wine grapes, such as merlot, grenache, even pinot noir. Freshness is key, so look for 2010 vintages. Each spring, Premium Collection PA Wine & Spirits Stores carry one-time buys of delicious rosés from France's Provence, and other regions—see what's in stock at their website, FineWineAndGoodSpirits.com. Or grab reliable blended rosés such as Guigal Côtes du Rhône Rosé ($13.99) or California's Ménage à Trois Rosé ($12.99)—each dry, but with lovely hints of red berries and flowers. At my restaurant I'll offer them on ice unless the rosé is especially delicate, in which case just a chill will do.
Red. Dry, tannic reds will pucker with chilling—so save that cabernet for fall. You want a light-bodied red with bright acid, but a soft finish. Chill to 50-55 degrees. Inexpensive Beaujolais (not high-end Cru Beaujolais) is the quintessential picnic wine: Georges Duboeuf Beaujolais-Villages ($10.99) pairs with an elegant lunch or light supper. If you're doing burgers on the grill, consider a more rustic, sweeter wine such as Erie's Mazza Vineyards Country Red ($7.99) or a nice round Chilean carménère, such as Santa Rita Reserva ($11.99) with touches of fruit and chocolate.
You can throw ice and fruit into red wine and make sangria, but don't abuse a good wine by doing so. Use a light, sweet red—nothing old, tannic, aged in oak, or more than $9. Mix in a big pitcher with sliced summer fruits—strawberries, peaches, grapes—plus a few wheels of citrus. Add a cup or more of seltzer per bottle of wine and honey or simple syrup if you want it sweet. Pour into goblets with lots of ice, spooning some fruit into each glass. Traditionalists add a big splash of brandy to this recipe, but I prefer to cool off, not nod off. Enjoy.