Consequences of Love
In Ocean State, O'Nan explores teen angst and murder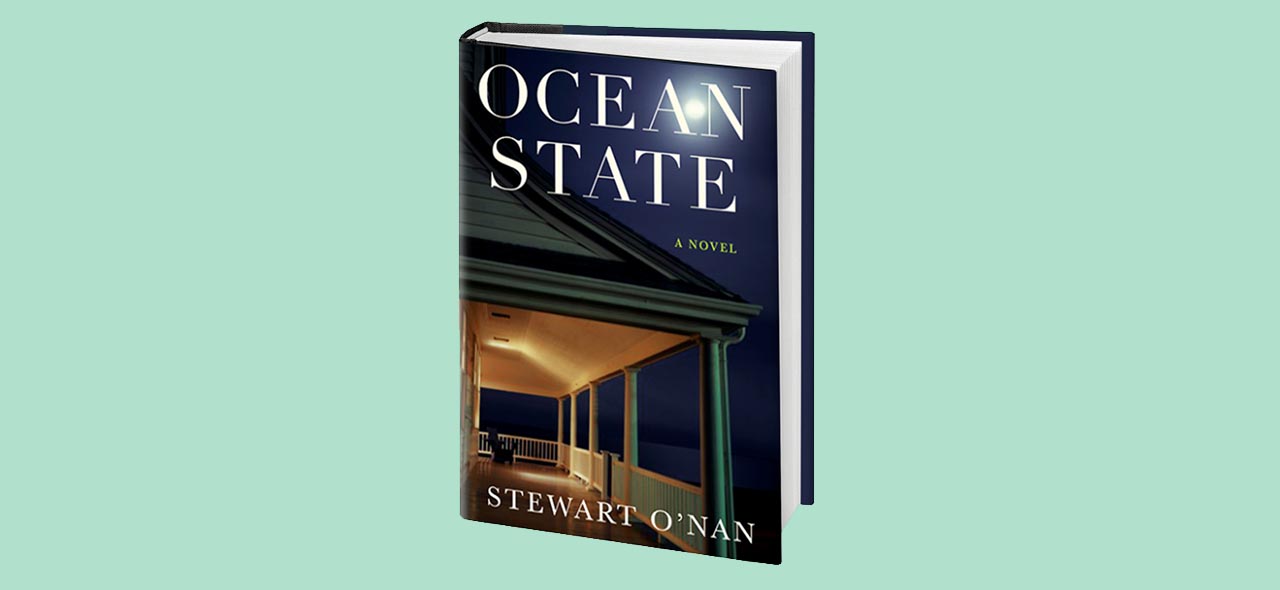 September 29, 2022
With kidnapping and murder in the storyline, a "whodunit" often ensues. But like the Coen Brothers film masterpiece, Fargo, sometimes the crimes are less interesting than how the characters react to their circumstances and the events that led them astray. Stewart O' Nan, a Squirrel Hill native and Pittsburgh's preeminent novelist, uses this tactic to great effect in his latest page-turner, Ocean State. He burrows into the murky depths of jealousy and attraction, examining the tricky complications of a teenage love triangle set against class and cultural differences. In a brief Literary Hub interview, O'Nan sums the theme concisely: "How love both exalts us and makes us do terrible things."



Set in Ashaway, R.I., in 2009, Ocean State establishes the conflict in the first paragraph: "When I was in eighth grade my sister helped kill another girl. She was in love, my mother said, like it was an excuse. She didn't know what she was doing. I had never been in love then, not really, so I didn't know what my mother meant, but I do now." While the story is well told through alternating, sturdily rendered narrators, the voice of Marie Oliviera rises above the others. It's easy to sympathize with the honesty and awkwardness of her teen angst as she fills in the details of her mother Carol's series of dysfunctional relationships while also playing sometimes confidante to big sister Angel.
Early on, Marie characterizes a joyful, sisterly moment when she recalls roller skating in an abandoned textile mill that hearkens to the changing economics amid the Great Recession: "We used to roller skate up and down the aisles between the dusty looms. Angel, weaving, teaching me how to do crossovers and go backwards. She could do spins like an ice-skater, her hands making shapes in the air. I wanted to do spins and be graceful like her, but I was chubby and a klutz and when I stood beside her in church, I was invisible." The banter between the two sisters, especially on the topic of their mother, a nurse's aide unlucky in love, captures their sibling bond as genuine and full of inside jokes.
Not wanting to turn out like her mother, Angel, the murderer, plays the woman scorned when her longtime boyfriend, Myles, described as "a spoiled rich kid … an idiot and a druggie," starts secretly seeing classmate, Beatriz "Birdy" Alves. Birdy is the victim — "with her doe-eyes and heat-shaped face, she looked like Jessica Alba" — at his family's million-dollar beach house. Though O'Nan's plot grows to feel a bit like an episode of Dateline, the girls, both from non-white, working-class backgrounds, seem to represent competing Cinderellas, eager to please Myles, if only for his attention and the feeling of being adjacent to his family's wealth.
Superficiality aside, O' Nan scores in his writing of female characters, infusing Angel, Birdy, Carol and Marie with a depth built through inner monologue. Ultimately, it's a lack of reflection, a design flaw for many American teens, that makes the lovers pay the price, in one way or another. Set against the overblown dramas of high school life and the turmoil natural to coming of age, O'Nan shapes those stakes into life-changing actions that rise until the deed is done and the aftermath remains. 
While Ocean State is no young adult novel, O' Nan gets it — that, much like the John Hughes film oeuvre, the teen experience is aspirational. In a book dealing with serious topics, it's a quirky change of pace to get scenes of Marie, left alone in the house, drinking her mom's cheap wine on "Cabbage Night" before Halloween, a buzz that leads her to soap her own mother's car window before helping to clean it the next day. Another shows Marie sampling Angel's stashed tank of nitrous oxide, thinking it was helium. "Instead of squeaky, my voice was deep and slow, like a giant waking up. I was there in my sister's room, seeing everything, but somewhere else too, far away, in my own private audience, watching it all. Her dresser, with its matching knobs, looked so strange — so serious — it made me laugh. … Face first, I ran into the wall and bounced off, toppling backwards, falling against Angel's bed, giggling so hard that I cried."  Moments like these reveal O' Nan as a writer who knows how to grab a reader's attention through realism, not sentimentality.
A constant in O'Nan's work is his ability to shapeshift. With previous books revolving around a family tragedy, a crime spree, World War II, fire and plague, he also co-wrote a best-selling nonfiction book with Stephen King, Faithful, that revolves around the historic 2004 championship season of his beloved Boston Red Sox. A finalist for the Los Angeles Times Book Prize, his 2007 novel, Last Night at the Lobster, follows the manager of a restaurant about to shutter. Like much of his work, it finds the mark because of O'Nan's willingness to get the details right through research and a keen eye. The payoff to Ocean State is in the existential qualities that an adult Marie brings to the satisfying conclusion as she muses on the lives she and her sister have now, with that tumultuous part in the rearview mirror. In a discussion with the blog Knock and Knowall, O'Nan sums up his thoughts on characterization by sharing, "You want to build a world that is your character's world, and you want that world to challenge your character — to challenge everything that is dear to that character. But you've got to have that world there; otherwise, what is to be lost?" For the teens at the heart of Ocean State, the answer to this rhetorical question might be everything.