CMU Brings Vivid Life to Marlowe's Great Work
A review of "Edward II"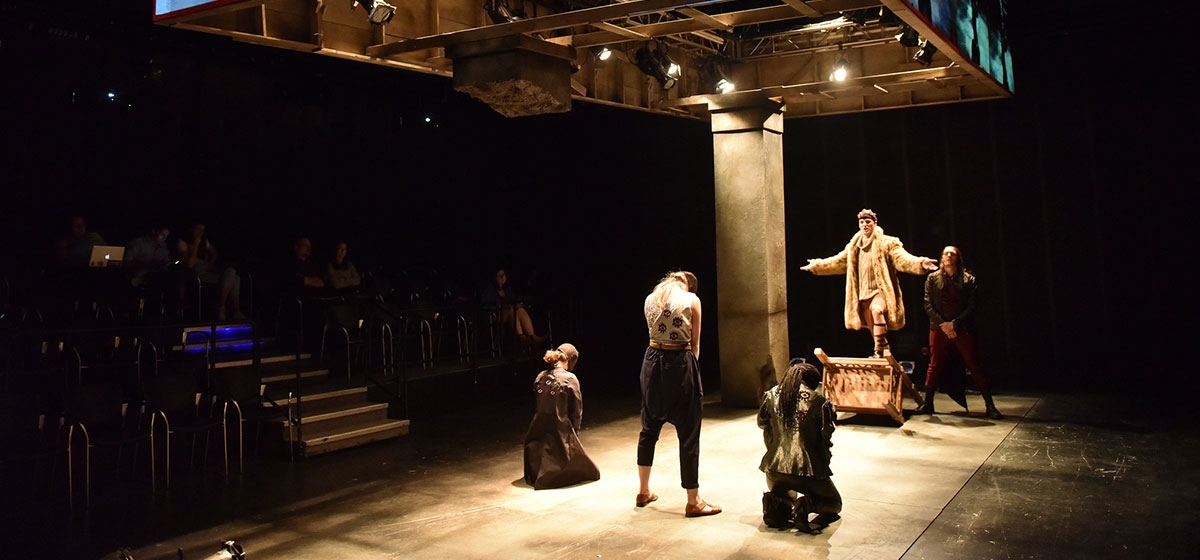 March 6, 2017
Carnegie Mellon University's School of Drama manages to combine some of the strongest and rarest elements of great theatre in their production of Christopher Marlowe's "Edward II": rawness, mystery, risk and precision. This is the kind of performance of a classic play that eschews the pitfalls of tired masterpieces, and instead, evokes its subject like the memory of a long-past friend that has been glowing in your subconscious… like something forgotten reborn.

Marlowe is worthy of such a revitalization. A creative soul so rich, so decadent, so iconic, so iconoclastic; a brilliant artist who died—most likely murdered—just as the bud of his genius was coming to fruition at the age of 29. He was a late 16th century playwright, a poet, a translator, a professional spy and many other things, but most of all he was the chief literary rival to a young William Shakespeare, which makes him one of the most influential figures in Western literature, even if we do not often think of him as such.
Marlow is one of those rarified individuals in history whom we do not know if we should be more grateful to for living, or dying. As important as his art was, his premature death may have been the catalyst for the acceleration of Shakespeare's tremendous achievements. Marlowe may have been the strongest precursor in the agon of our literary canon. It's sobering to note that, had Shakespeare died at the same age, he would have left the world without creating Hamlet, Othello, Macbeth, Falstaff or Lear.
"Edward II" was the penultimate of Marlowe's six major plays, and is shocking for whom it is based upon: the scandalous son of Edward I, not the sort of historical figure dramatic works usually target. CMU has thrived on this idea, exploring the deep currents of mystery surrounding Edward II's life, and focusing on his sexual orientation. Please do not mistake this for a superficial foray into society's current preoccupation with the political implications of gender mores. Marlowe was far too subversive to be politically correct, and director Stephen M. Eckert and his company honor this. What CMU does, to their credit, is explore one possible reality of the life of this 14th century English monarch who chose to form a relationship with another man, Piers Gaveston, that in its day had implications both familiar and foreign to our contemporary sensibilities.
Both Kyle Pitts as Edward and Spenser Pollard as Gaveston (the latter also plays the antipodal role of Lightborn) are excellent, and the bond they portray feels more like an enactment than an interpretation. Although historians do not agree on whether the two men were lovers, or had formed a more platonic "brotherhood-in-arms"—a recognized compact of adoptive kinship in medieval times—this production has chosen to pursue the former interpretation. And this opens up fascinating possibilities in the action.
It certainly colors the reaction of Edward's wife, Isabella—played with strength by Isabel Pask—to her husband's relationship with this rival. Her delivery of the "The cup of Hymen had been full of poison!" speech is daring and poignant. It also results in a lot of spitting, especially on poor Gaveston, who is despised by the nobles for being a sodomizer, not just a usurper.
After Gaveston is dispatched by Edward's enemies, the king enters another sensuous relationship with Spencer, played by Petr Favazza. To preserve the intimacy of such moments, Eckert employs video cameras to capture angles the audience wouldn't normally see, allowing the actors to use dark corners and recesses of the stage that usually are out of bounds. Media designer Kevin Ramser projects the images onto a rectangular scrim attached to the ceiling of the black box theatre, which can be slightly distracting, or wildly effective. It's a bold gambit, and the grainy black-and-white visuals showing multiple perspectives of the business on stage reminded me of those old public television theatrical productions from the 1960s, evoking a kind of murky hyper-reality. This device overreached, however, when the actors picked up the cameras and began to film each other, a trick over-utilized in so many productions these days. It really has jumped the shark.
Domitille Angoulvant's costume designs are inspired, and work to meld the characters to the performance, which is rarely achieved when fusing motifs as diverse as medieval, neo-goth and 1930s fashion.
Both Fiona Rhodes's set and Andrew DG Hunt's lighting turn the limitations of the black box environment to monstrous advantage; the illumination at times so caustic you can smell the enmity in the air. And what Rhodes creates with just one set device—a wooden throne chair—manipulated, ironically, as if it wasn't a chair, is delicious in its inventiveness.
Kennedy McMann (Kent), Daryl Paris Bright (Warwick/Gurney), Diyar Eyuboglu (Lancaster/Bishop/Matrevis) and Freddy Miyares (Mortimer) fill out the strong cast.
The only evidence of tendentiousness occurs via dramaturg's Keaton H. Shapiro's program notes, which begin with a brief, illuminating commentary on the context of this play in history, but devolve, inexplicably, into a long, random listing of 20th century gay rights events. It's kind of like handing a big tautological sandwich to someone who's suffering from existential thirst.
Edward's death at the end of this brisk, compact, no-intermission show is achieved with a sense of inhumanity that leaves the audience, and actors, breathless, even though we know it's coming. This is brave work, both in conception and execution.
Marlow's language is vivid, lyrical and often sublime. One doesn't have to wonder why he scared the heck out of young Will Shakespeare. Productions such as this—that truly evoke his achievement—do make one wonder what further glories might have been born had he lived as long as his great rival.