Car Cathedral
Image courtesy of The Holy Grail Garage and Car Club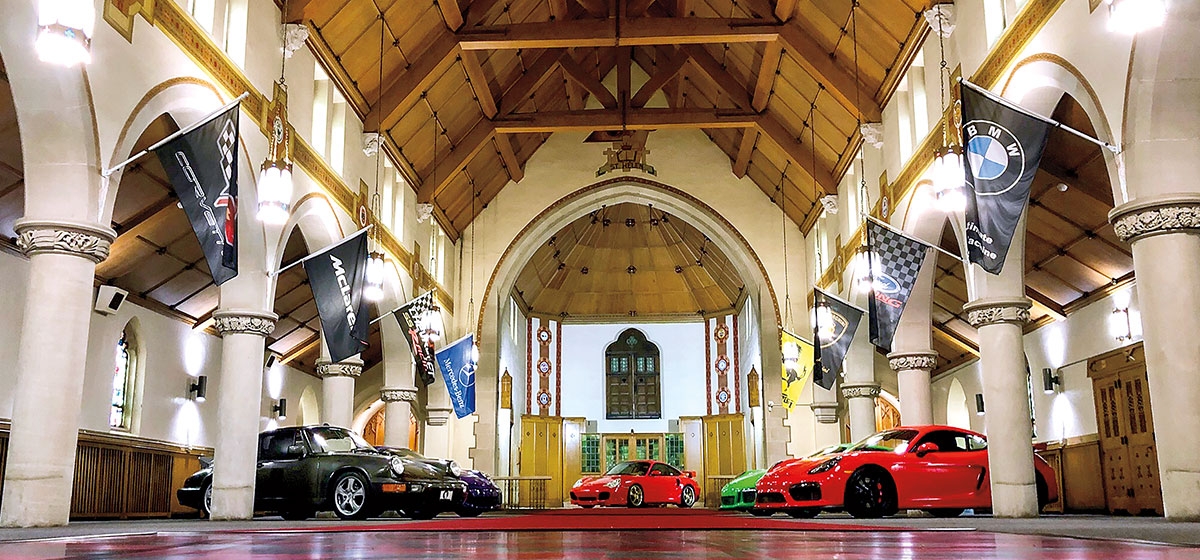 August 20, 2018
Since its completion in 1931, the towering stone St. Helen's Catholic Church has stood like a beacon atop Main Street in East Pittsburgh. Now it's a car club and garage with country club perks.

Diocese of Pittsburgh's Bishop David Zubik announced the permanent closure of the church—vacant for four years—along with others in March 2014."Though your faith has remained constant, much else has changed," he wrote. "The mills are gone and along with them the jobs that once kept many people in the parishes in which they had grown up."
While the church is still aesthetically stunning, there were few potential suitors. Its deed restricts its use; it couldn't revert to another church, nor could it become an alcohol-selling establishment. No church, no restaurant—there are only so many more avenues for what essentially amounts to a stone fortress.
Self-proclaimed "car guy" and owner of Tower Auto Sales in Blawnox, Mike Fanto saw an opportunity to try something unique. "I've been into cars for 40 years, and the only places that car people really ever get together are parking lots—that's it. There are all kinds of exclusive car clubs out there, but none where you can just come to relax and enjoy… and definitely not in a church."
The new Holy Grail Garage and Car Club boasts more than 12,000 square feet of car lover's paradise. Fanto envisions a space where his members can not only store their slick rides during the harsh winter months, but also kick back at a "home away from home."
While long-term storage is a nice perk, the amenities exceed your typical garage. The sprawling space contains a pool table and TV lounge, a gym and full kitchen. Members can even light up a cigar in a separate lounge, or get a card game going in the poker room upstairs. A bar area has been cleverly constructed out of former pews (BYOB only, of course), but many quirky charms remain. That may be more necessity than by choice, as Fanto gives a couple firm knocks on wall. "This place is just one big stone."
Downstairs, a bay is dedicated to washing and detailing, as well as a parking area for the motorcycle aficionados. On the main level of the garage, a coffee lounge overlooks what was once the main area of worship. Bright light shines in through an enormous stained glass window, down onto the altar where visitors have been taking advantage of a one-of-a-kind photo opportunity. Fanto may be onto something. Photos of his 1969 Chevy Camaro, perfectly lit on the altar, give it a particularly celestial look.
Repurposing these beautiful, castle-like edifices is no small undertaking; he estimates over 14 Dumpsters were needed to clear out "over 100 years' worth of junk in every imaginable nook and cranny." The altar area alone was a significant effort. "You could have built a small house with the red brick we took out from the ground underneath."
As the list of de-sanctified churches grows, so do the calls to preserve them. Many have been a part of their communities for over a century. Mr. Small's Theatre in Millvale and The Church Brew Works in Lawrenceville are two notable local Catholic Church conversions. Some occasionally come full circle: the former Altar Bar music venue in the Strip District has recently re-converted back into a church after a decade-long hiatus. Says Fanto: "I've just always really liked weird buildings, and this is something that's never been done. Why not?"
For now, he wants to take it slowly while he finds "the right group." It's not the garage itself he's focused on, after all—that's something that will fill out on its own. Fanto wants the primary draw to be about what it means to have somewhere to go, not just store your car. "It's about giving you a place to do everything. You can come hang out, watch a game, help somebody out under the hood, goof around, and fall in love with your car all over again."
For more information, including pricing and applications, visit theholygrailgarage.com, or email info@theholygrailgarage.com.