The Man Who Was Too Nice to be a Car Salesman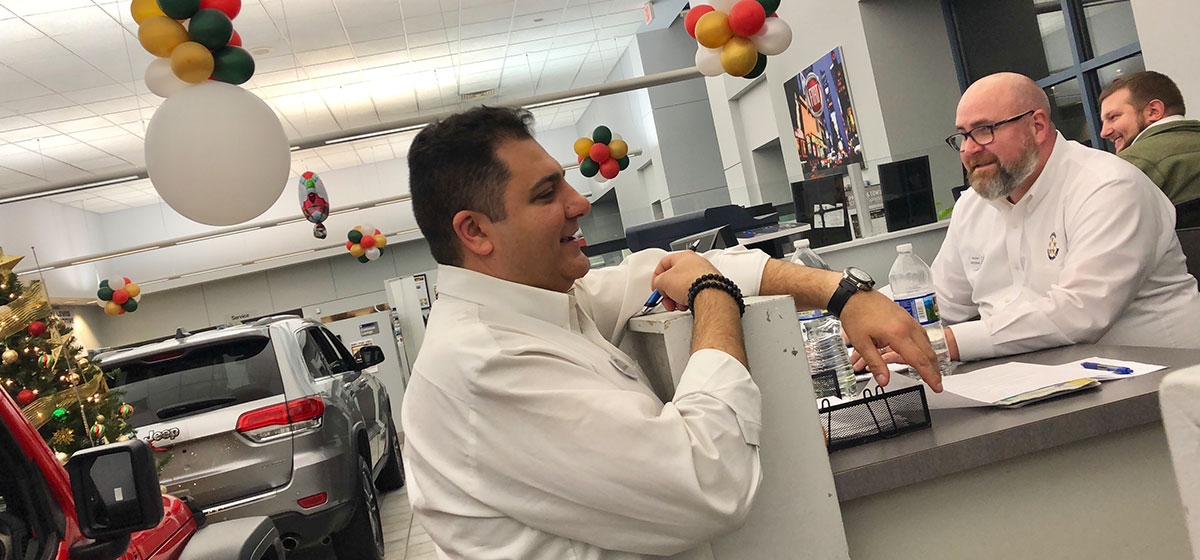 January 7, 2019
Mark just got his desk back. It's a nice spot in the showroom of Ron Lewis Chrysler Dodge Jeep Ram in Cranberry. Right next to the doors. Right in front of the nearly floor to ceiling windows, where outside there is a shiny red Jeep next to other shiny cars and trucks and SUVs that are all washed and ready for monthly payments for 24 months or 48 months or even 84 months if you'd like.

---
---
He had to leave his desk a few months ago when he got promoted to management. Which he didn't like. At all. "I didn't get to interact with customers," he says. "I need human interaction."
So, back to sales. And he finally got his old desk back after one of the other salesmen got promoted to another location. There is a lot of space in his cubicle. Enough for a large window sill and the framed award: Chrysler PERFORMANCE CERTIFIED 2012, Mark Ghobryal, Sales Consultant, 1 Year Certified. It sits next to three other framed awards he has. One for 2013 (EXPERT CERTIFIED) and two more for 2014 and 2015 (MASTER CERTIFIED).
Mark was born and raised in Egypt. His parents were dentists. His brother was a dentist. Mark was going to med school. Spent five years studying to be a doctor. Then, the family moved here. Wanted a better life. A better future. They landed in Morgantown, West Virginia, and Mark went to school at WVU. Mark went on to get his BA in Biology, finished one semester towards a masters in Pathology and thought, "Mmm, no."
"I was becoming a professional student. My dream was to come to the United States and work in the car industry," he says, laughing. "I'm just kidding."
He never planned on being a car salesman. But he was tired of school. Tried retail management. Thought about something else… something like, selling cars. So, he told everyone about his idea. Which, no one really thought he'd be successful at.
You're too nice, they all said.
Customers won't trust you… you're too nice.
You won't survive the pressure and the rejection… you're too nice.
But he did it anyway and sold his first car in 2012. It was a Jeep Compass. Soon after, he sold another car. And another SUV. And then another truck. And then, so many that he was actually making a career out of selling vehicles.
"Another salesman, who was of the older generation, told me after I had been working a year or two, 'To be honest, I never thought you'd make it in this business. You're too nice.'"
And Mark is, very nice. He's been very nice to the hundreds of clients who took the time to add their thoughts to a very large, black binder on his desk. Total Bragging Rights reads the cover, right above five large, shiny, gold stars. Customer Reviews.
Clients like JamesMN. "My salesman Mark was very friendly and helpful in educating me on the features of my car…"
And Linda W. "Mark was the most pleasant and down to earth salesman I have ever bought a car from. He treated me like a friend instead of a customer."
And FrostyRuby. "I would highly recommend going there and asking for Mark. You won't be sorry!"
Because yeah, he could probably try the oily sales tricks and throw you a line, but what's the point? "I could get a sale, but that customer won't ever come back," he says. "You want them to come back. You want them to recommend you to others."
And it's worked. People who buy cars from Mark tend to come back to buy another car from him. Even when they come in all worked up, expecting a slick car salesman, and puff and posture and let you know that they won't be taken advantage of. "I had one customer who was like, trying to be mean on purpose, thinking I'm a mean salesman. We became good friends over time. He's bought three or four cars from me and even recommended me to his sister-in-law."
His parents were devastated when he told them he didn't want to be a doctor. But now they get it.
"They understand," he says. "I'm doing something I love and am successful at it."
He feels blessed, really. To be helping people. Which, no one ever thinks a car salesman is doing. Actually helping people.
"But I am," he says. "You're there for those moments. Like, when my customer passed away and his wife came in and said, 'I need a smaller car.' And it's not always something sad. There's a new birth, and the people that bought an SUV now need a mini-van."
And so, Mark kinda becomes part of the family. Being there, being nice, being helpful… for all those moments.
"At least," he says, "that's the goal."