Eins, Zwei, G'suffa!
Cheers to regional brewpubs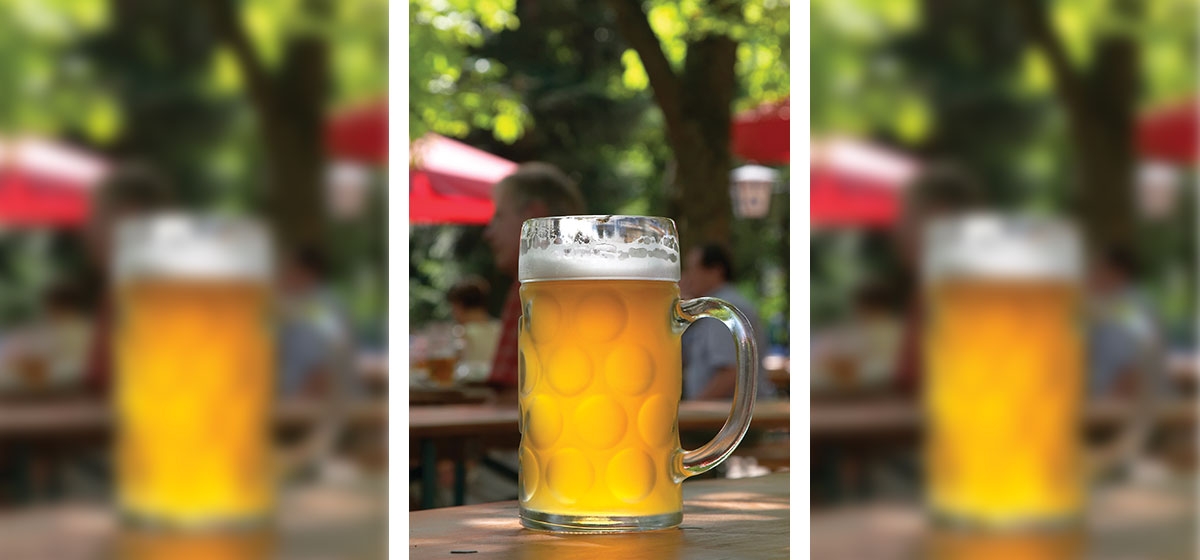 August 20, 2009
Turning leaves are a sure harbinger of Oktoberfest! If you can't make it to Germany, several local options may do. Grab your designated driver and hit the road for a tour of western Pennsylvania's microbreweries, each of which offers a twist on the annual tradition.

East End Brewing Company is the only true microbrewery in the area—beer is its only business. (Brewpubs brew beer and serve food and drink on the premises.) Owner and master brewer Scott Smith makes an assortment of some 28 award-winning beers. At any time, eight beers are on tap, with a handful available by the bottle. They include American Pale Ale, Barleywine (11 percent alcohol), bestseller Big Hop IPA, and Smokestack Heritage Porter. The latter has been selected the No. 1 smoked beer in the world by BeerAdvocate.com. The brewery has limited public hours, but a visit has its benefits. You can talk with Scott, look around, do a taste test, and get your growler refilled. Growlers are bottles or jugs that can be purchased and refilled at some breweries. Growlers and bottles are the only way to buy the beer there, but the beer is available by the keg at local distributors, or on tap at dozens of local restaurants, all listed on their Web site. www.eastendbrewing.com
Lawrenceville is home to the Church Brew Works; a brewpub in the former St. John the Baptist Church (1902). Head brewer Brant Dubovick crafts eight beers and one cast-conditioned ale, all with celestial names such as Pious Monk Dunkel and Pipe Organ Pale Ale. Beer-to-go may be purchased in bottles, growlers or mini-kegs and is also available at local distributors. The steel and copper tanks in which the beer is made are the focal point of the main room, resting on the former altar. The eclectic menu includes salads, sandwiches, grilled meats and brick-oven pizzas, including the unusual Pittsburgh pierogie pizza. www.churchbrew.com
Penn Brewery, the first craft brewer in Pennsylvania, is in Deutschtown on the North Side. The big news is that the lease has been resolved and they are staying put. They make nine beers, six of which are available at any given time. The beers range from the popular Penn Pilsner to the seasonal Penn Oktoberfest Bier and St. Niklaus Bock. The German-style beer is available to go in bottles and may be purchased at distributors and local restaurants. The restaurant features from-scratch options, including regional, vegetarian and traditional German fare. If the weather is nice, be sure to sit outside in the intimate courtyard area. www.pennbrew.com
The Red Star Agave Grille in Greensburg is located in the historic train station, built in 1910. Head brewer Jeff Guidos brews the beer on-site using imported malts and hops from Eastern Europe and the Pacific Northwest. Generally, six beers are on tap: Golden Light, Canvas Back American Pale Ale, Black Pilsner, and three seasonal options. When available, don't miss the Liquid Evil Belgian Tripel, which boasts 9.2 percent alcohol. The restaurant features Southwestern cuisine—a spicy complement to the beer.
Finally, the most recent addition to the Pittsburgh beer scene is Hofbräuhaus at Southside Works. It's designed to replicate Munich's original Hofbräuhaus, and incorporates many of its 400-year-old traditions. Master brewer Eckhard Kurbjuhn always has five beers on tap, and whether you select a sampler of five mini-mugs or the full-liter stein, you will be served beer made in the strict tradition of the German purity law, using only hops, barley, malt and water. It features several dining options: a traditional beer hall with live entertainment and an outdoor terrace; an outdoor beer garden with river and city skyline views; and the Bräustüberl, which has a quieter atmosphere for more intimate dining. From wursts and schnitzels to strudel, the options are decidedly Bavarian. The Bier Hall has a festive atmosphere with live entertainment and patrons doing group shots from glasses mounted on a ski and revelers standing on their seats and singing along. If you've ever been to Munich, this should bring back fond memories. www.hofbrauhauspittsburgh.com
Whether you go to one or all of these breweries, it will be worth the designated drive.