Buon Giorno Café
building tradition on smithfield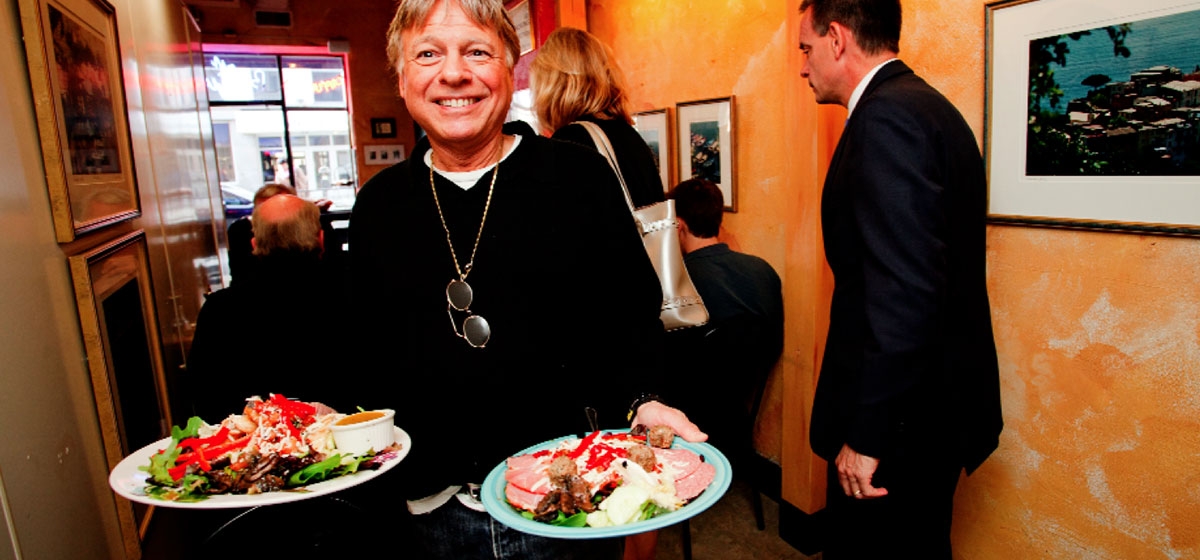 May 20, 2011
When austrian native Gustav Lindenthal designed and built the current Smithfield Street Bridge, he placed it on the stone piers originally laid by Prussian-born John A. Roebling for the previous bridge at this site.

Roebling, the renowned designer of the Brooklyn Bridge, had built a foundation over the Mon that was too perfect for Lindenthal to ignore.
And when Louis Martorello travelled to South Beach years ago, he fell in love with the little morning cafes scattered throughout the neighborhoods. He used them as the foundation for the Buon Giorno Café, which sits within view of the Smithfield Street Bridge. The café opened in 1993, first as an early morning breakfast spot and now for lunch as well.
Any urban downtown district is really a collection of neighborhoods. Instead of residents, these neighborhoods draw their character and prosperity from those who work there and the businesses and eateries usually cater to those within walking distance. Only occasionally, because of the food or ambience, a neighborhood joint becomes a destination, drawing patrons from afar. Buon Giorno Café is one of those. The café offers contemporary Italian food served by Eastern Europeans, with names such as Katarina and Masha, whose accents remind you of a lazy day at a trendy Black Sea taverna or an afternoon in a tavern on Pittsburgh's South Side, back when folks still spoke the language from the "old country" at home.
During the bitterest winter cold, with the storefront windows fogged by the heat inside, patrons rush past the front door, as if they can't wait to slip under the soft blanket just on the other side of the glass. And when the weather warms, diners are cosseted under large colorful umbrellas at a real urban sidewalk café that stretches down the block towards the Mon.
Building on a traditional Italian foundation, the lunch menu includes entrée salads, pasta creations, sandwiches and other light Italian dishes, always under $10. And the wedding soup, a Pittsburgh classic, is the best in town. Get a bowl of this soup and nothing else; savor the golden broth with tender meatballs and freshly grated Parmigiano-Reggiano cheese, and you can return to work sated.
As for breakfast, the original raison d'etre of the Buon Giorno Cafe, the world tour continues. Have an Italian frittata with hot sausage, peppers and mozzarella cheese, or a Greek version with spinach, feta and plum tomatoes, each for about six bucks. They both come with thick slices of freshly toasted Italian bread.
Either of those can become a breakfast sandwich on Italian bread, or you can reach for yet another country and get an Italian or a Greek frittata on a French croissant or a plump bagel, each for less than a five-spot. Rustic French toast, made with Italian vanilla syrup and cinnamon, is $6 for three slices. And if you start your day with a light nosh, a toasted bagel with cream cheese plus a cup of coffee will cost you about half that.
Even in the thick of the lunch hour, you are always greeted with smiles from Louis and his wife, May, and charming service from the staff. Peer into the open galley kitchen for a glimpse of Ian and Ray, seamlessly doing a thousand things, while still shouting "Hey!" at regulars they spot. You get the feeling that these folks are happy, that all is well here.
When Roebling left Germany for the U.S., long before he built his version of the Smithfield Street Bridge, he travelled with his pal John Etzler, who wanted to establish a utopian community in America. Their dream of a perfect society quickly vanished—perhaps they were over-reaching.
At the Buon Giorno Cafe, where you can find good food and good people, even if you can only get away from work for just an hour, your burden suddenly lightens, all seems well in your own world, and you think for a moment that you just might have stumbled across your own little slice of utopia.