Bridging the Digital Divide
Libraries become all-purpose education hubs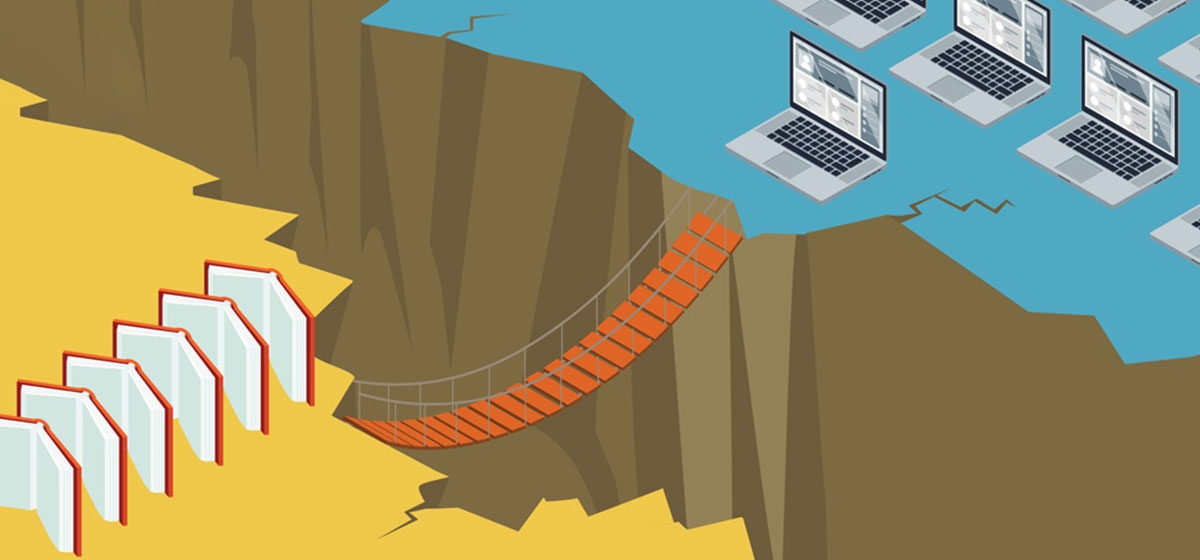 February 20, 2017
On a Tuesday afternoon in October, a dozen teenagers gathered in a second-floor room at the Carnegie Library in East Liberty. They didn't come to check out books. They were building a haunted house based on Disney fairy tales. Two 17-year-old sisters, Hope and Honesty LeGrande, cut giant feathered wings for the costume they designed for Maleficent, the evil antagonist in "Sleeping Beauty." The teens began brainstorming themes in August. They worked through the fall with the help of mentors, and along the way, they found opportunities to develop skills in graphic design, woodworking and screen-printing.

"I love it," said Hope. "The best thing about this is it's completely made up by the teens who go here. The best thing is seeing what we dreamed of made into real life."
Public libraries, a piece of the region's educational mosaic, are reinventing themselves in response to the demands of new technologies and changes in how Americans consume information. No longer viable simply as repositories of books and periodicals, they're becoming multifaceted community education hubs, using data to better understand their users and gaining popularity by offering classes ranging from photography to video game design.
The digital divide
A key aspect of this transformation is helping to bridge the digital divide through free Internet access and digital literacy, both of which are essential for doing everything from homework and social networking to finding a job, applying to college and buying health insurance.
But opportunities from the digital revolution are not evenly distributed. U.S. Census Bureau data show that 20 percent of Pittsburgh Metropolitan Statistical Area households lacked Internet access in 2015. That is down from 23 percent of households in 2013, but still exceeds the national average of 18.5 percent.
A 2015 Pew Research Center study found that 68 percent of Americans have smartphones and 45 percent have tablet computers. And computer ownership remains about where it was a decade ago.
"In Pittsburgh, it's not so much that people have a hard time accessing hardware—smart phone or a smart device," said Debra Lam, the City of Pittsburgh's chief innovation and performance officer. "The bigger issue is that once you have that smart device, what do you use to connect it?"
In 2015, the city launched the "Roadmap for Inclusive Innovation," a plan to improve access to the Internet and technology, which includes expanding public Wi-Fi access in parks, senior centers and other public areas.
The city is in the early stages of building mesh networks with partners, neighborhood by neighborhood, throughout the city. Mesh networks essentially allow large companies and organizations to share a portion of their bandwidth with the community network for little or no cost.
For low-income families in Comcast's network, the company (in partnership with HUD) offers the Internet Essentials program. It's a low-cost, high-speed Internet adoption program for families with school-aged children eligible for a free or reduced-price school lunch.
Despite these efforts, a gap in access remains in pockets of the city.
The times demand change

The growing importance of Internet access in American life underscores the changes that have challenged libraries to rethink their role in the community.
"The way people get their information has shifted," said Corey Wittig, digital learning librarian and program manager of The Labs at Carnegie Library of Pittsburgh. "A few years ago, that was the conversation around libraries—what are libraries going to do? E-books? We started thinking of it as community space. What do people need? Can we provide that with what we do well? Those kinds of questions change the conversation a bit."
According to the Carnegie Library, there were 2.9 million visits to the library's network of 19 branches that year. One of the most used services is their Wi-Fi network. Public access to the wireless network in the Carnegie Library was up 26 percent in 2016 from the previous year, with more than 48 million minutes of Wi-Fi use by patrons.
Some 80 percent of Americans believe public libraries should offer programs and services to help people develop digital skills, a 2016 Pew Research Center study found. And 50 percent feel libraries should help patrons learn how to use technologies, such as 3-D printers.
In Pittsburgh, such programs are becoming increasingly popular among young people, Carnegie Library data suggest. Attendance of the library's teen outreach programs, for example, grew by 33 percent over the past year.
Adapting

The Carnegie Library's current evolution can be traced to past financial troubles and a 2009 RAND study, which recommended that the library needed to find new sources of funding, evaluate its services and increase innovative activities to engage patrons.
Library finances stabilized after 2011, when City of Pittsburgh voters approved a referendum raising the real estate tax by .25 mills with the proceeds dedicated to funding the library.
"The library realized they needed to provide a return on the investment that the city and its patron base had provided," said Toby Greenwalt, director of digital strategy and innovation at Carnegie Library of Pittsburgh. "Part of that was reworking the service model from the traditional transaction-based approach that libraries used to take—you do the thing and then you leave. We wanted to shift and think about relationships and illustrate how the library makes an impact on the community: We're not just handing out books. We're improving literacy. We're not just answering questions. We're helping people get jobs; we're helping people do research."
The library developed a strategic plan in 2012 with technology at its core. "We needed to make technology a focus and develop a strategy and purpose around it that everyone understands," said Mary Frances Cooper, president and director of the Carnegie Library of Pittsburgh. "It couldn't just be random things that people are doing in parts of the organization. It had to be intentional."
As part of that plan, the library created a department for outreach programs and partnerships, as well as the office of digital strategy, which looks for effective ways to use and apply technology to improve customer service and access to information as publishing and media evolve.
The library began collecting data on how the library is used, including its technology offerings, such as the volume of Internet and computer use. In addition, the library added workshops and training sessions to help residents access and use public data.
"If we want people to be engaging in civic discussions around data and policy and we don't want them to be left out, it's not just about 'Hey here's some Internet,'" said Eleanor Tutt, the library's open data and knowledge manager. "It's about how do we support them? How do we demystify data? Because there's so many people who just say, 'I'm not a data person.'"
Connecting the dots through technology

Greenwalt says the library is taking a long-range perspective in strategic planning, looking to "connect the dots between our age-based programming" so that programming themes and skills follow childhood into adulthood. With children, the library is integrating more technology in its programs with activities such as interactive story times and learning basic computer programming with toy cars that must navigate a maze.
Teens have access to recording equipment, gaming software and other technologies, which they can master with the help of mentors and workshops at the Labs program in the Oakland and East Liberty library branches and the Allegheny branch on the city's North Side.
The Labs have been around for four years, modeled on YouMedia, a digital learning space at the Chicago Public Library. "People think that kids nowadays know how to use technology because they grew up around it," says Wittig. "A lot of kids aren't growing up around it or it's not at their school. The fluency flows from there—what experiences are they having or not having?"
The Labs seek to bridge that gap between the ability to navigate technology, such as playing a video game or watching a video online, to understanding how those programs work and what's necessary to create something of their own. It's free of charge, which Wittig says is important. And teens are exposed to the expertise of local organizations in the field, such as the nonprofit 1Hood Media, which has helped them learn to write, produce and record their own music.
Such new wrinkles are changing the library's image among young people, even to the point that, for some, it's becoming part of their social network. "Usually, I'd come to the library and sit with my sister," said Hope Legrande. "Since we started this project, we've met other teens here. Other kids from my school I'd never talk to. And we've become friends. Now, we hang out more in school. It's cool."