Boom, bust and disaster
The fascinating story of Donora, Pa.
Courtesy of Donora Smog Museum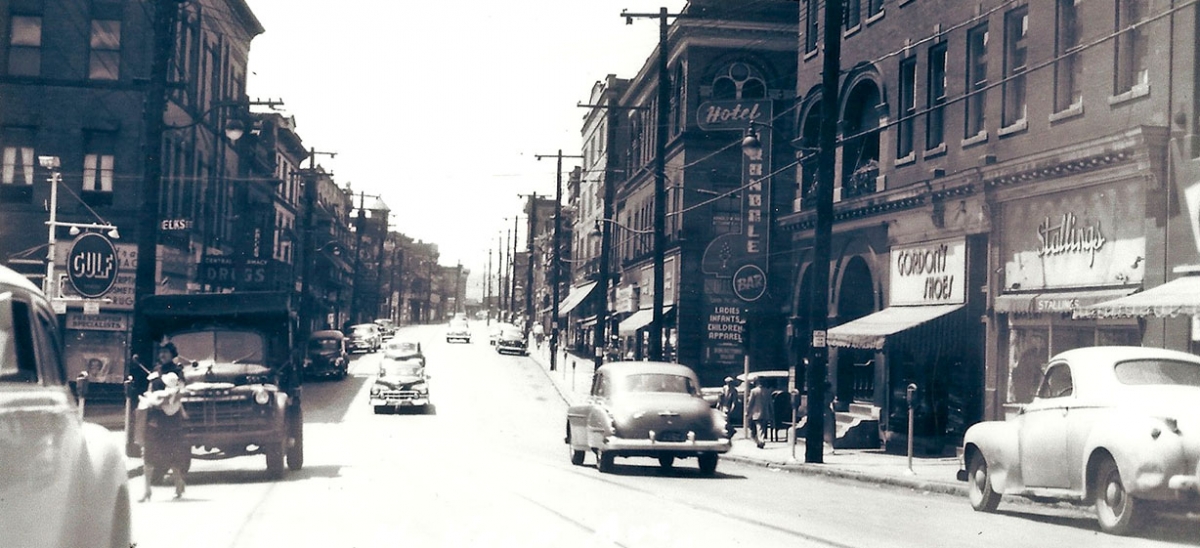 February 20, 2016
Located at a horseshoe bend of the Monongahela River in Washington County—the heart of today's Rust Belt—what would become Donora, Pa.was a farming community of 12 people in 1900. Within one year, it exploded to 4,000—as hordes of workers built and manned numerous factories. Its population topped 14,000 by 1920, but today numbers only 5,500. So, how did this town come about, thrive and decline? And what is its next chapter?
At the turn of the 20th century, the titans of Pennsylvania industry worked together to meet tremendous demand, forming companies and creating towns. Donora was one, named by combining the names of industrialist William Donner and Andrew Mellon's wife Nora McMullen. Andrew Carnegie believed in vertical integration, in which his companies were his own supply chain. And Donora would exemplify the philosophy, with steel, wire, nail and rod mills, coke ovens, and zinc works (the world's largest in 1915).
Donora soon had three banks (with different names but all Mellon-owned), stores, churches, a synagogue, hotels, professions of every sort, an excellent school system, public transportation, and parks. Social, fraternal and ethnic clubs welcomed immigrants pouring in for the jobs. African American workers advanced within the mills—a rarity elsewhere. And the forward-thinking Donora Women's Club educated women on the benefits of prenatal care and small family size. Life was good, and Donora was bursting at the seams.
With available housing scarce, some workers used beds in eight-hour shifts. American Steel & Wire decided to use Thomas Edison's idea of pre-formed, poured-in-place concrete homes to accommodate Donora's growing workforce. The prairie-style homes were inexpensive, fireproof, impervious to termites, and pre-tinted (requiring no painting)—an affordable option for blue-collar workers. From 1916 to 1917, 80 were constructed in Donora, the second-largest concentration in America. Ultimately, however, the homes proved too expensive and were a rare financial bust for Edison. Today, the Cement City section still stands on the slopes above Donora, in varying states of repair.
In 1946, the Donora Historical Society was formed, (Washington County's oldest) and for the past 70 years, it has documented the town, its people, history and industry. Its rich collection includes over 4,000 glass-plate negatives from AS&W employee and company photographer Bruce Dreisbach. The beautifully detailed photographs highlight everything from immigrants to mill workers to construction to his wife, Lulu. Many are displayed at the Donora Smog Museum, an affiliate of the Heinz History Center, which works with the Smithsonian Institution, due to its comprehensive collections.
Today, Donora's welcoming billboard states "Clean Air Started Here."
The Donora Smog Museum provides a wonderful slice of what life was like in a booming mill town in the mid-20th century, thanks to archivist, curator and historian Brian Charlton (a high school history teacher) and a team of volunteers.
Its name refers to America's worst air pollution disaster, in the last four days of October 1948. A heavy fog lay over the valley, and an air inversion trapped toxic pollution from the zinc works, steel mills and home coal furnaces. Emergency responders came from across the region, but the poisonous air killed 27 people in four days. Some 7,000 people overall were treated for respiratory ailments.
Before the inversion, pollution was so severe that grass did not grow in the area. But during the inversion, the toxic air made even houseplants droop. Although local industries shut down briefly, none accepted responsibility, calling it a natural disaster. Ensuing investigations and lawsuits favored the companies. The nation, however, was appalled, and the disaster catalyzed the clean air laws we have today. Today, Donora's welcoming billboard states: "Clean Air Started Here."
Also known as the "Home of Champions," Donora's most famous son is Stan "The Man" Musial, the St. Louis Cardinal Hall of Famer, whose father died from complications of the smog disaster at age 59. The museum has a section with memorabilia from Musial as well as other Donora superstars including Ken Griffey Sr. and his son, Hall of Famer Ken Griffey Jr., "Deacon" Dan Towler and Arnold "Pope" Galiffa. Another Donora native is epidemiologist Devra Davis, whose book, "When Smoke Ran Like Water," details the effects of environmental pollution, including the infamous inversion.
By 1957, the zinc works had closed, and the steel mills closed by 1967. Without them, the town languished. Today, the site of the mills is a thriving industrial park, and community leaders hope Donora is on the verge of resurgence. Meanwhile, the museum and Cement City attract visitors, and each spring and fall, the Donora Historical Society holds a popular, informative walking tour. For details, go to: donorahistoricalsociety.org.