Blankenship, Rossi, Rizzo, Peddada, Finkel, Davitt, Reis
Professionals new to Pittsburgh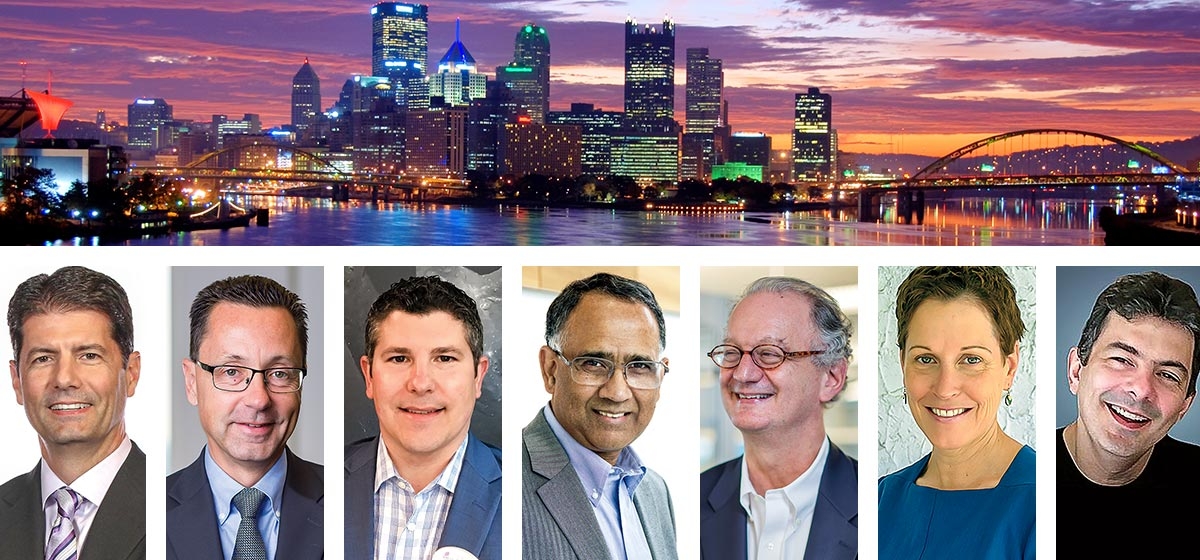 January 8, 2018
Chip Blankenship is CEO of Arconic, the former Alcoa division that makes aluminum and titanium parts for the aerospace and automotive industries. A metallurgist by training, Blankenship began his career with General Electric in 1992 after earning a B.S. in materials engineering from Virginia Tech and a Ph.D. in materials science and engineering from the University of Virginia.

A 24-year GE veteran, he spent much of his career in its aviation and jet engine businesses and holds seven patents related to jet engine technology. His GE career culminated in his appointment as president and chief executive officer of GE Appliances in December 2011, where he led a significant turnaround of the business and its subsequent 2016 sale to Haier Company.
Chris Rossi is CEO of Kennametal. A native of Corning, N.Y., he comes to Western Pennsylvania from Houston, Texas where he was CEO of Dresser- Rand at Siemens from September 2015 through May 2017. Prior to that, Rossi held numerous leadership positions at Dresser-Rand Group Inc., its affiliates and predecessor companies, including executive vice president of global operations, vice president of technology and business development and executive vice president of global aftermarket sales. Rossi holds a bachelor of science in mechanical engineering from Virginia Tech and an MBA in corporate finance and operations management from the University of Rochester's Simon School of Business.
James Rizzo is the general manager of East Liberty's Hotel Indigo. A native of Johnstown, Rizzo comes to Pittsburgh from Washington, D.C., where he was general manager of the Fairfield Inn & Suites by Marriott Downtown. Previously, he was director of sales and marketing with the opening team of the Hilton Garden Inn U.S. Capital. He has also worked in various properties in Northern Virginia and Philadelphia. Rizzo has an undergraduate degree in hotel, restaurant and institutional management from Penn State University. He lives in Upper St. Clair with his wife and son.
Shyamal Peddada is the chair of the University of Pittsburgh Graduate School of Public Health's Department of Biostatistics. His research is at the intersection of several fields of public health, including computational biology, genomics and epidemiology. A native of New Delhi, India, he comes to Pittsburgh from Durham, N.C. , where he was the acting branch chief of the Biostatistics & Computational Biology Branch and senior tenured investigator at the National Institute of Environmental Health Sciences. He earned his master's and Ph.D. in statistics from the University of Pittsburgh, and his bachelor of science degree from the University of Delhi.
Dr. Toran Finkel is director of the Aging Institute and professor of translational medicine at UPMC and the University of Pittsburgh. He comes to Pittsburgh from the Washington, D.C., area where he was chief of the Center for Molecular Medicine at the National Heart, Lung and Blood Institute. After receiving his undergraduate degree in physics from the University of Maryland and his M.D. and Ph.D. degrees from Harvard Medical School in 1986, Finkel completed a residency in internal medicine at the Massachusetts General Hospital and a fellowship in cardiology at Johns Hopkins Hospital. In 1992, he joined the NIH as an investigator within the NHLBI intramural research program. He later served as chief of the Cardiology Branch and chief of the Translational Medicine Branch. Dr. Finkel lives with his wife in Shadyside.
Kristin Davitt is vice chancellor for development and alumni relations and president of the Medical and Health Sciences Foundation for the University of Pittsburgh and UPMC. In this new role for both institutions, she will direct institutional advancement for the university as well as oversee fundraising for all six of Pitt's Schools of the Health Sciences and UPMC. A native of Barrington, R.I., she comes to Pittsburgh from Philadelphia where she held a leadership role in a multibillion- dollar fundraising campaign at the University of Pennsylvania. She held a similar position at Brown University, where she earned her undergraduate degree in international relations. She has a master's in human services management from Rider University in New Jersey.
Eduardo Reis is the internal audit manager for Alcoa North America, South America and Northern Europe. A native of São Luis, Brazil, he has worked for Alcoa since 1988. Previously, he was a plant controller and finance manager in Brazil and Jamaica. Reis has an undergraduate degree in accounting from Universidade Federal do Maranhao, a master's in corporate finance from the Brazilian Institute of Capital Markets. He lives in Franklin Park with his wife, Larissa, and their two children.