Bell, Link, Bachar, Logue, Gould, Dressel, Koverola
Professionals new to Pittsburgh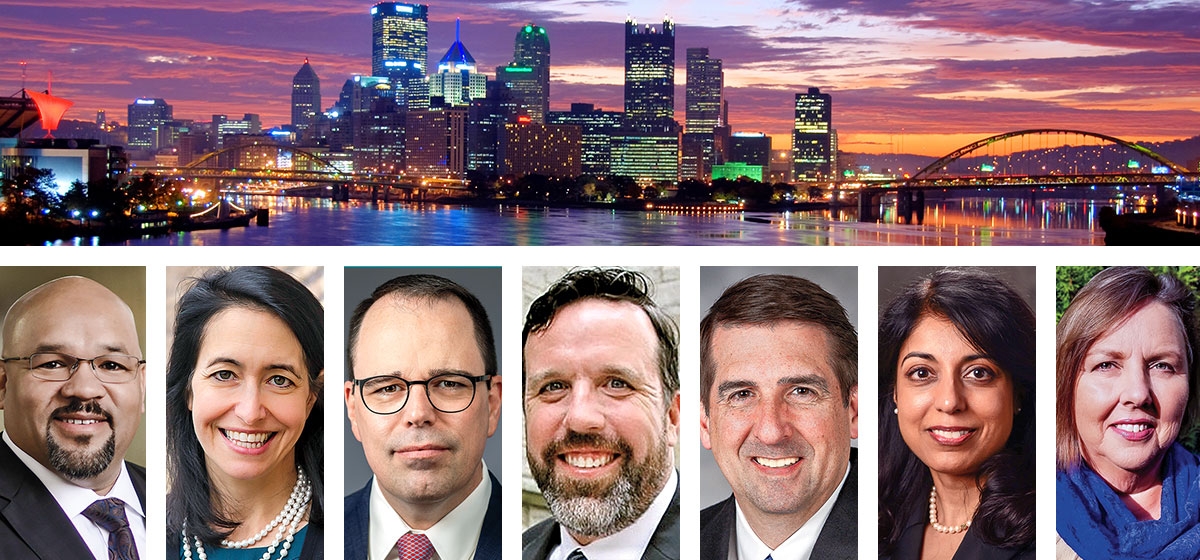 August 5, 2019
Maurice Bell is chief of operations at the Port Authority of Allegheny County. His public and private sector transportation career spans more than 25 years and includes work in fixed route, paratransit operations, airport shuttle management, and shipping and delivery logistics.

He came to Pittsburgh from Keolis North America in Dallas, Texas, where he was vice president of mobility solutions for the public transit management company. He joined Keolis after 15 years with Dallas Area Rapid Transit, where he was assistant vice president of bus operations and was responsible for a system with more than 1,400 employees and a 700-square-mile service area that drew an average of 37 million riders a year.
Hilary L. Link is the 22nd president of Allegheny College in Meadville, having been elected by the school's trustees to succeed James H. Mullen, Jr. She has more than 20 years of experience in institutions of higher learning. She had been dean of Temple University Rome before accepting the Allegheny presidency. There, she expanded and revised curriculum to include more contemporary topics, new courses and internships at the school's Rome campus, which enrolls about 600 students in undergraduate and graduate programs. Dr. Link is a graduate of Stanford University and earned a master's degree and Ph.D. in Italian language and literature at Yale University.
Jerad Bachar is the new executive vice president of VisitPITTSBURGH, the tourism promotion agency for the City of Pittsburgh and Allegheny County. He is responsible for convention sales, destination services, partnership development, research and SportsPITTSBURGH at the agency. Bachar arrived from Bahrain, where he had been executive director of the nation's Economic Development Board, which included overseeing development of some $1 billion worth of new investment in tourism, healthcare, education and real estate. His previous work in the Middle East included divisional director at the Dubai Department of Tourism and Commerce Marketing and advisor to the Saudi Commission for Tourism.
Matthew P. Logue is the new executive director of the Three Rivers Rowing Association, one of the largest community rowing organizations in America and four-time U.S. Rowing "Club of the Year." His responsibilities include advancing the mission of Three Rivers Rowing and developing safe, sustainable programs and events that promote rowing and paddling. Logue previously worked in New York City as the director of boathouse operations and community rowing at Row New York, Inc., a community rowing organization that serves more than 2,200 teens and adults. He held similar positions at the West Side Rowing Club in Buffalo, N.Y.
Gary E. Gould is the new executive vice president and chief operating officer at EQT Corp. He has more than 30 years of experience in the oil and gas industry, including more than 20 years in the largest unconventional resource plays in the United States, including the Marcellus, Barnett and Bakken. Gould comes to Pittsburgh from Oklahoma City, where he was senior vice president for production and resource development at Continental Resources, Inc. He's held positions at several energy companies, including Chesapeake Energy Corp., ConocoPhillips, and Exxon Corp. Early in his career, he led a team at Burlington Resources, Inc. that operated the first U.S. field developed exclusively with horizontal wells.
Anita Dressel is the chief financial officer of TeleTracking Technologies. She returns to her native Pittsburgh after spending nine years in Sweden, where her most recent position was vice president and chief financial officer at Ericsson's Digital Services business segment. She'd held several other commercial and financial roles at the company, including head of Global Business Finance. She earned a bachelor's degree and master's degree in electrical engineering from the University of Pittsburgh, and she has attended executive programs at the Indian School of Business and the Stanford University Graduate School of Business.
Catherine Koverola is the new president of the University of Pittsburgh's Bradford and Titusville campuses. She has held leadership positions at universities large and small, and in urban and rural settings in the U.S. and abroad. Most recently, she was the inaugural provost and senior adviser at the African Leadership University in Mauritius, Africa, where she established a system to deliver academic programs across the African continent. Koverola earned a Ph.D. in clinical psychology and a master's degree in theology from Fuller Theological Seminary in Pasadena, California, and a master's degree in clinical child psychology from the University of Western Ontario.