Bart, Pardee, Knapp, Strecker, Purnell, Carpenter, Watson
Professionals new to Pittsburgh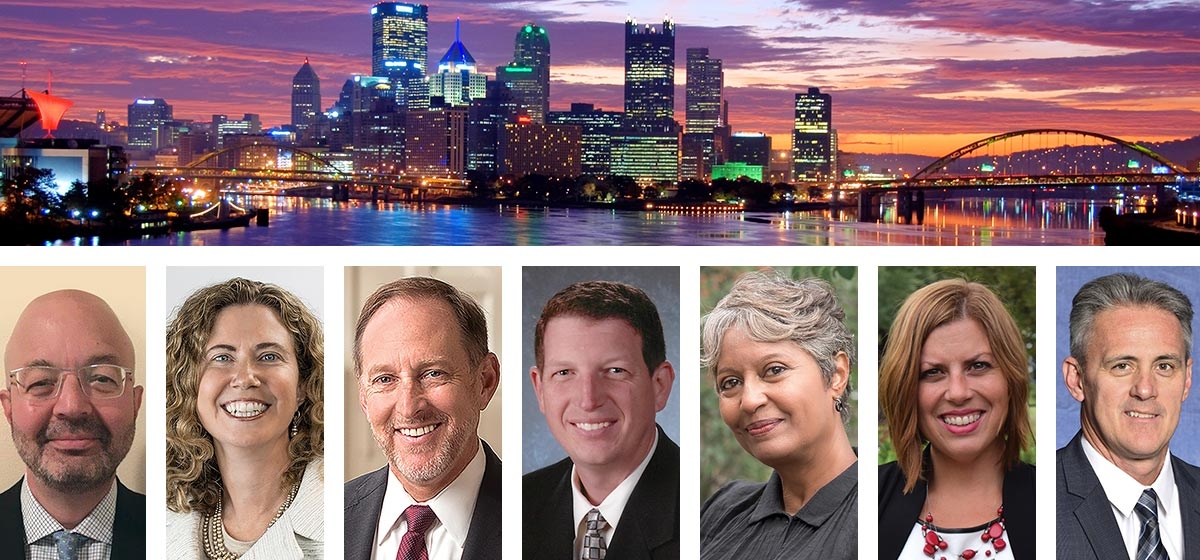 August 20, 2017
Dr. Robert Bart is the chief medical information officer of the Health Services Division of UPMC. He will oversee the health system's efforts to advance the use of electronic health records. A Wisconsin native, he comes to Pittsburgh from Los Angeles, where he held the same position for the Department of Health Services for Los Angeles County, overseeing information technology in four hospitals and 18 large multispecialty ambulatory locations. Previously, he was chief medical officer for pediatrics and academics at Cerner Corp, a leading electronic records company. Bart also is associate professor with the University of Pittsburgh School of Medicine and will work clinically at Children's Hospital. He received his medical degree from the University of Hawaii in 1990, and completed a pediatrics residency, a pediatric chief residency and pediatric critical care fellowship at Duke University Medical Center.

Wendy Ann Pardee is President and Chief Executive Officer of The Children's Institute of Pittsburgh. She succeeds David Miles, who is retiring after 40 years at the Institute. She comes to Pittsburgh from Ohio, where she was president and CEO of Hattie Lariham, a nonprofit providing medical, residential, recreational and work training services to 1,800 children and adults with developmental and intellectual disabilities. Previously, she was president and CEO of Skills of Central Pennsylvania, which serves people with intellectual disabilities. She has a bachelor's degree in accounting and management of information systems, an MBA and a Ph.D. from Indiana University of Pennsylvania.
John C. Knapp is the 13th president of Washington & Jefferson College. He comes to Washington from Holland, Michigan, where he had been president of Hope College since 2013. Previously, he was the founding director of Samford University's Frances Marlin Mann Center for Ethics and Leadership and a professor. He has also served as professor and director of the Center for Ethics and Corporate Responsibility at Georgia State University's J. Mack Robinson College of Business. He has a bachelor of science from Georgia State University, a master of arts in theological studies from Columbia Theological Seminary and a Ph.D in theology and religious studies from the University of Wales, United Kingdom.
Jonathan P. Strecker is head of school at the Valley School of Ligonier. A native of Bellevue, Ohio, he comes to Ligonier from The Woodlands, Texas, where he has been since 2008, teaching middle school math and becoming Head of the Middle School. Previously, he held the same positions plus basketball coach at the Stanley Clark School in South Bend, Indiana, from 1997- 2008. He earned a bachelor of science and a master of education from Ohio State University and an Ed.D. from Sam Houston State University.
Tawana Cook Purnell is executive director of the Campus School and Early Learning Center of Carlow University. She returns to her native Pittsburgh from Washington, D.C., where she was head of school of the Bishop Walker School for Boys, where she established a cohesive K-6 curriculum, revised standardized testing protocols and strengthened parent support. Previously, she was a principal of the Environmental Charter School in Pittsburgh, and, for a decade, directed the Lower School at National Cathedral School for Girls in Washington, D.C. She earned a bachelor's degree from Spelman College and a master's in private school leadership from the Teachers College of Columbia University.
Rosalie Carpenter is Vice President for student affairs at Seton Hill University. She comes to Greensburg from Mobile, Alabama, where she was Vice President for Student Affairs at Spring Hill College, a Catholic, Jesuit institution. Previously, she was dean of students at Stetson University in DeLand, Florida, where she received a bachelor's degree in exercise science. She has master's degrees in positive organizational development and change from Case Western University and in higher educational administration from the University of South Carolina.
Shawn Watson is the offensive coordinator and quarterback coach for the University of Pittsburgh. He will be Pitt's fourth offensive coordinator in the last four seasons. A native of Carbondale, Illinois, he comes to Pitt from Bloomington, Indiana, where he was offensive quality control coach. He has also worked as offensive coordinator at Texas, Louisville, Colorado and Nebraska, and worked with Pitt head coach Pat Narduzzi when both coached at Miami University. He is a graduate of Southern Illinois University, where he later became head coach, from 1994-96.