Barker, Jarzebowski, Henderson, Mustain, Breese, Interiano
Professionals new to Pittsburgh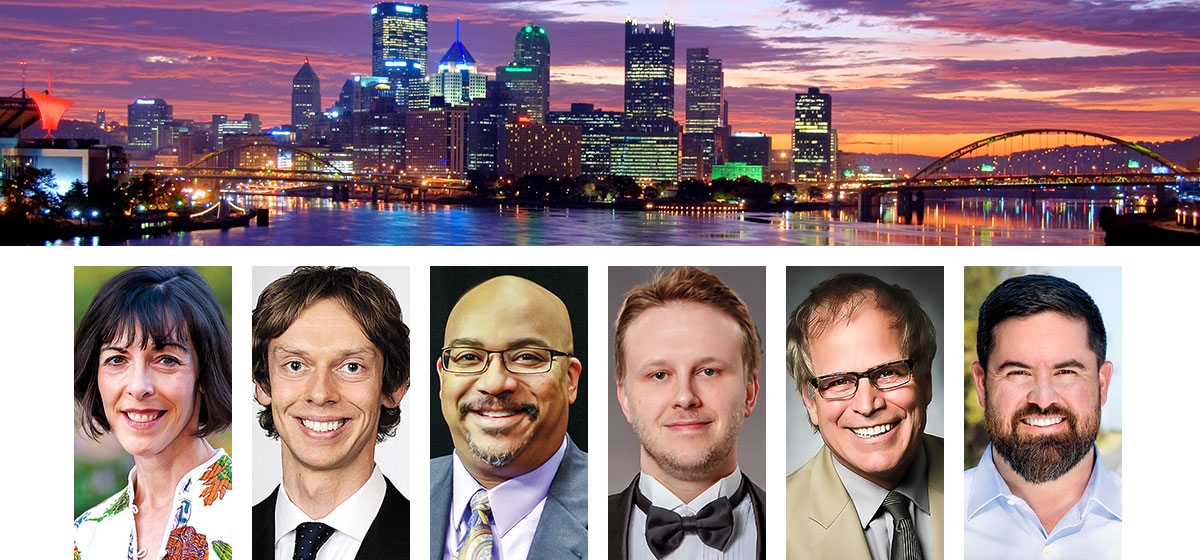 January 22, 2020
Elizabeth E. Barker is the executive director of The Frick Pittsburgh and the first woman to lead the institution. Her appointment begins in December. She comes to Pittsburgh from Belmont, Mass., where she was the director of the Boston Athenaeum, an independent library, exhibition center and cultural venue founded in 1807. There, she helped increase annual giving by 28 percent and expand membership by 78 percent.

Barker has 25 years of leadership and curatorial experience at renowned museums, including the Metropolitan Museum of Art, the British Museum and Yale Center for British Art. She has a Ph.D. in Art History from New York University and a bachelor's degree from Yale University.
Martin Jarzebowski is director of Responsible Investing at Federated Investors. His role in the newly created position is to advance the integration of environmental, social and governance factors into Federated's investment decision making and to design and build out the company's Responsible Investing Office. Jarzebowski, who has 12 years of industry experience, moved to Pittsburgh from the company's Rochester, N.Y., office. He joined Federated in 2008 and most recently served as a portfolio manager of the Federated Clover Small Value Fund. He holds a bachelor's degree in economics from Cornell University and a master's degree in law and accounting from the London School of Economics.
Mark D. Henderson is chief information officer and a vice chancellor at the University of Pittsburgh. He arrives from the University of Illinois Urbana-Champaign, where he was chief information officer. Henderson brings 30 years of experience in higher education and private sector information technology to Pitt. He oversees Computing Services and Systems Development at the university. His office of some 250 full-time employees and 150 student positions manages the university's network infrastructure, operations center and data warehouse. Henderson's private-sector work includes appointments at General Electric, Westinghouse Electric Corporation and Proctor & Gamble.
Kyle Mustain is the Principal English Horn in the Pittsburgh Symphony Orchestra. He comes to Pittsburgh from the Oregon Symphony, where he held the same position since 2010. He was with the Santa Fe Opera from 2004 to 2013. He has performed with the Los Angeles Philharmonic and the Atlanta Symphony, and has held one-year appointments as assistant principal oboe and English horn for both the Houston Symphony and the Indianapolis Symphony. Mustain earned a bachelor's degree from the Curtis Institute of Music and a master's degree from Yale University.
Steven Breese is artistic director of the Pittsburgh Playhouse and dean of the Conservatory of Performing Arts at Point Park University. He directs programming for the university's Pittsburgh Playhouse, its cinema and animation labs and the George Rowland White Performance Center. As dean, he's responsible for the overall artistic vision of the Playhouse and for overseeing undergraduate and graduate theater, dance and cinema education. Before joining Point Park, he was dean of the College of Arts, Communication and Design at Long Island University in New York. He's been acting, directing and playwriting for more than 30 years.
Gerardo Interiano is head of government relations at Aurora, a technology company developing self-driving cars with offices in Pittsburgh, San Francisco and Palo Alto, Calif. Prior to Aurora, he worked at Google, where he helped launch Google Fiber and Google's Self-Driving Car Project—now Waymo—in the Southwest. He came to Pittsburgh from Austin, Texas to lead Aurora's efforts to engage with federal, state and local governments to help define the future of self-driving policy and ensure self-driving vehicles are developed and delivered safely. He has a bachelor's degree and a law degree from the University of Texas at Austin.