Back to Quack—Steelers Soar in Comeback Win
NFL Week 12

Karl Roser / Pittsburgh Steelers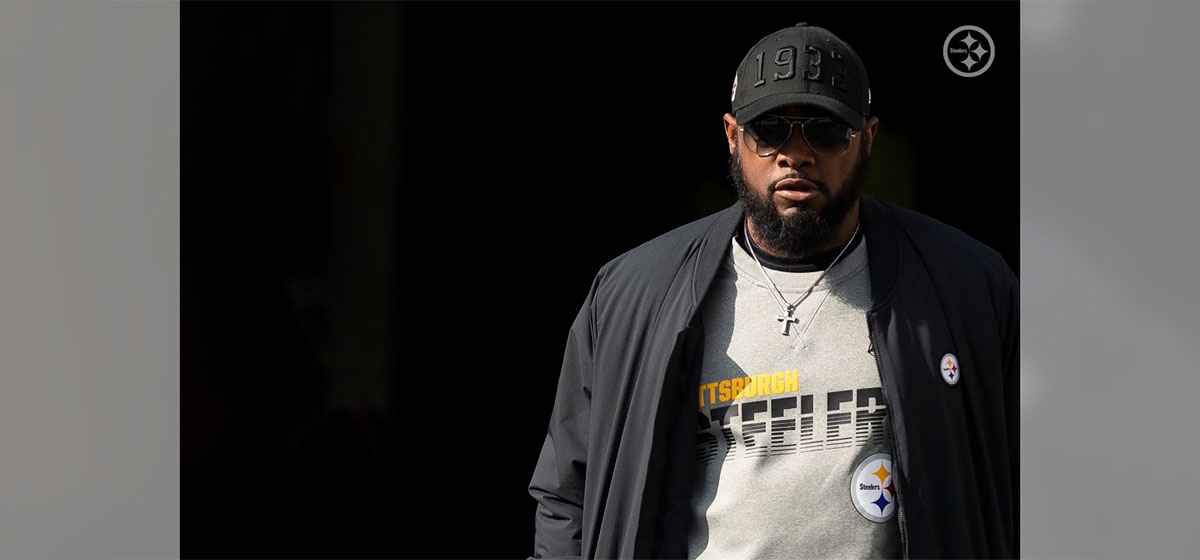 November 26, 2019
What a strange year it has been. In a season they've been down at halftime to two separate winless opponents, the Steelers currently occupy a playoff spot. Their quarterback is an undrafted rookie, their most valuable player a safety that wasn't on the opening roster.

Sunday's 16 – 10 victory wasn't without its struggles. Then again, it's a team that's growing more accustomed to winning unconventionally.
Steelers Corner
It felt inevitable, but perhaps sooner than anyone could have anticipated. Down 7 – 3 at halftime to the 0 – 10 Bengals, head coach Mike Tomlin pulled the trigger and called in Devlin "Duck" Hodges.
"Just felt like our offense needed a spark," Tomlin said in the post-game presser. His switch to the rookie in the second half against Cincinnati reaffirmed what got lost in the shuffle of last week's drama in Cleveland: Mason Rudolph is not ready to be a starting NFL quarterback. And while Rudolph apologists will simply point to Hodges stat line as similarly unimpressive, the end result is all anyone will remember. Tomlin is playing the hand he's been dealt and deserves credit for continuing to produce wins without a full deck.
With that in mind, Rudolph wasn't exactly set up for success prior to his 2nd half benching. Saddled with an underperforming offensive line and without his top wide receiver and running back, the struggling sophomore had a difficult time settling in.
After going three-and-out on the opening drive, the offense began to heat up thanks to a couple fresh faces. Running back Kerrith Whyte Jr., newly signed from the Chicago Bears practice squad, picked up 21 yards on his first touch in a Steeler uniform. Whyte racked up 42 yards by himself on the same drive and helped get the Steelers down to the Cincinnati nine yard line. Then, more of the same: Rudolph would turn the ball over on a deflected pass near the end zone three plays later.
After another three-and-out, Rudolph and company were able to forge their way back into Bengals territory. Newcomer Deon Cain, signed off the Colts practice squad, made a beautiful catch in his debut for a 35-yard gain. It would be his only one of the day, but showed a glimmer of what made him such a highly touted prospect out of Clemson.
With only three points to show against the worst team in the league, it was time to make the switch. Hodges jump-started a team that had only accounted for a sad three offensive touchdowns over the three games prior.
There's one thing Hodges brings to the offense that Rudolph never has: rhythm. When Hodges is under center, the offense just appears well-oiled. He gets through all his reads, and perhaps more importantly knows when to abandon ship if the play is breaking down. For every Rudolph drop-back and subsequent prayer to the television that he might eventually throw the ball, there was a Hodges scramble that kept the play alive. Not all his passes were pinpoint, but he throws the ball with purpose. His 79-yard bomb to wide receiver James Washington was a sight for sore eyes.
It's fair to wonder if we've seen the last of Mason Rudolph this year. Tomlin is even non-committal as to who will start against Cleveland. "We'll see what next week holds, next week." Given how well he's navigated what was once viewed as a lost year in his 13th season, we should show some trust in whichever guy he goes with. If the last two games are the barometer, it would be a surprise to see Rudolph under center next week.
In the meantime: quack, quack. Is Devlin Hodges the next Drew Brees? The answer to that question as of week 12 in the NFL season: he doesn't have to be. Despite the instability of the offense, it's been the defense that has the Steelers in contention. The reality: our likely starting quarterback is an undrafted rookie from Samford University, who wasn't even invited to the NFL rookie combine. Yes, he has demonstrated he can keep them in games, but let's not kid ourselves—the 2019 season will live and die on the backs of the players on the other side of the ball.
In a similar manner that Hodges sparked the offense, a single play turned the tide on defense. Bengals wide receiver Tyler Boyd had been terrorizing the Steelers secondary and looked to have made another big play on a 22-yard catch in the fourth quarter. Linebacker Devin Bush was in pursuit, and made the most of it—he stripped Boyd, and the ball bounced into the waiting hands of safety Minkah Fitzpatrick. For a guy who has played 100 percent of the snaps every game thus far, Fitzpatrick certainly does not tire out easily. He seems to be perpetually around the football.
Despite the stellar play, Bush's usage has been a bit curious of late. After being on the field for the majority of snaps through week nine, Bush has since ceded nearly half of them to linebacker Mark Barron. While reliable in the run game, Barron has been handily outplayed by Bush, and a proven liability at times. While he has given up a handful of plays, maybe it is of some consolation to frustrated fans that he's also giving away 1,500 turkeys for Thanksgiving in his home state of Alabama.
If Bush is dealing with a lingering issue, it hasn't shown up in the injury report. With any luck, that report will get a little lighter if running back James Conner and receiver JuJu Smith-Schuster can return to practice. It's all hands on deck this week against a Browns team that is starting to find a groove. The Steelers are in control of their own destiny at this juncture: win out with the league's most forgiving remaining schedule, and they are playoff bound. It's been a unique season to say the least, but the postseason is not yet out of reach.
Around the NFL
Ceding the 2nd wildcard spot to the Steelers were the Oakland Raiders, whose record is starting to look a little flimsy. Their three-game win streak came to a screeching halt on Sunday, getting blown out by the Jets in New York, 34 – 3. It's going to be tough to stop the bleeding with a visit to Kansas City upcoming, especially after quarterback Derek Carr was benched in the third quarter. While the game was out of hand, it wasn't very pretty leading up—Carr was 15 for 27 on the day against a Jets defense giving up an average 240+ yards through the air.
The Jets cap off a three-game win streak of their own and are looking more formidable with a healthy Sam Darnold. They've scored 30+ points in as many games, while Darnold has thrown for seven touchdowns to one interception. Could this team be positioned better had Darnold not missed half the season to mono? It's a dry-run for next year, but the results are promising.
Staying in the AFC East, the Bills are having quite a year. Buffalo moves to 8 – 3 with their 20 – 3 win over Denver, and extends their #1 wildcard spot lead to 2 games. Even more impressive: 36-year-old running back Frank Gore on Sunday passed hall of famer Barry Sanders for #3 on the list of NFL all-time rushers. Along with Sanders, Gore joins some elite company in Walter Payton and Emmitt Smith as the only players ever to eclipse 15,000 yards.
One of Gore's many former teams, the 49ers have officially silenced any remaining critics. The defense was business as usual in the 37 – 8 win against Green Bay, which held quarterback Aaron Rodgers to a season low 104 yards. What's more: their offense is beginning to come around. They've got arguably the best rotation of running backs in the league, all of which are homerun threats every time they touch the ball. There was also the return of tight end George Kittle. The 2nd year out of Iowa looked unstoppable in his first game back in nearly a month, hauling in 6 catches for 121 yards and a touchdown. Oh, and he's playing on a broken ankle. Watch out, NFC West.
Fantasy Corner
Most leagues are gearing up for the playoff stretch—it's time to get locked in! Whether you're sitting pretty atop the standings or making a last-minute run, there are few must-add guys this week and a couple to avoid.
Two under-owned running backs stood out in week 12: Steelers Benny Snell (5% owned) and Seahawks' Rashaad Penny (15% owned). Both had prolific days on the stat sheet, but only one of them is probably worth adding at the moment. Seattle's 1st round selection in 2018, Penny has had a tough time acclimating at the next level. His usage has been peculiar—rarely do teams ease a 1st round running back into action the way Seattle has. Much of that can be attributed to the success story of running mate Chris Carson, who has dominated the carries to date. Carson has also had a hard time holding onto the ball, and head coach Pete Carroll seems ready to give Penny more of a chance. The 14 carries were a career high, and he maximized his opportunity (including a nifty 58-yard score). Add Penny where available and see if this usage sticks.
Snell is somebody you may think about adding, but not rely on (although this is a must-add for Conner owners). The rookie looked capable of managing a full workload and actually looked a little quicker than he did in training camp. The problem is Conner's lingering return, which will relegate Snell to a complementary option. Add in the presence of Samuels, Edmonds, and the new kid on the block Whyte, and it gets more complicated. Your decision to pick up Snell should hinge on your opinion of Conner's health, which has been sporadic this season.
Colts tight end Eric Ebron will add to the tight end wasteland piling up this year as he heads to Injured Reserve, but for every action there's an equal but opposite reaction—Jack Doyle, in this case. If you need a plug-and-play option, give Doyle a tryout and see how he does. There are currently only six tight ends that have reached the 100-point threshold for 2019, and the drop-off is pretty steep after that. With that in mind, Doyle gets the lion's share of targets to himself after splitting them with Ebron all year; keep him on the radar.
The under-owned assets atop the target list this week aren't worthy of pickups, so I'll use this space to re-assert some previous suggestions with wider availability. Texans wideout Will Fuller is still owned in under 60% of leagues, and just reeled in seven catches on double-digit targets. Go get him!
Colts running back Jonathan Williams was highlighted here last week and did not disappoint in his starting debut. The latest on incumbent Marlon Mack is that he will miss a few more weeks after surgery for a broken hand. The matchups aren't exactly enticing, but Williams needs to be added in more than the 52% of leagues he's currently owned in.