Husser, Giosi, Matthews, Martinez, Sterne, Szabolcs, Mongrain, Drappatz
Professionals new to Pittsburgh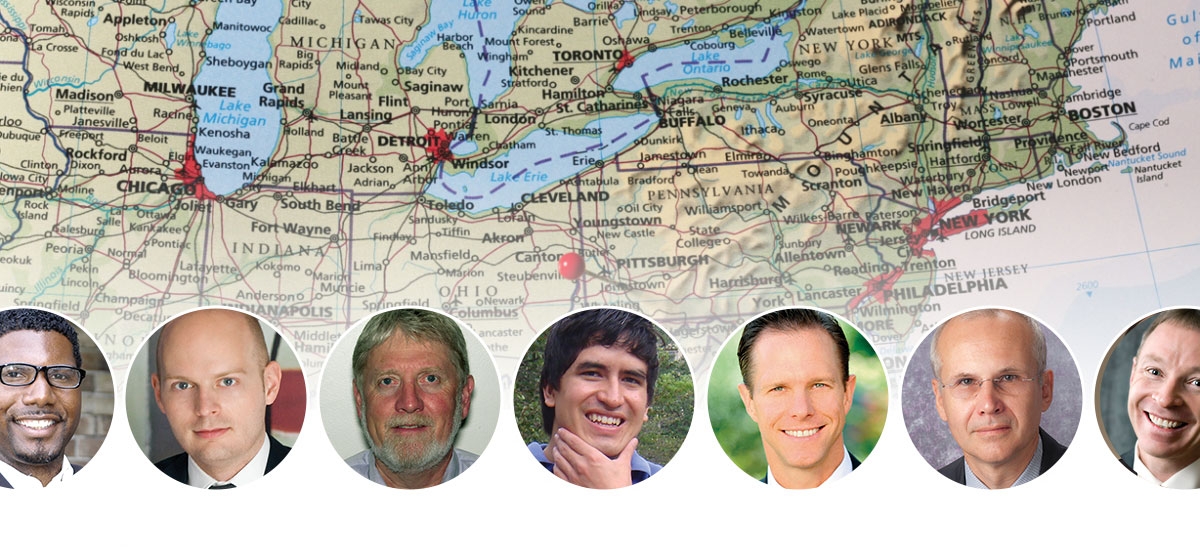 November 20, 2011
D. Jermaine Husser is CEO of the Greater Pittsburgh Community Food Bank. A Charleston, S.C. native, he is an Army veteran and was employed at the Lowcountry Food Bank in Charleston, S.C. for the last seven years as executive director.He earned an associate degree in general business from Trident Technical College, with additional coursework in business administration at Charleston Southern University. Husser lives with his wife and their three-year-old daughter in Pittsburgh's Greenfield neighborhood.

Mark Giosiis executive director of Chatham Baroque, a Pittsburgh-based trio of musicians who tour internationally, performing 17th and 18th century music. Giosi is a native of Miller Place, N.Y. He has spent the last six years in New York City as conference and events manager for Chamber Music America. Giosi holds a bachelor's degree of music in piano performance from the State University of New York at Potsdam and a master's degree in arts in music, piano performance, from New York University. He lives in Highland Park.
Allen G. Matthews is director and instructor of sustainable agriculture at Chatham University's School of Sustainability and the Environment, founded in 2009 to provide answers to regional, national and global social, economic, and environmental concerns. A multi-generation farmer, Matthews has coordinated farm viability business planning for more than 180 diversified farms. A native of Canonsburg, Matthews grew up on a farm in McMurray and is returning to Pittsburgh from Vermont. He lives with his wife in Richland. Matthews joins Michael H. Finewood, Ph.D.; Molly G. Mehling, Ph.D.; Crystal L. Fortwangler, Ph.D.; and Alice Julier, Ph.D. as members of the School of Sustainability's second cohort.
Adrian Reyes Martinez is a software engineer at Google and part of the larger effort of Google Shopping, the tab at google.com that displays business search results. Reyes Martinez comes to Pittsburgh from Saudi Arabia. He has a master's degree from King Abdullah University of Science and Technology in computer science with an emphasis on artificial intelligence. A native of Huichapan, Mexico, he earned his bachelor's degree in 2009 from Tecnológico de Monterrey, studying computer systems engineering. He lives in downtown Pittsburgh.
Matthew Sterne is general manager for Fairmont Pittsburgh, a luxury hotel in downtown Pittsburgh. Previously, Sterne was general manager at Fairmont Battery Wharf in Boston, where he was responsible for the successful opening and daily operations of the 150-room hotel. Sterne holds a master's degree in business administration from Queens University in Kingston, Ontario and a bachelor's degree from Concordia University in Montreal. A native of Ottawa, Sterne lives in Mt. Lebanon with his two children.
Dr. Paul Szabolcs is chief of the newly established Division of Blood and Marrow Transplantation and Cellular Therapies at Children's Hospital of Pittsburgh of UPMC. Also a professor of pediatrics at the University of Pittsburgh School of Medicine, Szabolcs comes to Pittsburgh from Duke University Medical Center, where he was as an associate professor of pediatrics and immunology. He is a graduate of Semmelweis University School of Medicine in Budapest, Hungary. He completed his residency in pediatrics at the New York University School of Medicine. Dr. Szabolcs is a native of Pecs, Hungary, and lives in Fox Chapel with his wife and two daughters.
Kevin Mongrain is executive director of the National Institute for Newman Studies, a program affiliated with Duquesne University and designed to study of the works, life, and influence of the Oxford, England-born religious scholar and Catholic Cardinal John Henry Newman. Previously, he was an assistant professor in the University of Notre Dame's liberal studies department. He earned his bachelor's degree in government and master's degree in systematic theology from St. John's University in Collegeville, Minn. He earned his Ph.D. in religious studies from Yale University. A native of International Falls, Minn., he will live in Shadyside.
Dr. Jan Drappatz is associate director of UPMC Cancer Centers' Adult Neuro-Oncology Program, where he sees patients with brain tumors, neurologic complications of cancer, neuropathies, seizures and balance difficulties. A native of Dusseldorf, Germany, Drappatz studied at the Privates Gymnasium der Zisterzienserabtei in Marienstatt, Germany and then immigrated to the U.S. to complete his residency at Harvard Medical School. He relocated to Pittsburgh from the Harvard Medical School's Dana Farber Cancer Institute, where he was a neurology instructor. He lives in Fox Chapel with his wife and twin sons.